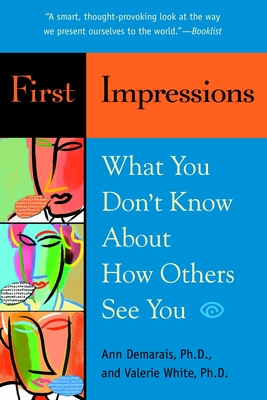 First Impressions: What You Don't Know about How Others See You (Paperback)
What You Don't Know about How Others See You
Bantam, 9780553382013, 256pp.
Publication Date: March 29, 2005
Description
What kind of first impression do you make? A first impression is the most important impression you'll ever make--and you get only one chance to make it. Business deals can be made or broken, first dates become second dates or not, friendships are created or fail to form; everything hinges on that all-important initial encounter. And yet most of us don't know how we're really seen by others. Many of us don't know how to make a good impression. Wouldn't you like others to see you as confident, interesting, attractive, and sincere? Ann Demarais, Ph.D., and Valerie White, Ph.D., consultants to many Fortune 100 companies as well as creators of First Impressions, Inc., a New York-based dating and consulting firm, offer you the keys to putting your best self forward in any new situation, whether you want to strike up a conversation at a party or are meeting a blind date or a new business client. You'll learn to see yourself as others see you, and how to tweak your style to create the impression that reflects the real you. Breaking down a successful first impression into its seven fundamentals, the authors show you how to master these principles so that you can make the best first impression. They also show how to avoid common misunderstandings that leave others with a bad impression, how to reveal the four universal social gifts, and they outline practical steps you can take to enhance your personal charm. Informative and filled with enlightening research studies, do-it-yourself checklist reviews, and dozens of helpful case histories, First Impressions is a fun, groundbreaking, and long-overdue guide to the most important moment of virtually any relationship: the first. From the Hardcover edition.
About the Author
Ann Demarais, Ph.D., and Valerie White, Ph.D., are the founders of First Impressions, Inc., a unique consulting firm that helps clients understand how they are perceived on first dates and in social situations, as well as consultants to managers in Fortune 100 companies on communication and leadership skills. They and First Impressions, Inc., have been featured in newspapers and magazines around the world and over such radio and television broadcast outlets as NPR, BBC, Public Radio International, 20/20, CBS, and Lifetime, among others. Dr. Demarais lives in New York City, and Dr. White lives in New Jersey. From the Hardcover edition.
Praise For First Impressions: What You Don't Know about How Others See You…
"This is a not a book for people looking for hope, it is a book for people looking for change….This will be a great help to [those] who too often feel less fulfilled by initial social interactions than they expect or hope. Without a shred of scientific evidence on the point, I would wager that this is just about everyone. If fact, I would suspect that anyone who feels that they have nothing to learn from this book is more likely to be oblivious than adept."
--T. James Matthews, Ph.D., Professor of Psychology and Neuroscience, Vice Dean of the Graduate School of Arts and Science, New York University

"[The authors] have charted the geography of the most important phase of interpersonal communication. Their guide will undoubtedly improve the quality of life for those seeking genuineness in their relationships….FIRST IMPRESSIONS offers help which is practical, inspirational and honest."
--Peter Urey, Marketing Director, Hewlett-Packard Company

"For anyone interested in winning friends and influencing people, this book is essential reading. If only it had been around ten years ago, my book might have had a different title."
-- Toby Young, author of How to Lose Friends & Alienate People

"The feedback from one 'date' with First Impressions, Inc. changed my life. This book will help you make new friends, get ahead in business and avoid the subtle little disasters that prevent us from being and doing our best. Essential reading for people interested in getting along with the human race."
--Ted Rall, cartoonist, author of Revenge of the Latchkey Kids and To Afghanistan and Back

"Don't break eye contact when reading First Impressions! You'll miss out on how a positive first impression can be the start of a great business or personal relationship. A compelling, engaging, and entertaining book that provides basic principles everyone can use to make that winning first impression "
--Matthew Jones, SVP - Leadership and Management Development, Marsh Inc. [brokerage company]

"Have you ever felt alone in a room full of strangers who seem to know everyone except you?...This book is full of examples of real-life experiences and post mortem diagnosis that, until now, was limited to those few fortunate enough to have been coached by one of these ladies. Although the book is about first impressions, I have found applications in teamwork, project launches, and my personal and family life. In reality, this book is less about first impressions and more about lasting impressions."
--Sam Kim, R&D Project Manager, Hewlett-Packard Company
 
"FIRST IMPRESSIONS made a lasting impression on me!  The insights about how and why people react to certain behaviors in initial meetings are terrific.  I immediately understood what I do to create good and not-so-good first impressions and the awareness has carried through to all my new business interactions since finishing the book.  I can't wait to share this book with the people I manage and mentor.  If you are new at dating, interviewing, or selling, FIRST IMPRESSIONS is a must-read."
--Karen Steinberg, Chief Information Officer, Aon Risk Services [insurance company]

"Breezy, helpful … highly practical."
--Publishers Weekly
Advertisement