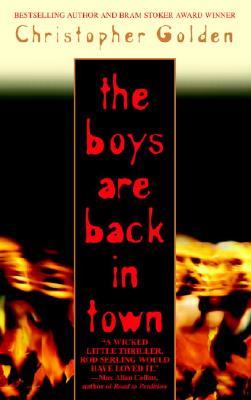 The Boys Are Back in Town (Paperback)
Bantam, 9780553382075, 368pp.
Publication Date: February 3, 2004
* Individual store prices may vary.
or
Not Currently Available for Direct Purchase
Description
From a master of horror, dark fantasy, and suspense comes a compelling and uniquely original work of paranormal suspense in which one man finds himself trapped in a web of ever-shifting reality which threatens to remake the whole of the world unless he can find a way to stop it.For Will James, facing his tenth high school reunion is far from his finest hour especially since his life has not gone exactly as he planned. Dumped at the altar by his high school sweetheart and with his dreams of being a prize-winning reporter dashed by his job at a Boston tabloid, he is not sure he is ready to face his former peers.But what he does find at the reunion is far more than he bargained for. He soon learns that one of his buddies had died several years back even though Will had received an e-mail from him only a few days before. It is not long before other people Will was convinced were alive are turning out to be dead as well or married to other people, or childless where they used to have children. And new memories are swarming in to replace what Will is convinced was his old life, until he no longer knows what is real and what is not. The only thing he does know for certain is that he has to figure out why he alone remembers snatches of another life before everything dissolves into this new, darker reality.
About the Author
Christopher Golden is the award-winning, "L.A. Times" bestselling author of such novels as "The Ferryman, Strangewood, The Gathering Dark, Of Saints and Shadows, Prowlers," and The Body of Evidence series of teen thrillers. Working with actress/writer/director Amber Benson, he co-created and co-wrote "Ghosts of Albion," an animated supernatural drama for BBC online.Golden has also written or co-written a great many books and comic books related to the TV series "Buffy the Vampire Slayer "and" Angel," as well as the scripts for two Buffy video games, which he co-wrote with frequent collaborator Tom Sniegoski. His recent comic book work includes the creator-owned "Nevermore" and DC Comics' "Doctor Fate: The Curse." As a pop culture journalist, he was the editor of the Bram Stoker Award-winning book of criticism, "Cut!: Horror Writers on Horror Film," and co-author of both "Buffy the Vampire Slayer: The Watcher's Guide "and "The Stephen King Universe." Golden was born and raised in Massachusetts, where he still lives with his family. He graduated from Tufts University. There are more than eight million copies of his books in print. At present he is at work on his next novel for Bantam Books.
Advertisement