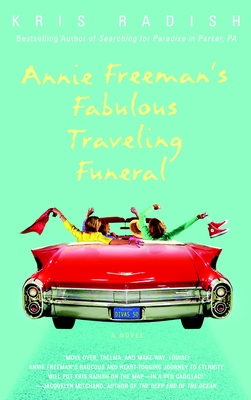 Annie Freeman's Fabulous Traveling Funeral (Paperback)
Bantam, 9780553382648, 331pp.
Publication Date: January 31, 2006
Description
For Katherine Givens and the four women about to become her best friends, the adventure begins with a UPS package. Inside is a pair of red sneakers filled with ashes and a note that will forever change their lives. Katherine's oldest and dearest friend, the irrepressible Annie Freeman, left one final request-a traveling funeral-and she wants the most important women in her life as "pallbearers." From Sonoma to Manhattan, Katherine, Laura, Rebecca, Jill, and Marie will carry Annie's ashes to the special places in her life. At every stop there's a surprise encounter and a small miracle waiting, and as they whoop it up across the country, attracting interest wherever they go, they share their deepest secrets-tales of broken hearts and second chances, missed opportunities and new beginnings. And as they grieve over what they've lost, they discover how much is still possible if only they can unravel the secret Annie left them....
About the Author
Kris Radish is the bestselling author of four novels, The Elegant Gathering of White Snows, Dancing Naked at the Edge of Dawn, Annie Freeman's Fabulous Traveling Funeral, and The Sunday List of Dreams. She lives in Wisconsin, where she writes two nationally syndicated columns each week and is at work on her sixth novel, The Poetry of Emma's Salvation.
Praise For Annie Freeman's Fabulous Traveling Funeral…
"Radish's characters help readers realize they are not alone in the world and their struggles have been or will be experienced by other women." –Albuquerque Journal

"Radish sings the praises of sisterhood by creating an enticing world of women helping women to become the empowered individuals they were meant to be." —Booklist

Advertisement