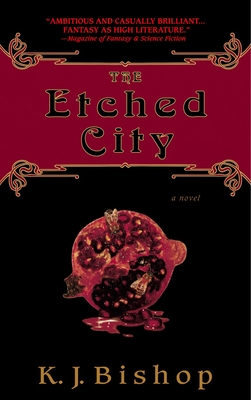 The Etched City (Paperback)
A Novel
Spectra, 9780553382914, 400pp.
Publication Date: November 23, 2004
* Individual store prices may vary.
Description
"Combine equal parts of Stephen King's Dark Tower series and Chine Miéville's Perdido Street Station, throw in a dash of Aubrey BeardsleyandJ.K. Huysmans, and you'll get some idea of this disturbing, decadent first novel."—Publishers Weekly

Gwynn and Raule are rebels on the run, with little in common except being on the losing side of a hard-fought war. Gwynn is a gunslinger from the north, a loner, a survivor . . . a killer. Raule is a wandering surgeon, a healer who still believes in just—and lost—causes. Bound by a desire to escape the ghosts of the past, together they flee to the teeming city of Ashamoil, where Raule plies her trade among the desperate and destitute, and Gwynn becomes bodyguard and assassin for the household of a corrupt magnate. There, in the saving and taking of lives, they find themselves immersed in a world where art infects life, dream and waking fuse, and splendid and frightening miracles begin to bloom . . .

"The plot, with its stories-within-stories and its offhand descriptions of wonders and prodigies, brings to mind the works of Italo Calvino and Jorge Luis Borges."—Locus
About the Author
K.J. Bishop was born in Melbourne, Australia. Her short stories have been published in Aurealis, Fables and Reflections, Borderlands, Album Zutique #1, Leviathan 4, The Alsiso Project, The Thackery T. Lambshead Pocket Guide to Eccentric and Discredited Diseases, and the Serbian magazines Polaris and Znack Sagite. The Etched City is her first novel.
Praise For The Etched City: A Novel…
"Combine equal parts of Stephen King's Dark Tower series and Chine Miéville's Perdido Street Station, throw in a dash of Aubrey BeardsleyandJ.K. Huysmans, and you'll get some idea of this disturbing, decadent first novel."—Publishers Weekly

"The plot, with its stories-within-stories and its offhand descriptions of wonders and prodigies, brings to mind the works of Italo Calvino and Jorge Luis Borges."—Locus