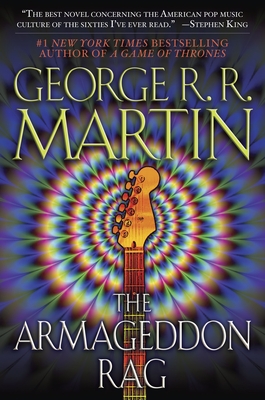 The Armageddon Rag
A Novel
Paperback

* Individual store prices may vary.
Description
"The best novel concerning the American pop music culture of the sixties I've ever read."—Stephen King
 
From #1 New York Times bestselling author George R. R. Martin comes the ultimate novel of revolution, rock 'n' roll, and apocalyptic murder—a stunning work of fiction that portrays not just the end of an era, but the end of the world as we know it.
 
Onetime underground journalist Sandy Blair has come a long way from his radical roots in the '60s—until something unexpectedly draws him back: the bizarre and brutal murder of a rock promoter who made millions with a band called the Nazgûl. Now, as Sandy sets out to investigate the crime, he finds himself drawn back into his own past—a magical mystery tour of the pent-up passions of his generation. For a new messiah has resurrected the Nazgûl and the mad new rhythm may be more than anyone bargained for—a requiem of demonism, mind control, and death, whose apocalyptic tune only Sandy may be able to change in time . . . before everyone follows the beat.
 
"The wilder aspects of the '60s . . . roar back to life in this hallucinatory story by a master of chilling suspense."—Publishers Weekly
 
"What a story, full of nostalgia and endless excitement. . . . It's taut, tense, and moves like lightning."—Tony Hillerman
 
"Daring . . . a knowing, wistful appraisal of . . . a crucial American generation."—Chicago Sun-Times
 
"Moving . . . comic . . . eerie . . . really and truly a walk down memory lane."—The Washington Post
Bantam, 9780553383072, 384pp.
Publication Date: January 30, 2007
About the Author
George R. R. Martin is the #1 New York Times bestselling author of many novels, including the acclaimed series A Song of Ice and Fire—A Game of Thrones, A Clash of Kings, A Storm of Swords, A Feast for Crows, and A Dance with Dragons—as well as Tuf Voyaging, Fevre Dream, The Armageddon Rag, Dying of the Light, Windhaven (with Lisa Tuttle), and Dreamsongs Volumes I and II. He is also the creator of The Lands of Ice and Fire, a collection of maps from A Song of Ice and Fire featuring original artwork from illustrator and cartographer Jonathan Roberts, and The World of Ice & Fire (with Elio M. García, Jr., and Linda Antonsson). As a writer-producer, Martin has worked on The Twilight Zone, Beauty and the Beast, and various feature films and pilots that were never made. He lives with the lovely Parris in Santa Fe, New Mexico.