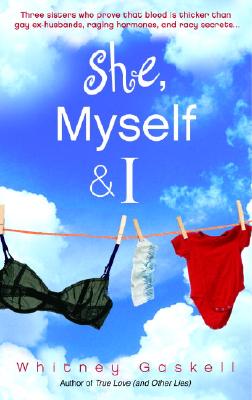 She, Myself & I (Paperback)
Bantam Books, 9780553383133, 384pp.
Publication Date: September 27, 2005
* Individual store prices may vary.
or
Not Currently Available for Direct Purchase
Description
The Cassel sisters have little in common besides a pair of wacky parents and a maddening knack for eluding happily-ever-after endings. But when their lives require damage control, only a dose of sisterhood will do. Paige, the oldest, is a go-getter divorce attorney who's reeling from her own disastrously failed marriage-and the fact that her ex has suddenly come roaring out of the closet with a cute boyfriend in tow. Middle sister Sophie is having trouble adjusting to life as a wife and expectant mom. With her doubts on the rise along with her weight, she's ogling every available baked good-and every available man-that crosses her path. And up-and-coming medical student Mickey has a racy new plan for her future that's sure to shock her entire family. It includes a dangerously handsome, decidedly married chef...private cooking lessons...and spicy lingerie. To top it all off, the parents who dragged them through the Divorce from Hell years ago are acting like teenagers in love...with each other One by one, Paige, Sophie, and Mickey are about to learn just how good it is to have a sisterly shoulder-or two-to lean on.
About the Author
Whitney Gaskell grew up in Syracuse, New York. A graduate of Tulane Law School, she worked for several years as a reluctant lawyer before writing her first novel, Pushing 30, followed by True Love (and Other Lies), She, Myself & I, and Testing Kate. She lives in Stuart, Florida, with her husband and son, and is at work on her next novel.
Praise For She, Myself & I…
"Smart, funny, sexy, and refreshingly real. Whitney Gaskell's novel of life, love, and sisterhood is unputdownable." —Melissa Senate, author of See Jane Date

"Whitney Gaskell has done it again. She, Myself & I is a warm, funny, charming, and engrossing story that will hook anyone who has a sister—-and any lover of quality fiction who doesn't"—Valerie Frankel, author of The Girlfriend Curse and The Accidental Virgin

"She, Myself & I is a witty, fast-paced, and intensely entertaining journey through the lives of three unforgettable sisters. Whitney Gaskell finds the humor and the heart in each and every one of her characters, a talent that makes the pages come to life and literally turn themselves."—Lindsay Faith Rech, author of Losing It and Joyride

"Whitney Gaskell delivers another winner with She, Myself & I. As funny as it is warm and touching, this is going on my keeper shelf along with all of Whitney's books. Filled with Whitney's trademark mixture of humor and poignancy, it made me laugh, cry...and wish I had sisters! Can't wait for the next one!"—Lani Diane Rich, author of Time off for Good Behavior

"A fresh, clever story about cold feet, morning sickness, and the one who got away."—Beth Kendrick, author of My Favorite Mistake
Advertisement