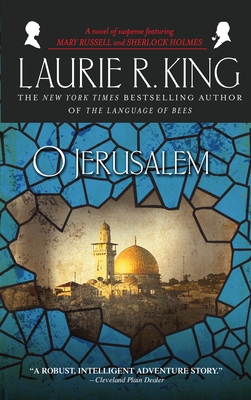 O Jerusalem (Mary Russell and Sherlock Holmes #5) (Paperback)
Bantam, 9780553383249, 448pp.
Publication Date: April 28, 2009
* Individual store prices may vary.
Description

At the close of the year 1918, forced to flee England, Sherlock Holmes and his nineteen-year-old apprentice Mary Russell enter British-occupied Palestine under the auspices of Holmes's enigmatic brother, Mycroft. Their arrival coincides with a rash of unsolved murders that has baffled the authorities and seems unrelated to the growing tensions in the area among Jew, Moslem, and Christian. Still, no one is too pleased at Holmes's insistence on reconstructing the most recent homicide in the desert gully where it occurred.

What they unexpectedly uncover will lead Russell and Holmes through an exotic gauntlet of labyrinthine bazaars, verminous hovels, cliff-hung monasteries—and into mortal danger. In the jewel-like city of Jerusalem, they will at last meet their adversary, whose lust for power could reduce the city's most ancient and sacred place to rubble and ignite a tinderbox of hostilities just waiting for a spark.…



About the Author
Laurie R. King is the New York Times bestselling author of thirteen Mary Russell mysteries, five contemporary novels featuring Kate Martinelli, the Stuyvesant & Grey novels Touchstone and The Bones of Paris, and the acclaimed A Darker Place, Folly, and Keeping Watch. She lives in Northern California.
Praise For O Jerusalem (Mary Russell and Sherlock Holmes #5)…
"Part spy story, Part murder mystery...and part thriller moving to an explosive climax."—Booknews from The Poisoned Pen

"Inspired." —Chicago Tribune

"Fascinating...[King has] stepped onto the sacred literary preserve of Sir Arthur Conan Doyle, poached Holmes, and brilliantly brought him to life again...a standout."—Washington Post Book World