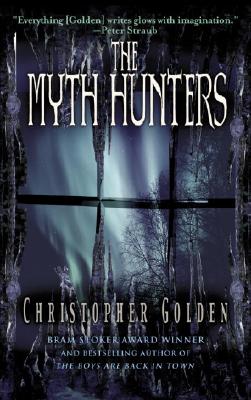 The Myth Hunters (Paperback)
Spectra, 9780553383263, 384pp.
Publication Date: January 31, 2006
* Individual store prices may vary.
or
Not Currently Available for Direct Purchase
Description
In this enthralling new tale from bestselling author Christopher Golden, one man is drawn into a realm just across the veil from our own, where every captivating myth and fairy tale is true, the vanished exist and every fear is founded .
Yielding to his father's wishes, Oliver Bascombe abandoned his dream of being an actor and joined the family law firm. Now he will marry a lovely young woman bearing the Bascombe stamp of approval. But on the eve of his wedding, a blizzard sweeps in bringing with it an icy legend who calls into question everything Oliver believes about the world and his place in it .
Pursued by a murderous creature who heeds no boundaries, Jack Frost needs Oliver's help to save both himself and his world an alternate reality slowly being displaced by our own. To help him, Oliver Bascombe, attorney-at-law, will have to become Oliver Bascombe, adventurer, hero and hunted. So begins a magnificent journey where he straddles two realities and where, even amid danger, Oliver finds freedom for the very first time.
About the Author
Christopher Golden is the award-winning, Los Angeles Times bestselling author of such novels as Of Saints and Shadows, The Ferryman, Strangewood, The Gathering Dark, and The Body of Evidence series of teen thrillers. Working with actress/writer/director Amber Benson, he cocreated and cowrote Ghosts of Albion, an animated supernatural drama for BBC online. Golden has also written or cowritten several books and comic books related to the TV series Buffy the Vampire Slayer and Angel, as well as the scripts for two Buffy the Vampire Slayer video games. His recent comic book work includes the creator-owned The Sisterhood and DC Comics Doctor Fate: The Curse. As a pop-culture journalist, he was the editor of the Bram Stoker Award-winning book of criticism CUT!; Horror Writers on Horror Film, and coauthor of The Stephen King Universe. Golden was born and raised in Massachusetts, where he still lives with his family. He graduated from Tufts University. There are more than eight million copies of his books in print."
Praise For The Myth Hunters…
"Everything [Golden] writes glows with imagination."–Peter Straub
Advertisement