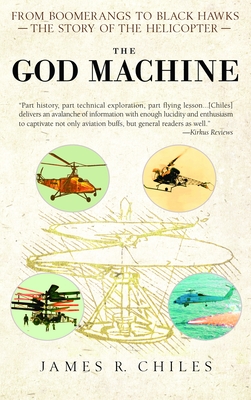 The God Machine: From Boomerangs to Black Hawks: The Story of the Helicopter (Paperback)
From Boomerangs to Black Hawks: The Story of the Helicopter
Bantam, 9780553383522, 354pp.
Publication Date: September 30, 2008
Description

From transforming the ways of war to offering godlike views of inaccessible spots, revolutionizing rescues worldwide, and providing some of our most-watched TV moments--including the cloud of newscopters that trailed O. J. Simpson's Bronco--the helicopter is far more capable than early inventors expected. Now James Chiles profiles the many helicoptrians who contributed to the development of this amazing machine, and pays tribute to the selfless heroism of pilots and crews. A virtual flying lesson and scientific adventure tale, The God Machine is more than the history of an invention; it is a journey into the minds of imaginative thinkers and a fascinating look at the ways they changed our world.


About the Author
James R. Chiles trained in a two-seater helicopter as part of his research for this book. His first book, Inviting Disaster, was named a Best Book of 2001 by Amazon.com and was made into a four-part series for the History Channel. He lives in Minnesota. From the Hardcover edition.
Praise For The God Machine: From Boomerangs to Black Hawks: The Story of the Helicopter…
"The helicopter is a triumph of technology, but at its heart, the real story is one of the talented, brave, and occasionally foolhardy people who developed and employed these amazing machines, and, most significantly, those who have benefited from [them]. Whether it is rescue from certain doom or gaining the edge in a political campaign, James Chiles expertly weaves the remarkable narrative of society's interaction with these underappreciated workhorses of the aerial age." —Roger Connor, Specialist, National Air and Space Museum, Smithsonian Institution

"Engaging…I wanted more.... [Chiles] describes the physics and machinery with such conviction that the reader is drawn ineluctably into the rest of his tale.… From the exploits of Hank 'Gunfighter' Emerson in Vietnam to those of Chief Warrant Officer 3 Karl Maier in Mogadishu, there are vignettes enough to curl your hair." —New York Post

"An engaging blend of pop science and pop culture.... Chiles explores the helicopter's role in history and culture, from its visionary beginnings ... to its heroic age during the Vietnam war, to its present workaday role lifting and hauling, monitoring traffic and car chases, saving victims of flood waters and skyscraper infernos.... [A] sprightly history."—Publishers Weekly

"Lively.... Sketches of machine designs enrich the text.... Should be a required purchase for academic libraries serving engineering or aviation programs and for aeronautical corporation or aviation flight department collections."—Library Journal

"Entertaining … part history, part technical exploration, part flying lesson…. Delivers an avalanche of information with enough lucidity and enthusiasm to captivate not only aviation buffs, but general readers as well."—Kirkus Reviews

"Enthusiastic and knowledgeable, Chiles should take off with aviators."—Booklist
Advertisement