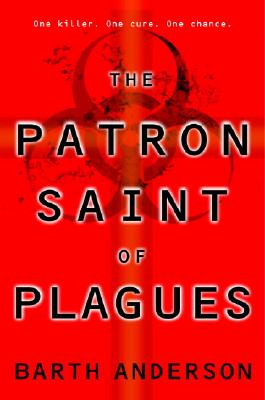 The Patron Saint of Plagues
A Novel
Paperback

* Individual store prices may vary.
Other Editions of This Title:
Mass Market Paperback (11/27/2007)
Description
In this biological thriller of the near future, postinsurrection Mexico has undermined the superpower of the United States. But while the rivals battle over borders, a pestilence beyond politics threatens to explode into a worldwide epidemic. . . .

Since the rise of the Holy Renaissance, Ascension—once known as Mexico City—has become the most populous city in the world, its citizens linked to a central government net through wetware implanted in their brains. But while their dictator grows fat with success, the masses are captivated by Sister Domenica, an insurgent nun whose weekly pirate broadcasts prophesy a wave of death. All too soon, Domenica's nightmarish prediction proves true, and Ascension's hospitals are overrun with victims of a deadly fever. As the rampant plague kills too quickly to be contained, Mexico smuggles its last hope over the violently contested border. . . .

Henry David Stark is a crack virus hunter for the American Center for Disease Control and a veteran of global humanitarian efforts. But this disease is unlike any he's seen before—and there seems to be no way to cure or control it. Racing against time, Stark battles corruption to uncover a horrifying truth: this is no ordinary outbreak but a deliberately unleashed man-made virus . . . and the killer is someone Stark knows.
Praise For The Patron Saint of Plagues: A Novel…
"Anderson has some serious writing chops, and he delivers a page turner that is at once a medical thriller, cyberpunk romp and provocative tease...a novel about race and class, science and faith."—Salon.com

"A cinematic, futuristic techno-thriller with smarts and heart…This cleverly managed skein of cliffhangers and revelations begs to be filmed."—San Diego Union-Tribune

"Very neat, impossible to put down, and I hope a book that gets nominated for some awards."—Philadelphia Weekly Press

"This is Barth Anderson's debut novel, and it's a stunner…A book of high verisimilitude and exacting precision. Anderson has taken the monitory example of John Brunner's The Sheep Look Up, a Cassandra mode too long left moldering, and combined it with a typical bio-thriller such as Michael Crichton's The Andromeda Strain to produce a hybrid that is both scientifically and science-fictionally robust and still propulsively suspenseful."—Sci Fi Weekly, Grade A

"An exciting journey full of surprises."—Dallas Morning News

"The topic is timely (viruses and pandemics are hot), and the just-around-the-corner world is very well realized, full of smart extrapolations from today's technologies and social conventions."—Booklist

"Destined to find [a] highly appreciative audience…Anderson successfully joins with Greg Bear, Paul McAuley, and a few others in wedding genuinely SFnal speculation with the template of the formula thriller. There's a genuinely thoughtful SF mind at work in The Patron Saint of Plagues."—Locus

"A well-constructed, politically aware techno-thriller with an intriguing plot…when 'best first novel' lists get discussed next January this book will be one of the first suggested."—Emerald City

"Tense, plausible and twisty enough to keep you breathless and guessing."—Agony Column

"An apocalyptic prophesy masquerading as a near-future pandemic revenge thriller...riveting reading."—Strange Horizons

"A smart, entertaining, imminently readable book."—Maureen McHugh, author of Mothers & Other Monsters

"Barth Anderson's inventive viral emergency may be set in a speculative near future of saints and cyborgs, but it has a persuasive real-world urgency. He nails the gritty essence of disease detection: frustration, exhaustion, obsession."—Maryn McKenna, author of Beating Back the Devil: On the Front Lines with the Disease Detectives of the Epidemic Intelligence Service

"The topic is timely (viruses and pandemics are hot), and the just-around-the-corner world is very well realized, full of smart extrapolations from today's technologies and social conventions."—Booklist
Spectra, 9780553383584, 384pp.
Publication Date: March 28, 2006
About the Author
Barth Anderson's short stories have appeared in Asimov's, Strange Horizons, Polyphony, Alchemy, Talebones, The Journal of Mythic Arts, and a variety of other quality venues. Barth received the Spectrum Award for Best Short Fiction in 2004, and he writes regularly for Utne Reader's Best of Indie Press-nominated Wedge Newsletter. He lives in Minneapolis with his wife and son. The Patron Saint of Plagues is his first novel.
or
Not Currently Available for Direct Purchase