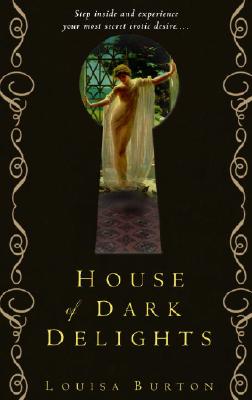 House of Dark Delights
Paperback

* Individual store prices may vary.
Description
In this extraordinary debut, Louisa Burton extends an irresistible invitation to an erotic adventure that is quite literally out of this world. You're hereby invited to spend a night you'll never forget in the . . .House of Dark Delights

Nestled deep in the French countryside, hidden from prying eyes, stands an infamous castle that for centuries has lured guests with its whispered promise to make any erotic dream come true. Inside its walls you'll discover a world of sensuality, magic, and mystery, courtesy of the château's residents—beautiful and reclusive immortals who strive to fulfill their guests' most secret desires even as they pursue their own insatiable gratification. You'll meet a tall, seductive elf who can morph from male to female, a bewitching goddess from ancient Babylonia, a playfully lusty satyr, a djinni obligated to satisfy the unspoken appetites of any human he touches, and a vampire as sexually rapacious as he is bloodthirsty.

Within these pages are related the House's most scintillating encounters, past and present. A pair of modern lovers find themselves captivated—and transformed—by the carnal demands of their hosts. An adventuress visiting with the notorious Hellfire Club stumbles from a black mass into a dungeon fitted out for restraint and discipline, where a brooding stranger turns her darkest longings into reality. A virginal female scientist is awakened by an invisible lover to the pleasures of the flesh. A young couple, forbidden to wed by an ancient taboo, finds hope in a sensual threesome. A journey into the realm of sexual love and erotic passion, House of Dark Delights is sure to leave you feeling enthralled, seduced . . . and utterly ravished.
Praise For House of Dark Delights…
"Exquisite and riveting literary erotica. Readers willing to be seduced into a world of dark sensuality and sexual taboos will be spellbound."—RomanticTimes.com

"Seductive, sensual and wildly erotic."—FreshFiction.com

"Louisa Burton has an elegant hand with her writing that confers that feeling of high-brow erotica that titillates while it intellectually stimulates.  Pick up House of Dark Delights and indulge yourself."—Romance Reviews Today
Bantam Books, 9780553384123, 324pp.
Publication Date: January 30, 2007
About the Author
Louisa Burton is a painter, writer, and collector of rare books who travels extensively, but whose home is in New York. She is a lifelong devotee of Victorian erotica, history, and mythology. Of particular interest to Louisa are the beings known by demonologists and mythologists as Sexual Demons: incubi, succubi, satyrs, djinn, and vampires, among others. With the Hidden Grotto series, beginning with House of Dark Delights," " Louisa is weaving those passions together into an epic work of erotic fiction.
or
Not Currently Available for Direct Purchase