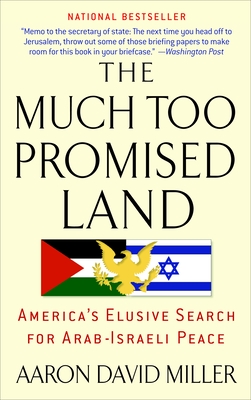 The Much Too Promised Land
America's Elusive Search for Arab-Israeli Peace
Paperback

* Individual store prices may vary.
Other Editions of This Title:
Digital Audiobook (3/24/2008)
Audio Cassette (3/1/2008)
Audio Cassette (3/1/2008)
Hardcover (3/25/2008)
MP3 CD (3/25/2008)
Compact Disc (3/25/2008)
Compact Disc (3/25/2008)
Description

For nearly twenty years, Aaron David Miller has played a central role in U.S. efforts to broker Arab-Israeli peace as an advisor to presidents, secretaries of state, and national security advisors. Without partisanship or finger-pointing, Miller records what went right, what went wrong, and how we got where we are today. Here is a look at the peace process from a place at the negotiation table, filled with behind-the-scenes strategy, colorful anecdotes and equally colorful characters, and new interviews with presidents, secretaries of state, and key Arab and Israeli leaders.

Honest, critical, and often controversial, Miller's insider's account offers a brilliant new analysis of the problem of Arab-Israeli peace and how it still might be solved.
Praise For The Much Too Promised Land: America's Elusive Search for Arab-Israeli Peace…
"A revealing and well-written memoir.... Miller fills his pages with real characters and sly observations... [and] sobering tales from the front."—The New York Times

"Aaron Miller has written the most definitive and insightful work on the Israeli-Palestinian conflict and the attempts to mediate it. He possesses a depth of experience and understanding of this complex situation that is unmatched by anybody else who has participated in this process. His passion, intellect, knowledge, and common sense were invaluable in our tenure as mediators. The Much Too Promised Land is a must read for those who desire a true understanding of the most critical peace issue of our time."—General Anthony C. Zinni USMC (Retired)

"This book is absolutely necessary reading for anyone who cares about a Middle East peace. Aaron David Miller recounts the history of negotiations based on his deep personal involvement. Not only is it a fascinating tale, it helps us better understand the solution that someday will be possible."–Walter Isaacson, author of Einstein: His Life and Universe

"Aaron David Miller presents a candid insight into the Middle East peace process. His storytelling gifts make the pages difficult to resist as he moves from anecdote to analysis, and offers an intimate portrayal of the minds and personalities of the major players. This is an unpredictable and challenging book." —George J. Mitchell

"Aaron David Miller shines a floodlight on the workings of America's Middle East policy.  He has written the rarest kind of diplomatic history—both knowing and accessible.  This is a book peopled by large, historic figures—Arabs, Israelis, and Americans, and Aaron Miller renders them with artistry.  He was there as this diplomatic history was made, and he distills it for his readers with honesty and wisdom and no small measure of irreverence.  A superb and exquisitely rendered book."—Fouad Ajami, Majid Khadduri Professor of Middle East Studies, Johns Hopkins University School of Advanced International Studies

"In this absorbing volume, as one who participated in numerous high level negotiations on the Israeli-Palestinian conflict, Aaron Miller offers both information and insight to interested and concerned readers."—Elie Wiesel

"Illuminating... the value of the book is its rich and colorful history of past negotiations, and Miller's sharp-edged analysis of what went wrong and right. Memo to the secretary of state: The next time you head off to Jerusalem, throw out some of those briefing papers to make room for this book in your briefcase."—Washington Post

"Extraordinary…. Miller evinces genuine compassion for both sides in the conflict … while maintaining a detachment that allows him to draw hard conclusions…. Miller's writing is both approachable and deeply smart."–Publishers Weekly, starred review

"Combines memoir with what might be called a primer on diplomacy…. Recommended reading for the next administration, if not this one."–Kirkus Reviews

"A book of great significance, owing to its breadth, objectivity, and judgment."—Library Journal, starred review

"Insightful.... [Including] a nuanced meditation on the interface between U.S. domestic politics and the situation in the middle East…. A spirited and intimate account."—Foreign Affairs
Bantam, 9780553384147, 416pp.
Publication Date: December 30, 2008
About the Author
Aaron David Miller became a Public Policy Fellow at the Woodrow Wilson International Center for Scholars in January 2006, where he wrote The Much Too Promised Land.For the prior two decades, he served at the Department of State as an advisor to six secretaries of state, where he helped formulate U.S. policy on the Middle East and the Arab-Israel peace process, most recently as the Senior Advisor for Arab-Israeli Negotiations. He also served as the Deputy Special Middle East Coordinator for Arab-Israeli Negotiations, Senior Member of the State Department's Policy Planning Staff, in the Bureau of Intelligence and Research, and in the Office of the Historian. He has received the department's Distinguished, Superior, and Meritorious Honor Awards.Mr. Miller received his Ph.D. in American Diplomatic and Middle East History from the University of Michigan in 1977 and joined the State Department the following year. During 1982 and 1983, he was a Council on Foreign Relations fellow and a resident scholar at the Georgetown Center for Strategic and International Studies. In 1984 he served a temporary tour at the American Embassy in Amman, Jordan. Between 1998 and 2000, Mr. Miller served on the United States Holocaust Memorial Council. After leaving the state department, Mr. Miller served as president of Seeds of Peace from January 2003 until January 2006. Seeds of Peace is a nonprofit organization dedicated to empowering young leaders from regions of conflict with the leadership skills required to advance reconciliation and coexistence (www.seedsofpeace.org). His media and speaking appearances include CNN (including "American Morning," "Wolf Blitzer Reports,"), "The Newshour with Jim Lehrer," FOX News, "The NBC Nightly News," "CBS Evening News," National Public Radio, the BBC, Canadian Broadcasting Corporation, Al Arabiya, and Al Jazeera. Mr. Miller has also been a featured presenter for the World Economic Forum in Davos and Amman, Harvard University, Columbia University, New York University, University of California at Berkeley, The City Club of Cleveland, Chatham House, and The International Institute for Strategic Studies. He has written three prior books on the Middle East and his articles have appeared in newspapers, including The New York Times, The Washington Post, Los Angeles Times, and The International Herald Tribune.Mr. Miller lives in Chevy Chase, Maryland, with his wife, Lindsay. They have two children: a daughter, Jennifer, and a son, Daniel.
or
Not Currently Available for Direct Purchase