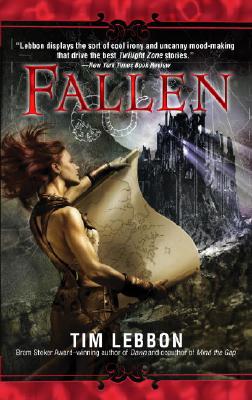 Fallen (Paperback)
Spectra Books, 9780553384673, 413pp.
Publication Date: April 29, 2008
* Individual store prices may vary.
Description
From award-winning author Tim Lebbon comes this harrowing tale of an epic journey, crossing the forbidden boundary separating us from all we fear the most....
To the unknown corners of Noreela, the Voyagers have traveled, returning with fantastic tales of their journeys and discoveries. But no one has ever returned from the Great Divide: a sheer cliff soaring miles above the clouds and rumored to be the end of the world. Until now.
Voyagers Nomi Hyden and Ramus Rheel would be mortal enemies if their lives and fates weren't so closely entwined. But now the unlikely pair are brought together for what will be their greatest--and perhaps final--journey. When a grim wanderer named Ten arrives with an ancient parchment he claims to have brought back from the Divide, its arcane glyphs hint at the existence of a realm most consider a myth...and at something amazing sleeping there.
Accompanied by the warrior Beko and his band of armed Serians, Nomi and Ramus set out to discover the truth behind the legends. But soon ambition drives them apart, this epic Voyage becomes a race...and each Voyager is faced with a choice that may alter the history of Noreela forever.
About the Author
Tim Lebbon's books include the British Fantasy Award-winning Dusk, Dawn, Berserk, The Everlasting, Hellboy: Unnatural Selection, Face, Exorcising Angels (with Simon Clark), Dead Man's Hand, Pieces of Hate, and the novelisation of the movie 30 Days of Night (shortlisted for a Scribe Award). Future publications include Fallen and The Map of Moments from Bantam Spectra, The Reach of Children from Humdrumming, and The Secret Journeys of Jack London (in collaboration with Chris Golden) from Atheneum. There are also more books due from Cemetery Dance, Necessary Evil Press and Night Shade Books, among others. He has won three British Fantasy Awards, a Bram Stoker Award, a Shocker and a Tombstone Award, and has been a finalist for International Horror Guild and World Fantasy Awards. His novella White is soon to be a major Hollywood movie, and several more novels and novellas are currently in development in the USA and UK.
Praise For Fallen…
"Lebbon displays the sort of cool irony and uncanny mood-making that drive the best Twilight Zone stories." —New York Times Book Review

"Dark and memorable…. Lebbon creates vivid and convincing major and minor characters, places, and creatures."—Publishers Weekly, starred review