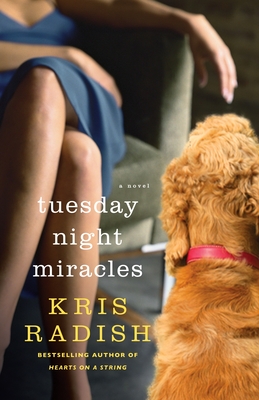 Tuesday Night Miracles
A Novel
Paperback

* Individual store prices may vary.
Description
In this poignant and transformative novel, bestselling author Kris Radish weaves a tale of five women yearning for change—and the potential for happiness that lies within every heart.
 
Free-spirited psychologist Dr. Olivia Bayer suspects she'll need a miracle to help the four wildly different women in her anger management class. Grace, a single working mother, can barely find a moment's rest. Jane, a high-profile real estate agent, is struggling in the recession. Kit, in her fifties, has had it with her taunting older brothers. And Leah, a young mother of two, is starting over after ending a troubled relationship. All have reached a crossroads, and Dr. Bayer has an unconventional plan to steer them on the right track. As the class gets taken everywhere from a bowling alley to a shooting range, the women's Tuesday meetings transform from tense, reluctant gatherings into richly rewarding experiments in female bonding. As Grace, Jane, Kit, and Leah open up—revealing secrets, swapping stories, and recovering long-lost dreams—old wounds begin to heal, new friendships are forged, and miracles manifest in the most surprising ways.
Praise For Tuesday Night Miracles: A Novel…
Praise for Tuesday Night Miracles

"Radish delves into the hearts of four women in her latest novel and uncovers the feelings, insecurities and hidden hurts. Full of strong, complex characters, this story is riveting." --Romantic Times

"Reader alert: This is the kind of book you'd better commit to read if you start it, because you probably won't be able to put it down." --Huntington News

"Radish employs wry humor with a light touch here, and she includes details that are believable and tantalizingly possible. These things kept me reading and they kept me loving this novel. . . Tuesday Night Miracles is dynamite." --Washington Blade

"Not since How To Make An American Quilt by Whitney Otto have I been so interested in a group of women and their stories." --Girlfriends Book Club

"The characters take on many important issues, such as domestic violence, empty nests, family secrets, self-growth and forgiveness. The resolutions of each of their stories, including Dr. Bayer's, are satisfying as was Tuesday Night Miracles. --Destin.com

Praise for Kris Radish
 
"Kris Radish creates characters that seek and then celebrate the discovery of . . . women's innate power."—The Denver Post
 
"An inspiring story for fans of Rebecca Wells and anyone with a strong woman in her or his life."—Booklist, on Hearts on a String
 
"Radish unrolls a rollicking yet reflective read that adds to her robust repertoire of beloved fiction. . . . What's a reader to do but relish the ride."—BookPage, on Searching for Paradise in Parker, PA

"Radish exhibits a deep understanding of and compassion for women who opt for fight rather than flight in tough situations. She does not trivialize them, their crimes, or the painful process of recovery; she has a keen eye for the good and bad in female relationships…Will resonate for many readers." --Publishers Weekly
Bantam, 9780553384765, 496pp.
Publication Date: January 3, 2012
About the Author
Kris Radish is the author of Hearts on a String, The Shortest Distance Between Two Women, Searching for Paradise in Parker, PA, The Sunday List of Dreams, Annie Freeman's Fabulous Traveling Funeral, Dancing Naked at the Edge of Dawn, and The Elegant Gathering of White Snows. She lives in Florida.
or
Not Currently Available for Direct Purchase