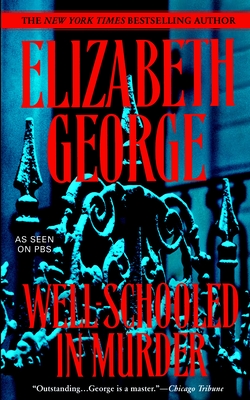 Well-Schooled in Murder (Paperback)
Bantam Books, 9780553384819, 414pp.
Publication Date: May 1, 2007
Description
When thirteen-year-old Matthew Whately goes missing from Bredgar Chambers, a prestigious public school in the heart of West Sussex, aristocratic Inspector Thomas Lynley receives a call for help from the lad's housemaster, who also happens to be an old school chum. Thus, the inspector, his partner, Detective Sergeant Barbara Havers, and forensic scientist Simon Allcourt-St. James find themselves once again outside their jurisdiction and deeply involved in the search for a child--and then, tragically, for a child killer. Questioning prefects, teachers, and pupils closest to the dead boy, Lynley and Havers sense that something extraordinarily evil is going on behind Bredgar Chambers's cloistered walls. But as they begin to unlock the secrets of this closed society, the investigation into Matthew's death leads them perilously close to their own emotional wounds--and blinds them to the signs of another murder in the making.... From the Paperback edition.
About the Author
Elizabeth George's first novel, A Great Deliverance, was honored with the Anthony and Agatha Best First Novel Awards and received the Grand Prix de Litterature Policiere. Her third novel, Well-Schooled in Murder, was awarded the prestigious German prize for suspense fiction, the MIMI. A Suitable Vengeance, For the Sake of Elena, Missing Joseph, Playing for the Ashes, In the Presence of the Enemy, Deception on His Mind, In Pursuit of the Proper Sinner, A Traitor to Memory, and I, Richard were international bestsellers. Elizabeth George divides her time between Huntington Beach, California, and London. Her novels are currently being dramatized by the BBC.
Praise For Well-Schooled in Murder…
"George is a master...an outstanding practitioner of the modern English mystery."—Chicago Tribune

"A spectacular new voice in mystery writing."—Los Angeles Times

"A compelling whodunit...a reader's delight."—Daily News, New York

"Like P.D. James, George knows the import of the smallest human gesture; Well-Schooled in Murder puts the younger author clearly in the running with the genre master."—People

"Ms. George may wind up creating one of the most popular and entertaining series in mystery fiction today."—The Sun, Baltimore
Advertisement