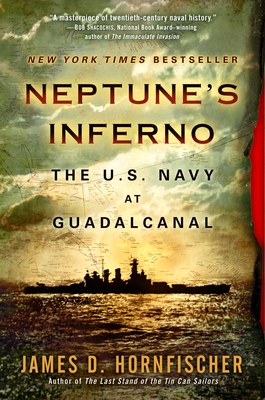 Neptune's Inferno: The U.S. Navy at Guadalcanal (Paperback)
The U.S. Navy at Guadalcanal
Bantam, 9780553385120, 516pp.
Publication Date: March 6, 2012
Description
The Battle of Guadalcanal has long been heralded as a Marine victory. Now, with his powerful portrait of the Navy's sacrifice, James D. Hornfischer tells for the first time the full story of the men who fought in destroyers, cruisers, and battleships in the narrow, deadly waters of "Ironbottom Sound." Here, in stunning cinematic detail, are the seven major naval actions that began in August 1942, a time when the war seemed unwinnable and America fought on a shoestring, with the outcome always in doubt. Working from new interviews with survivors, unpublished eyewitness accounts, and newly available documents, Hornfischer paints a vivid picture of the officers and enlisted men who opposed the Japanese in America's hour of need. The first major work on this subject in almost two decades, Neptune's Inferno does what all great battle narratives do: It tells the gripping human stories behind the momentous events and critical decisions that altered the course of history and shaped so many lives.
About the Author
James D. Hornfischer, a native of Massachusetts, is the author of the New York Times bestsellers Neptune's Inferno, Ship of Ghosts, and The Last Stand of the Tin Can Sailors, which won the Samuel Eliot Morison Award for Naval Literature. Two of his widely acclaimed works about the U.S. Navy in World War II are selections of the U.S. Navy's professional reading list. A graduate of Colgate University and the University of Texas at Austin, he lives with his wife and their three children in Austin, Texas. From the Hardcover edition.
Praise For Neptune's Inferno: The U.S. Navy at Guadalcanal…
Selected as a Best Book of 2011 by Military History Quarterly

"A literary tour de force that is destined to become one of the . . . definitive works about the battle for Guadalcanal . . . [James D.] Hornfischer deftly captures the essence of the most pivotal naval campaign of the Pacific war."—San Antonio Express-News

"Vivid and engaging . . . extremely readable, comprehensive and thoroughly researched."—Ronald Spector, The Wall Street Journal

"Superlative storytelling . . . the masterwork on the long-neglected topic of World War II's surface ship combat."—Richard B. Frank, HistoryNet

"The author's two previous World War II books . . . thrust him into the major leagues of American military history writers. Neptune's Inferno is solid proof he deserves to be there."—The Dallas Morning News

"The star of this year's reading list is James D. Hornfischer, a military historian whose flair for narrative is rivaled only by his ability to organize the sweep of battle and assess strategy and tactics in layman's terms."—Cleveland Plain Dealer

"Outstanding . . . The author's narrative gifts and excellent choice of detail give an almost Homeric quality to the men who met on the sea in steel titans."—Booklist (starred review)

"Brilliant . . . a compelling narrative of naval combat . . . simply superb."—The Washington Times
Advertisement