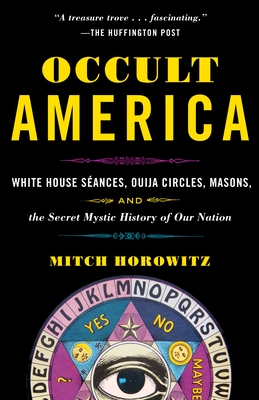 Occult America: White House Seances, Ouija Circles, Masons, and the Secret Mystic History of Our Nation (Paperback)
White House Seances, Ouija Circles, Masons, and the Secret Mystic History of Our Nation
Bantam, 9780553385151, 304pp.
Publication Date: October 5, 2010
* Individual store prices may vary.
or
Not Currently Available for Direct Purchase
Description

From its earliest days, America served as an arena for the revolutions in alternative spirituality that eventually swept the globe. Esoteric philosophies and personas--from Freemasonry to Spiritualism, from Madame H. P. Blavatsky to Edgar Cayce--dramatically altered the nation's culture, politics, and religion. Yet the mystical roots of our identity are often ignored or overlooked. Opening a new window on the past, Occult America presents a dramatic, pioneering study of the esoteric undercurrents of our history and their profound impact across modern life.
About the Author
Mitch Horowitz is the editor in chief of Tarcher/Penguin. He has written for Esopus, Parabola, Fortean Times, and Science of Mind. A well-known voice for occult and esoteric ideas, Horowitz lives in New York City with his wife and two children. From the Hardcover edition.
Praise For Occult America: White House Seances, Ouija Circles, Masons, and the Secret Mystic History of Our Nation…
"What a fascinating book. So it happens that another equally compelling take on our complicated national narrative lies just beneath the surface of things; not the grand procession of presidents, generals, and wars, but something more hidden, more mysterious, but often no less revealing."—Ken Burns

"Invisible and mysterious forces have shaped and guided the destiny of individuals and nations throughout history. From Moses to Gandhi, Jesus to Muhammad, Lincoln to Obama, hidden dimensions, in both our personal and collective consciousness, were conceiving, constructing, and shaping the course of civilization. In his precise and often detailed history of mysticism in America, Mitch Horowitz, has, in a way, tracked the evolution of our consciousness over 300 years." —Deepak Chopra

 "A sparkling, down-to-earth and often deeply touching account of a powerful, much misunderstood force in the formation of America's cultural and spiritual identity." —Jacob Needleman, author of The American Soul and The New Religions."

"Occult America is a truly remarkable achievement. Exhaustively researched, it takes the reader from the early concepts of the supernatural, personified by Mother Ann Lee, Joseph Smith, and Madame Blavatsky, through such modern-day figures as Henry A. Wallace and Norman Vincent Peale. It opens the eyes of the relatively uninitiated, in which I include myself, to the effect the occult has had, is having, and will have on the American experience." —John S.D. Eisenhower, author of The Bitter Woods: The Battle of the Bulge and So Far From God: The U.S. War with Mexico, 1846-1848

"Religious people tend to be afraid of the word occult. Horowitz examines this aspect of life and religion in penetrating ways...and revealing its not unsubstantial influence on mainline Christianity. Truth seekers have always come from the edges. Religion itself should be glad they do." —John Shelby Spong, author of Jesus for the Non-Religious

"This book is a delightfully original tour through American history, as seen through the lives of men and women devoted to all manner of mysticism. Across these pages troop spiritualists, prophets, seers, psychics, numerologists, transcendentalists, theosophists, and historical figures from Mary Todd Lincoln to Marcus Garvey to Henry Wallace. Their stories are part of the deep-seated American tradition of searching for the new—a tradition that Occult America both explains and enriches." — Stephen Kinzer, author of Overthrow: America's Century of Regime Change from Hawaii to Iraq and All the Shah's Men: An American Coup and the Roots of Middle East Terror
 
 "Fascinating…Occult America is a serious, wide-ranging study of all the magical, mystical, and spiritual movements that have arisen and influenced American history in often-surprising ways." —Washington Post Book World Podcast
 
"Occult America treats esoteric ideas and movements with an even-handed intellectual studiousness that is too often lost in today's raised-voice discussions about religion and belief systems."  —Washington Post Express
 
"One of the most readable histories of American mysticism ever written…This is historical reporting that is crafted so well, it holds the reader much like a Voodoo spell."—Tucson Citizen
 
"Horowitz teases out fascinating stories of the 'dreamers and planners who flourished along the Psychic Highway'…In showing how the paths of these figures occasionally intersected with the likes of Abraham Lincoln, Frederick Douglass and Franklin D. Roosevelt, Horowitz argues that the influence of the occult extends beyond the séance room and into the mainstream of American thought." —Washington Post Book World

"A brilliant job of tracking down how positive thinker Norman Vincent Peale borrowed his core self-help philosophy from a religious movement called New Thought."  —Washington Times

"Exhaustively researched and written in a very accessible style...Occult America fills a gap in the knowledge of religion for most people." —Huntington News, VA
 
"Excellent." —Library Journal
 
"One of the best recent books on patterns of belief." —Fortean Times
 
"A fantastic tour guide to the fringes of reason, high weirdness, deep esoterica, secret societies, and mystery religions." —Boing Boing

"Employing extensive research while writing with an authoritative tone, Horowitz succeeds in showing how a 'new spiritual culture' developed in America."—Publishers Weekly

Advertisement