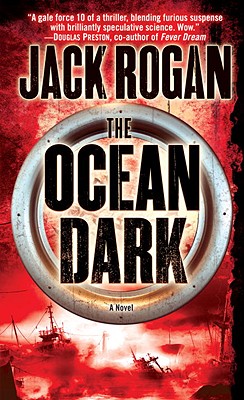 The Ocean Dark (Mass Market Paperbound)
Ballantine Books, 9780553385182, 438pp.
Publication Date: July 27, 2010
* Individual store prices may vary.
Description
The Ocean Dark is a riveting novel of suspense from Christopher Golden, author of Tin Men, written under the pseudonym Jack Rogan.

In the uncharted waters of the Caribbean, far from the usual shipping lanes, lies a mysterious island surrounded by a graveyard of sunken ships--an island so remote that it's the perfect rendezvous point for a handful of Central American arms dealers and the Antoinette, a gun-smuggling cargo ship out of Miami. Amid the wreckage of ships new and old, the crew of the Antoinette--and the undercover FBI agent on board--enter what looks like a haven for modern pirates, only to discover that it hides something far more terrifying.
In Washington, two Department of Defense scientists might understand what is about to happen. On an FBI ship monitoring the Antoinette's illegal trade, armed agents might be able to intervene. But this assumes that the Antoinette's crew survives their first encounter with a creature virtually unknown to man, yet whose eerie songs nevertheless echo down the corridors of mankind's darkest legends.
About the Author
Jack Rogan teaches English and theatre arts at a small private school in New England. In previous lives he has been a travel writer, a housepainter, and an amateur treasure hunter. The Ocean Dark is his first novel.
Praise For The Ocean Dark…
"The Ocean Dark by Jack Rogan is gale-force-ten of a thriller, blending furious suspense with brilliantly speculative science to create a riveting story of violence and mayhem on the high seas. Wow."—Douglas Preston, co-author of Relic and Cemetery Dance
 
"A masterful thriller. Rogan's The Ocean Dark is a big, sprawling tale filled with smart plotting and flesh-and-blood characters. It races from start to finish like an unstoppable vessel steaming full speed ahead."—Jeffery Deaver, author of The Bone Collector and Roadside Crosses
  
"Jack Rogan's The Ocean Dark demands to be devoured in one sitting.  A bloody, brilliant thriller centered on a horror rising from the darkest myths and legends.  Read it with all the lights on in the house.  You've been warned!"—James Rollins, author of The Last Oracle
or
Not Currently Available for Direct Purchase