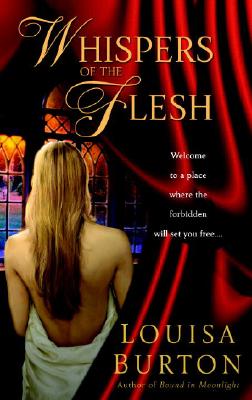 Whispers of the Flesh (Paperback)
Bantam, 9780553385304, 305pp.
Publication Date: September 30, 2008
* Individual store prices may vary.
or
Not Currently Available for Direct Purchase
Description
In this irresistibly seductive new book, Louisa Burton extends her most provocative invitation yet to the infamous Castle of the Hidden Grotto—a voluptuous sanctuary of pleasure and passion.

Hidden in a deep mountain valley in rural France is an ancient castle known only to an exclusive few. Here, four exquisitely beautiful immortals who thrive on carnal energy captivate and ravish their human visitors, fulfilling their darkest fantasies, their most secret hungers.

A chaste young British Jesuit poses as a landscaper to investigate centuries of rumored wickedness at the château, forcing him to confront the long-sublimated desires and urges seething beneath his own pious exterior.... The American daughter of the château's dying administrator can't bear the thought of succeeding her father, since it would mean playing matchmaker to the love of her life. The roots of her dilemma, and its possible solution, hark back to a weekend in 1972 when a group of free-loving hippies descended on the château for a few days of orgiastic revelry, where every convention was broken and nothing was taboo.

Step into the Castle of the Hidden Grotto and lose yourself in a realm of mystery, temptation, and intoxicating sensuality.
About the Author
Louisa Burton is a painter, writer, and collector of rare books who travels extensively, but whose home is in New York. She is a lifelong devotee of Victorian erotica, history, and mythology. Of particular interest to Louisa are the beings known by demonologists and mythologists as Sexual Demons: incubi, succubi, satyrs, djinn, and vampires, among others. With the Hidden Grotto series, beginning with House of Dark Delights," " Louisa is weaving those passions together into an epic work of erotic fiction.
Advertisement