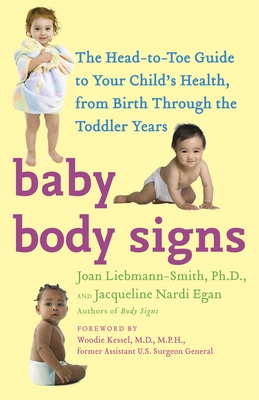 Baby Body Signs (Paperback)
The Head-to-Toe Guide to Your Child's Health, from Birth Through the Toddler Years
Bantam, 9780553385656, 272pp.
Publication Date: May 25, 2010
* Individual store prices may vary.
Description
From blue birthmarks to bulging belly buttons, dimpled ears to double eyelashes, this indispensable guide will teach you how to interpret the "body signs" that are important clues to your baby's health.
 
Like most parents, you probably notice—and often worry about—every little change in your growing baby. Why is one of his pupils bigger than the other? What's that bald spot on her head? Why is he walking on tippy toes? Drawn from the latest research and reviewed by a panel of pediatricians and other medical experts, Baby Body Signs will answer these and other troubling questions. You'll also learn
 
• when snoring is normal and when it's a sign of sleep apnea
• what type of freckles may signal a rare genetic disorder
• how a simple baby photo can help uncover an eye tumor
• when swollen breasts in babies are a sign of a hormonal problem
 

Baby Body Signs will help you decide when to call the pediatrician and when to relax and stop worrying. What's more, it's packed with fascinating facts about child health—from how in medieval Europe babies were expected to talk when they had all their teeth to the fact that the ears are the first part of the body to reach full size. As entertaining as it is informative, this is the book you'll want to keep close at hand throughout your baby's infancy and toddler years.
About the Author
Joan Liebmann-Smith, PhD is a medical sociologist and award-winning medical writer. Her articles have appeared in American Health, Ms., Newsweek, Redbook, Self, and Vogue, and she has appeared on numerous television talk shows, including The Oprah Winfrey Show and The Today Show. She has a daughter, Rebecca, a cat, Fazelnut, and lives with her husband, Richard—also a writer—in New York City.


Jacqueline Nardi Egan is a medical journalist who specializes in developing and writing educational programs with and for physicians, allied health professionals, patients, and consumers. She is also a former medical editor of Family Health magazine. She has a daughter, Elizabeth, two dogs, Coco and Abby, and divides her time between Darien, Connecticut, and Sag Harbor, New York.
Praise For Baby Body Signs: The Head-to-Toe Guide to Your Child's Health, from Birth Through the Toddler Years…
"This is one of the most useful baby books my wife and I have come across, and it often cuts right to the chase of what's serious and what's not. As new parents, we find ourselves asking exactly the kinds of questions this book answers. In many situations, unnecessary long hours in doctor's office waiting rooms, long holds to speak to nurse advice call-in lines, misinformation gathered from Internet searches, and serious conditions going undiagnosed could be avoided if all parents had a copy of this book on their shelf."
- Neil Shulman, M.D., associate professor, Emory University School of Medicine; co-author of Your Body's Red Light Warning Signals
 
This is a reassuring and comprehensive resource for new parents who want to gain a better understanding of normal and abnormal baby characteristics."
- Jennifer Wider, M.D., author of The New Mom's Survival Guide

"Baby Body Signs is the antidote for the anxiety parents suffer when they notice some-thing unusual about their baby and then worry until their next doctor visit. It is well written and contains a wealth of information not found in other parenting books. It will be an excellent addition to any parent's library."
- Jeffrey L. Brown, M.D., F.A.A.P., clinical professor of pediatrics, New York Medical College; author of The Complete Parents' Guide to Telephone Medicine
or
Not Currently Available for Direct Purchase