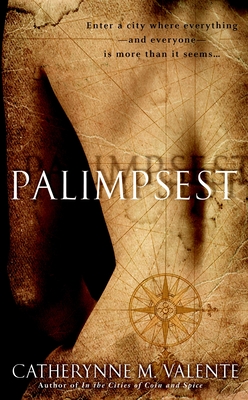 Palimpsest
A Novel
Paperback

* Individual store prices may vary.
Other Editions of This Title:
Compact Disc (8/15/2010)
Description
In the Cities of Coin and Spice and In the Night Garden introduced readers to the unique and intoxicating imagination of Catherynne M. Valente. Now she weaves a lyrically erotic spell of a place where the grotesque and the beautiful reside and the passport to our most secret fantasies begins with a stranger's kiss.…

Between life and death, dreaming and waking, at the train stop beyond the end of the world is the city of Palimpsest. To get there is a miracle, a mystery, a gift, and a curse—a voyage permitted only to those who've always believed there's another world than the one that meets the eye. Those fated to make the passage are marked forever by a map of that wondrous city tattooed on their flesh after a single orgasmic night. To this kingdom of ghost trains, lion-priests, living kanji, and cream-filled canals come four travelers: Oleg, a New York locksmith; the beekeeper November; Ludovico, a binder of rare books; and a young Japanese woman named Sei. They've each lost something important—a wife, a lover, a sister, a direction in life—and what they will find in Palimpsest is more than they could ever imagine.
Praise For Palimpsest: A Novel…

"Catherynne M Valente's Palimpsest just knocks me flat with her use of language: rich, cool, opiated language, language for stories of strange love and hallucinated cities of the mind." — Warren Ellis, author of Transmetropolitan

"Palimpsest is an elegant and evocative story set in a gorgeous alien wonderland." — Elizabeth Bear, author of Hammered

"Gorgeously written and deliriously imaginative, Palimpsest is the book for those who love old maps and grow wistful at the sound of a night train. A modern masterpiece in Valente's unique voice and singular sensibility."—Ekaterina Sedia, author of The Alchemy of Stone

"Catherynne Valente has once again proved her mastery of the fantastic. Full to the brim with beautiful images and gorgeous prose, Palimpsest belongs on the same shelf with Calvino's Invisible Cities and Winterson's The Passion. Valente is writing the smartest, gentlest, deepest work in the field, and she's good enough to do it. I remain in awe."—Daniel Abraham, author of The Long Price Quartet

"It's never enough to merely read a book like Palimpsest, it has to be imbibed, and it's sensuality fully savored."—Nick Bantock, author of The Griffin and Sabine Trilogy

"Outstandingly beautiful prose."–Publishers Weekly


Spectra, 9780553385762, 384pp.
Publication Date: February 24, 2009
About the Author
Catherynne M. Valente was born in the Pacific Northwest, grew up in California, and now lives in Ohio with her two dogs.