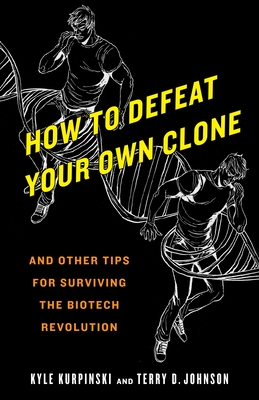 How to Defeat Your Own Clone
And Other Tips for Surviving the Biotech Revolution
Paperback

* Individual store prices may vary.
Description
Send in the clones! On second thought, maybe not.
 
CAN IT READ MY MIND?
WILL IT BE EVIL?
HOW DO I STOP IT?
 
Find out the answers to these and other burning questions in this funny, informative, and ingenious book from two bioengineering experts who show you how to survive—and thrive—in a new age of truly weird science.
For decades, science fiction has been alerting us to the wonders and perils of our biotech future—from the prospects of gene therapy to the pitfalls of biological warfare. Now that future looms before us. Don't panic! This book is all you need to prepare for the new world that awaits us, providing indispensable cautionary advice on topics such as
 
• bioenhancements: They're not just for cyborgs anymore.
• DNA sequencing and fingerprinting: What's scarier than the government having your DNA on file? Try having it posted on the Internet.
• human cloning: Just like you, only stronger, smarter, and more attractive. In other words: more dangerous.

Our future may be populated by designer babies, genetically enhanced supersoldiers, and one (or more!) of your genetic duplicates, but all is not lost. How to Defeat Your Own Clone is the ultimate survival guide to what lies ahead. Just remember the first rule of engagement: Don't ever let your clone read this book!
Praise For How to Defeat Your Own Clone: And Other Tips for Surviving the Biotech Revolution…
"Once we decided which one of me would first read How to Defeat Your Own Clone, the rest was a breeze. Kudos to Kyle, Kyle, Terry and Terry for a terrific blend of science and wackiness. I can't wait to use this against me."-David P. Murphy, author of Zombies for Zombies: Advice and Etiquette for the Living Dead
 
"God willing, I will never have to come face to face with a genetic double of myself, but I take great comfort in knowing that in this book I have the tools necessary to triumph over it." –Joe Garden, Co-Author of The New Vampire's Handbook and Features Editor of The Onion

"A fun ride through the myths and facts of the biotech revolution, this book addresses the truly important questions, like how we can turn ourselves into superstrong, ageless, disease-resistant megageniuses. The best part is that everything you'll read here, including how to fight a clone who shares your thoughts, is based on real scientific research."— Annalee Newitz, editor-in-chief of io9.com
 
"The US Supreme Court may take decades before it concedes that the Constitutional right to reproductive freedom includes some right of cloning. Kurpinski and Johnson are far ahead. They shine a rational and entertaining light on the promise of cloning and its likely hazards." –Bart Kosko, Author of Fuzzy Thinking and Heaven in a Chip
 
"It's a hoot!" –Robert Zubrin, author of How to Live on Mars.
Bantam, 9780553385786, 192pp.
Publication Date: February 23, 2010
About the Author
Kyle Kurpinski received a Master's degree in biomedical engineering from the University of Michigan and a Ph.D. in bioengineering in the joint graduate group between the University of California, Berkeley and the University of California, San Francisco. He is the lead product development engineer at Nanonerve, Inc. 

Terry D. Johnson received his Master's in Chemical Engineering from MIT and is currently a lecturer in the Bioengineering Department at the University of California, Berkeley.
or
Not Currently Available for Direct Purchase