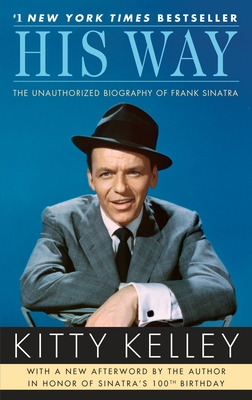 His Way (Paperback)
The Unauthorized Biography of Frank Sinatra
Bantam, 9780553386189, 688pp.
Publication Date: December 28, 2010
Other Editions of This Title:
Digital Audiobook (12/27/2010)
Mass Market Paperback (8/1/1987)
* Individual store prices may vary.
Description
#1 NEW YORK TIMES BESTSELLER • With a new afterword by the author in honor of Frank Sinatra's 100th birthday
 
This is the book that Frank Sinatra tried—but failed—to keep from publication, and it's easy to understand why. This unauthorized biography goes behind the iconic myth of Sinatra to expose the well-hidden side of one of the most celebrated—and elusive—public figures of our time. Celebrated journalist Kitty Kelley spent three years researching government documents (Mafia-related material, wiretaps, and secret testimony) and interviewing more than 800 people in Sinatra's life (family, colleagues, law-enforcement officers, friends). The result is a stunning, often shocking exposé of a man as tortured as he was talented, as driven to self-destruction as he was to success.
 
Featuring a new afterword by the author, this fully documented, highly detailed biography—filled with revealing anecdotes—is the penetrating story of the explosively controversial and undeniably multitalented legend who ruled the entertainment industry for fifty years and continues to fascinate to this day.
 
Praise for His Way
 
"The most eye-opening celebrity biography of our time."—The New York Times
 
"A compelling page-turner . . . Kitty Kelley's book has made all future Sinatra biographies virtually redundant."—Los Angeles Herald Examiner
About the Author
Kitty Kelley is a journalist who has written for The Washington Post, The New York Times, Newsweek, Good Housekeeping, and more. She is the bestselling author of Jackie Oh!; His Way: The Unauthorized Biography of Frank Sinatra; Elizabeth Taylor: The Last Star; Nancy Reagan: The Unauthorized Biography; The Royals; The Family: The Real Story of the Bush Dynasty; Oprah: A Biography; and Capturing Camelot: Stanley Tretick's Iconic Images of the Kennedys.
Praise For His Way: The Unauthorized Biography of Frank Sinatra…
"The most eye-opening celebrity biography of our time."—The New York Times
 
"A compelling page-turner . . . Kitty Kelley's book has made all future Sinatra biographies virtually redundant."—Los Angeles Herald Examiner