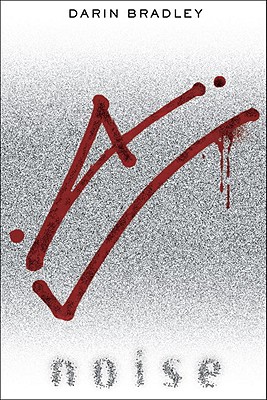 Noise
A Novel
Paperback

* Individual store prices may vary.
Description
This haunting debut from a brilliant new voice is sure to be as captivating as it is controversial, a shocking look at the imminent collapse of American civilization—and what will succeed it.
 
In the aftermath of the switch from analog to digital TV, an anarchic movement known as Salvage hijacks the unused airwaves. Mixed in with the static's random noise are dire warnings of the imminent economic, political, and social collapse of civilization—and cold-blooded lessons on how to survive the fall and prosper in the harsh new order that will inevitably arise from the ashes of the old.

Hiram and Levi are two young men, former Scouts and veterans of countless Dungeons & Dragons campaigns. Now, on the blood-drenched battlefields of university campuses, shopping malls, and gated communities, they will find themselves taking on new identities and new moralities as they lead a ragtag band of hackers and misfits to an all-but-mythical place called Amaranth, where a fragile future waits to be born.
Praise For Noise: A Novel…
A Best Book of 2010: Fiction selection --January Magazine

2010 Recommended Reading List -- Locus Magazine

Favorite Books of 2010 -- Bookreporter


"An exceptionally polished debut...Falling somewhere between The Lord of the Flies and The Zombie Survival Guide, this dystopian ditty will generate passionate readership and spirited "what would you do?" conversations." –Publishers Weekly

"Story edged as a katana, prose tight as the grip that wields it, Noise is keen in its purpose and most 'incisive.' Shorn of false sentiment and trite cynicism, it paints an all too plausible apocalypse, and paints it in bold fresh terms. This is a great new take on its genre and an exemplary work in its own right." --Hal Duncan, author of Ink and Vellum

"Darin Bradley's brainy, slippery, and riveting Noise is Lord of the Flies on serious psychotropics. With narrative tendrils in the "paper" book and online as well, Noise is deliberately speaking to a young, media-soaked audience through various texts and tricks. You watch.  Noise is destined to be a milestone work for Millennial readers." --Barth Anderson, author of The Patron Saint of Plagues

"Noise is not a thick book, so the dense layering and compelling characterizations will surprise you all the more. It's unexpected. And given Bradley's dark view and haunting prose, it's even possible you won't like Noise. But it is not possible that you will forget it." --January Magazine

"I…read Noise by Darin Bradley and was completely blown away…This book has power."  –Tor.com

"Edgy and disturbing, Noise is a worthy successor to all those post-holocaust books of yesteryear." –Analog

"You want this book...It's the kind of book that leaves you breathless haunted and in awe. It makes me think of Little Brother meets Lord of the Flies meets Heart of Darkness meets Mad Max and the Road Warrior meets Letham. It's a ride, fast and sure, and even though it seems like a YA dystopian novel, like another Hunger Games or...Battle Royale, he takes it and makes it so unique, so different, so blood curdling awesome. And he does that one thing all real interesting and smart genre writers try to do and fail miserably over and over and over again--he combines literary feats of philosophical inquiry and metafictional prowess with the steady rhythm and accessibility of a powerful fast read of a gut punch of a novel. In other words--you want this book." –Paul Jessup

"Nobody reads books because they know if the heroes live or die or because they know it has a happy or a sad ending. We read books because someone says, in one way or another, 'This is a good book. You should read it.'  Noise is a good book. You should read it." –A Terrible Idea

"What sets this one apart from others of this ilk are (a) its unusual premise and (b) the narrative skill of the author…[a] riveting and jarring debut novel." –Book Loons

"Compellingly told...a fascinating character study of how a pair of suburban boys try to transform themselves into the kind of people who can survive and thrive in an apocalypse and post-collapse world." –21st Century Geeks

"Darin Bradley's Noise is a small juggernaut of dystopian lit.  It's Lord of the Flies ala some Philip K. Dick mindbend.  It's arty and smart and unique." –Pulp 300 blog
 
"[Noise is] distressing and smart and I can't get it out of my head." –Mumble Herder blog
Spectra, 9780553386226, 240pp.
Publication Date: August 31, 2010
About the Author
DARIN BRADLEY holds an M.A. in Literature and Literary Criticism and a Ph.D. in Literature and Theory. He has taught courses on writing and literature at the University of North Texas, Furman University, and East Tennessee State University. His short fiction, poetry, and critical nonfiction have appeared in a variety of journals, and he served as founding fiction editor of the experimental e-zine, Farrago's Wainscot.  Noise is his first novel. He lives in Texas with his wife.
or
Not Currently Available for Direct Purchase