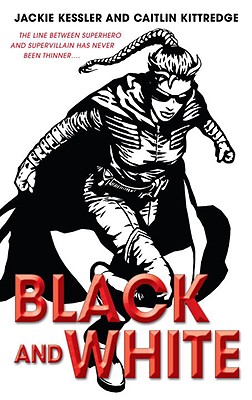 Black and White (The Icarus Project #1)
Paperback

* Individual store prices may vary.
Description
It's the ultimate battle of good versus good.

They were best friends at an elite academy for superheroes in training, but now Callie Bradford, code name Iridium, and Joannie Greene, code name Jet, are mortal enemies. Jet is a by-the-book hero, using her Shadow power to protect the citizens of New Chicago. Iridium, with her mastery of light, runs the city's underworld. For the past five years the two have played an elaborate, and frustrating, game of cat and mouse.

But now playtime's over. Separately Jet and Iridium uncover clues that point to a looming evil, one that is entwined within the Academy. As Jet works with Bruce Hunter—a normal man with an extraordinary ability to make her weak in the knees—she becomes convinced that Iridium is involved in a scheme that will level the power structure of America itself. And Iridium, teaming with the mysterious vigilante called Taser, uncovers an insidious plot that's been a decade in the making…a plot in which Jet is key.

They're both right. And they're both wrong. Because nothing is as simple as Black and White.
Spectra, 9780553386318, 464pp.
Publication Date: June 2, 2009
About the Author
Jackie Kessler is the author of the Hell on Earth series, a sexy, funny dark paranormal about a succubus-turned-stripper who ran away from Hell (devilish antics ensue).Caitlin Kittredge has been an unrepentant geek since the age of twelve, when she first saw "Star Wars." When she's not writing about super-powered dystopias, she blogs, goes to the movies, reads books and comics voraciously, collects vintage clothes, and turns her music up too loud. She lives in Olympia, Washington, with a garage full of comics and two pushy cats.
or
Not Currently Available for Direct Purchase