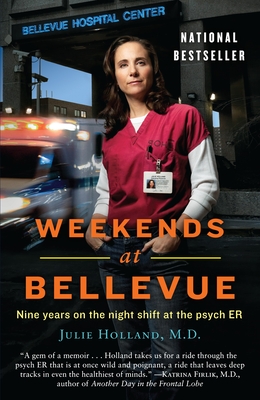 Weekends at Bellevue (Paperback)
Nine Years on the Night Shift at the Psych ER
Bantam, 9780553386523, 320pp.
Publication Date: October 26, 2010
Other Editions of This Title:
Hardcover (10/6/2009)
CD-Audio (10/6/2009)
Pre-Recorded Audio Player (12/1/2009)
* Individual store prices may vary.
Description
"A gem of a memoir . . . Holland takes us for a ride through the psych ER that is at once wild and poignant, a ride that leaves deep tracks in even the healthiest of minds."—Katrina Firlik, M.D., author of Another Day in the Frontal Lobe

Julie Holland thought she knew what crazy was. Then she came to Bellevue. For nine eventful years, Dr. Holland was the weekend physician in charge of the psychiatric emergency room at New York City's Bellevue Hospital. In this absorbing memoir, Holland recounts stories from her vast case files that are alternately terrifying, tragically comic, and profoundly moving: the serial killer, the naked man barking like a dog in Times Square, the schizophrenic begging for an injection of club soda to quiet the voices in his head, the subway conductor who helplessly watched a young woman pushed into the path of his train. Writing with uncommon candor, Holland supplies not only a page-turner with all the fast-paced immediacy of a TV medical drama but also a fascinating glimpse into the inner lives of doctors who struggle to maintain perspective in a world where sanity is in the eye of the beholder.

Praise for Weekends at Bellevue

"An extraordinary insider's look at the typical days and nights of that most extraordinary place, written with a rare combination of toughness, tenderness, and outrageous humor."—Andrew Weil, M.D. 

"Unforgettable . . . tells a mean story."—New York Daily News

"The tension between [Holland's] macho swagger and her shame at the harsh way she occasionally treats patients gives this memoir extra intrigue."—Psychology Today

"A fascinating portrait . . . Holland is a good storyteller with a dark wit." —New York Post "Equal parts affecting, jaw-dropping, and engrossing."—Booklist

About the Author
Julie Holland, M.D., is a psychiatrist specializing in psychopharmacology. An assistant professor of psychiatry at NYU School of Medicine, she spent her weekends running the psychiatric emergency room at Bellevue Hospital for nine years. She is the editor of Ecstasy: The Complete Guide–A Comprehensive Look at the Risks and Benefits of MDMA. She lectures widely and has been quoted in Time, Harper's, Slate, the Los Angeles Times, and The Wall Street Journal. Holland has appeared as a medical expert regarding mental illness and drug use on numerous television shows, including Today and Good Morning America. She runs a private practice in New York City and lives with her husband and two children in the Hudson Valley.
Praise For Weekends at Bellevue: Nine Years on the Night Shift at the Psych ER…
"A gem of a memoir . . . Holland takes us for a ride through the psych ER that is at once wild and poignant, a ride that leaves deep tracks in even the healthiest of minds."—Katrina Firlik, M.D., author of Another Day in the Frontal Lobe

"An extraordinary insider's look at the typical days and nights of that most extraordinary place, written with a rare combination of toughness, tenderness, and outrageous humor."—Andrew Weil, M.D.

"Unforgettable . . . tells a mean story."—New York Daily News
 
"The tension between [Holland's] macho swagger and her shame at the harsh way she occasionally treats patients gives this memoir extra intrigue."—Psychology Today
 
"A fascinating portrait . . . Holland is a good storyteller with a dark wit."—New York Post
 
"Equal parts affecting, jaw-dropping, and engrossing."—Booklist

"In Weekends at Bellevue [Julie Holland] tells the story of her own journey through medical school, residency, and beyond, and at the same time gives us startling insights into minds so damaged, human beings rendered so helpless by their own demons, that entities resembling souls can't help but shine through. It's a thrilling and meaningful trip. As I turned the pages I found myself thinking, over and over, Oh, poor novelist that you are, you really can't make this stuff up." —Michael Cunningham, author of The Hours and Specimen Days