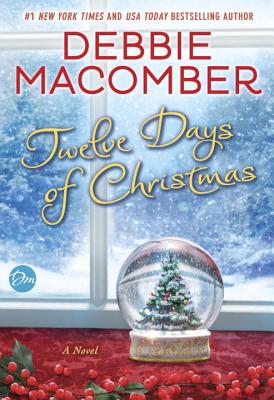 Twelve Days of Christmas (Hardcover)
A Christmas Novel
Ballantine Books, 9780553391732, 288pp.
Publication Date: October 4, 2016
Other Editions of This Title:
Digital Audiobook (10/3/2016)
Paperback, Large Print (10/4/2016)
CD-Audio (10/4/2016)
* Individual store prices may vary.
Description
NEW YORK TIMES BESTSELLER • Continuing in a festive annual tradition, Debbie Macomber returns with a new original holiday novel full of romance and cheer—and the magical prospect of finding love in the most unexpected places.

Friendly and bubbly, Julia Padden likes nearly everyone, but her standoffish neighbor, Cain Maddox, presents a particular challenge. No matter how hard she's tried to be nice, Cain rudely rebuffs her at every turn, preferring to keep to himself. But when Julia catches Cain stealing her newspaper from the lobby of their apartment building, that's the last straw. She's going to break through Cain's Scrooge-like exterior the only way she knows how: by killing him with kindness.

To track her progress, Julia starts a blog called The Twelve Days of Christmas. Her first attempts to humanize Cain are far from successful. Julia brings him homemade Christmas treats and the disagreeable grinch won't even accept them. Meanwhile, Julie's blog becomes an online sensation, as an astonishing number of people start following her adventures. Julia continues to find ways to express kindness and, little by little, chips away at Cain's gruff façade to reveal the caring man underneath. Unbelievably, Julia feels herself falling for Cain—and she suspects that he may be falling for her as well. But as the popularity of her blog continues to grow, Julia must decide if telling Cain the truth about having chronicled their relationship to the rest of the world is worth risking their chance at love.

Praise for Twelve Days of Christmas

"Another heartwarming seasonal [Debbie] Macomber tale, which fans will find as bright and cozy as a blazing fire on Christmas Eve."—Kirkus Reviews

"Twelve Days of Christmas is a delightful, charming read for anyone looking for an enjoyable Christmas novel. . . . Settle in with a warm blanket and a cup of hot chocolate, and curl up for some Christmas fun with Debbie Macomber's latest festive read."—Bookreporter

"If you're looking for a quick but meaningful holiday romance that will be sure to spark a need inside you to show others kindness, look no further than Twelve Day of Christmas."—Harlequin Junkie

"Twelve Days of Christmas is a charming, heartwarming holiday tale. With poignant characters and an enchanting plot, Macomber again burrows into the fragility of human emotions to arrive at a delightful conclusion."—New York Journal of Books
About the Author
Debbie Macomber, the author of Sweet Tomorrows, A Girl's Guide to Moving On, Last One Home, Silver Linings, Love Letters, Mr. Miracle, Blossom Street Brides, and Rose Harbor in Bloom, is a leading voice in women's fiction. Ten of her novels have reached #1 on the New York Times bestseller lists, and five of her beloved Christmas novels have been hit movies on the Hallmark Channel, including Mrs. Miracle and Mr. Miracle. Hallmark Channel also produced the original series Debbie Macomber's Cedar Cove, based on Macomber's Cedar Cove books. She has more than 200 million copies of her books in print worldwide.
Praise For Twelve Days of Christmas: A Christmas Novel…
"Another heartwarming seasonal [Debbie] Macomber tale, which fans will find as bright and cozy as a blazing fire on Christmas Eve."—Kirkus Reviews
 
"Twelve Days of Christmas is a delightful, charming read for anyone looking for an enjoyable Christmas novel. . . . Settle in with a warm blanket and a cup of hot chocolate, and curl up for some Christmas fun with Debbie Macomber's latest festive read."—Bookreporter
 
"If you're looking for a quick but meaningful holiday romance that will be sure to spark a need inside you to show others kindness, look no further than Twelve Day of Christmas."—Harlequin Junkie
 
"Twelve Days of Christmas is a charming, heartwarming holiday tale. With poignant characters and an enchanting plot, Macomber again burrows into the fragility of human emotions to arrive at a delightful conclusion."—New York Journal of Books
 
"Twelve Days of Christmas is . . . a straight-up, clean romance with a happily ever after, all set during the Christmas season. . . . What more could you want at Christmas than a feel-good book with a happy ending?"—Desert Island Book Reviews 
 
"The perfect Christmas romance . . . As expected from any Macomber novel, you'll love the progress of humanity, kindness and get all the feels of a holiday romance."—Books for Her
 
"Twelve Days of Christmas by Debbie Macomber is a beautifully written, festive tale of love, understanding and finding what you need . . . the perfect Christmas read to get you into the holiday mood. A truly delightful, happy read!"—Books of all Kinds
or
Not Currently Available for Direct Purchase