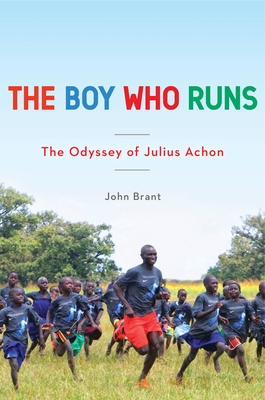 The Boy Who Runs (Hardcover)
The Odyssey of Julius Achon
Ballantine Books, 9780553392159, 272pp.
Publication Date: August 16, 2016
* Individual store prices may vary.
Description
In the tradition of Uzodinma Iweala's Beasts of No Nation by way of Christopher McDougall's Born to Run, this is the inspirational true story of the Ugandan boy soldier who became a world-renowned runner, then found his calling as director of a world-renowned African children's charity.

"Julius can't remember who first saw the men. He heard no warning sounds—no dog barking or twig snapping. Until this point, events had moved too swiftly for Julius to be afraid, but now panic seized him. In another instant, he realized that his old life was finished."

Thus begins the extraordinary odyssey of Julius Achon, a journey that takes a barefoot twelve-year-old boy from a village in northern Uganda to the rebel camp of the notorious Lord's Resistance Army, where he was made a boy soldier, and then, miraculously, to a career as one of the world's foremost middle-distance runners. But when a devastating tragedy prevents Julius from pursuing the gold at the 2004 Olympic Games in Athens, he is once again set adrift and forced to forge a new path for himself, finally finding his true calling as an internationally recognized humanitarian. Today, Julius is the director of the Achon Uganda Children's Fund, a charity whose mission is to improve the quality of life in rural Uganda through access to healthcare, education, and athletics.

While pursuing his destiny, Julius encounters a range of unforgettable characters who variously befriend and betray him: the demonic Joseph Kony, a "world-class warlord"; John Cook, a brilliant and eccentric U.S. track coach; Jim Fee, an American businessman who helps Julius build a state-of-the-art medical center deep in the Ugandan bush; and finally Kristina, Julius's mother, whose own tragic journey forms the pivot for this spellbinding narrative of love, loss, suffering, and redemption.

Written by award-winning sportswriter John Brant, The Boy Who Runs is an empowering tale of obstacles overcome, challenges met, and light wrested from darkness. It's a story about forging your true path and finding your higher purpose—even when the road ahead bends in unexpected directions.

Advance praise for The Boy Who Runs

"Brant proves again why he is one of our best sportswriters, masterfully weaving a compelling narrative of an African country at war, along with the transformation of a young man from athlete to humanitarian. . . . [Achon's] life story is a shining example of the Olympic spirit."—Booklist (starred review)

"Fantastic . . . Brant does a beautiful job of chronicling the tension. . . . Indeed, his work is first-rate throughout the book, and it makes for a read-in-one-sitting story."—Publishers Weekly (starred review)

"Inspiring . . . Achon's difficult journey as an athlete and humanitarian reveals how sport can provide a valuable avenue of hope for those seeking to rise above tragic circumstances."—Library Journal

"This is an astonishing story about an amazing athlete who outruns not only the grinding poverty and deprivation of the Ugandan bush but brutal war and imminent death, then dedicates himself to saving his family and friends. This man has the heart of a lion. I couldn't put this book down."—John L. Parker, Jr., author of Once a Runner

"An instant classic . . . John Brant has given us an epic, moving, and ultimately hopeful story about the power of sport and friendship to transcend boundaries and make the world a better place."—Daniel Coyle, author of The Talent Code
About the Author
John Brant is the author of Duel in the Sun: Alberto Salazar, Dick Beardsley, and America's Greatest Marathon. He is a writer at large for Runner's World and a contributor to publications ranging from Outside to The New York Times Magazine. Brant's stories have appeared numerous times in the annual Best American Sports Writing collection. He lives in Portland, Oregon.
Praise For The Boy Who Runs: The Odyssey of Julius Achon…
Advance praise for The Boy Who Runs

"Brant proves again why he is one of our best sportswriters, masterfully weaving a compelling narrative of an African country at war, along with the transformation of a young man from athlete to humanitarian. . . . [Achon's] life story is a shining example of the Olympic spirit."—Booklist (starred review)
  
"Fantastic . . . Brant does a beautiful job of chronicling the tension. . . .
Indeed, his work is first-rate throughout the book, and it makes for a read-in-one-sitting story."—Publishers Weekly (starred review)
 
"Inspiring . . . Achon's difficult journey as an athlete and humanitarian reveals how sport can provide a valuable avenue of hope for those seeking to rise above tragic circumstances, and how true sportsmanship is not about winning but about harnessing strength that contributes to creating a better world."—Library Journal

"Inspiring . . . With breezy, accessible prose, Brant's profile incorporates African history and insider details on the physical demands of race-running, strategies for success, and how Achon personally paved the way for others like him to succeed with pride and humanitarianism both on the track and in everyday life. A bright, uplifting biography about determination and giving back."—Kirkus Reviews

"This is an astonishing story about an amazing athlete who outruns not only the grinding poverty and deprivation of the Ugandan bush but brutal war and imminent death, then dedicates himself to saving his family and friends. This man has the heart of a lion. I couldn't put this book down."—John L. Parker, Jr., author of Once a Runner
 
"An instant classic . . . John Brant has given us an epic, moving, and ultimately hopeful story about the power of sport and friendship to transcend boundaries and make the world a better place."—Daniel Coyle, author of The Talent Code

"Ace writer John Brant unearths meanings and connections forged in the fires of competition. Julius Achon runs for his life, then for his sport, and finally for his people. This is a book you can't put down and won't forget."—Benjamin Cheever, author of Strides: Running Through History with an Unlikely Athlete

"The Boy Who Runs tells Julius Achon's story with gripping detail and anecdote, while never once slipping into cliché or sentimentality. It's an inspiring tale of linked cultures—African and American—and what they can achieve together."—Amby Burfoot, editor-at-large, Runner's World