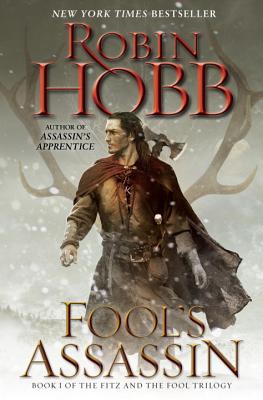 Fool's Assassin
Book One of the Fitz and the Fool Trilogy
Hardcover

* Individual store prices may vary.
Other Editions of This Title:
Digital Audiobook (8/11/2014)
Mass Market (7/28/2015)
Description
"NEW YORK TIMES "BESTSELLER
Nearly twenty years ago, Robin Hobb burst upon the fantasy scene with the first of her acclaimed Farseer novels, "Assassin's Apprentice, " which introduced the characters of FitzChivalry Farseer and his uncanny friend the Fool. A watershed moment in modern fantasy, this novel and those that followed broke exciting new ground in a beloved genre. Together with George R. R. Martin, Robin Hobb helped pave the way for such talented new voices as Scott Lynch, Brandon Sanderson, and Naomi Novik.
Over the years, Hobb's imagination has soared throughout the mythic lands of the Six Duchies in such bestselling series as the Liveship Traders Trilogy and the Rain Wilds Chronicles. But no matter how far she roamed, her heart always remained with Fitz. And now, at last, she has come home, with an astonishing new novel that opens a dark and gripping chapter in the Farseer saga.
FitzChivalry royal bastard and former king's assassin has left his life of intrigue behind. As far as the rest of the world knows, FitzChivalry Farseer is dead and buried. Masquerading as Tom Badgerlock, Fitz is now married to his childhood sweetheart, Molly, and leading the quiet life of a country squire.
Though Fitz is haunted by the disappearance of the Fool, who did so much to shape Fitz into the man he has become, such private hurts are put aside in the business of daily life, at least until the appearance of menacing, pale-skinned strangers casts a sinister shadow over Fitz's past . . . and his future.
Now, to protect his new life, the former assassin must once again take up his old one. . . .
Praise for "Fool's Assassin"
""
Hobb knows the complicated workings of the wayward human heart, and she takes time to depict them in her tale, to tell her story sweetly, insistently, compellingly. . . . A book meant to be inhabited rather than run through. "The Seattle Times"
FitzChivalry Farseer is] one of the best characters in fantasy literature. "Fantasy Book Review"
""
Hobb s] prose sparkles, her characters leap off the page. "Tor.com"
Modern fantasy at its irresistible best. " The Guardian"
""
Fantastic . . . emotionally rich storytelling. " Library Journal "(starred review)
Praise for Robin Hobb
Fantasy as it ought to be written . . . Robin Hobb's books are diamonds in a sea of zircons. George R. R. Martin.
Praise For Fool's Assassin: Book One of the Fitz and the Fool Trilogy…
Praise for Robin Hobb and the Farseer Trilogy
 
"Fantasy as it ought to be written . . . Robin Hobb's books are diamonds in a sea of zircons."—George R. R. Martin
 
"A gleaming debut in the crowded field of epic fantasies . . . a delightful take on the powers and politics behind the throne."—Publishers Weekly, on Assassin's Apprentice
 
"This is the kind of book you fall into, and start reading slower as you get to the end, because you don't want it to be over."—Steven Brust, on Assassin's Apprentice
 
"[Robin] Hobb continues to revitalize a genre that often seems all too generic, making it new in ways that range from the subtle to the shocking."—Locus, on Royal Assassin
 
"[Royal Assassin] reaches astonishing new heights. . . . The Farseer saga is destined for greatness—a must-read for every devotee of epic fantasy."—Sense of Wonder
 
"An enthralling conclusion to this superb trilogy, displaying an exceptional combination of originality, magic, adventure, character, and drama."—Kirkus Reviews (starred review), on Assassin's Quest
 
"Superbly written, wholly satisfying, unforgettable: better than any fantasy trilogy in print—including mine!"—Melanie Rawn, on Assassin's Quest
Del Rey Books, 9780553392425, 688pp.
Publication Date: August 12, 2014
About the Author
Robin Hobb is the author of the Farseer Trilogy, the Liveship Traders Trilogy, the Tawny Man Trilogy, the Soldier Son Trilogy, and the Rain Wilds Chronicles. She has also written as Megan Lindholm. She is a native of Washington State.
or
Not Currently Available for Direct Purchase