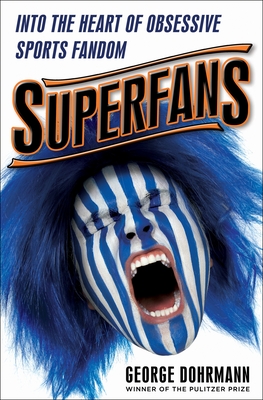 Superfans
Into the Heart of Obsessive Sports Fandom
Hardcover

* Individual store prices may vary.
Description
A Pulitzer Prize–winning journalist pulls back the curtain on the extraordinary inner lives of America's most obsessive sports fans.

There are fans, and then there are fanatics. In this wondrously immersive look at American sports fandom, George Dohrmann travels the country to find out what distinguishes an ordinary, everyday enthusiast from that special breed of supporter known as the superfan. In Minnesota, Dohrmann meets newly minted generals of the Viking World Order, a Minnesota Vikings affinity group organized along military lines. In Oregon, he shares a few beers with a determined soccer fan who amassed—almost singlehandedly—a four-thousand-strong cheering section for the fledgling Portland Timbers. In Illinois, he talks with the parents of a five-year-old boy whose intense hatred of Tom Brady went viral on YouTube. Through these and other intimate profiles, Dohrmann shows us the human faces behind the colored face paint, the real people inside the elaborate costumes who prowl the stands and parking lots at stadiums from coast to coast.
                   
In addition to the fans themselves, Dohrmann also talks with the experts who study them. He uses the latest thinking in sports psychology—some of it learned during a spirited round of miniature golf with a group of professors at the annual Sports Psychology Forum—to unravel the answers to such burning questions as: How does fandom begin? What are its effects on everyday life? When does it go too far?

For everyone who's ever body-painted their torso with the team colors of their alma mater before heading off to a sports bar—or even just screamed at their television during the NBA Finals—Superfans offers an entertaining and insightful exploration of the many ways human beings find meaning in something bigger than themselves.

Featuring photos of the Rally Banana, Timber Jim, the officers of the Viking World Order, a pair of Kentucky Wildcats tattoos, a Kevin Durant jersey torched by a jilted fan, and more.

Plus analysis of the . . .
Arizona State Sun Devils • Chicago Bears • Dallas Cowboys • Green Bay Packers • Indianapolis Colts • Milwaukee Brewers • Nebraska Cornhuskers • New England Patriots • Oklahoma City Thunder • Philadelphia Eagles • San Diego State Aztecs • Seattle Seahawks

"Well reported and meticulously researched . . . Dohrmann is a respected, diligent sportswriter and has been so for years—you don't get Pulitzers for message-board posts."—The Wall Street Journal
Praise For Superfans: Into the Heart of Obsessive Sports Fandom…
"Well reported and meticulously researched . . . [George] Dohrmann is a respected, diligent sportswriter and has been so for years—you don't get Pulitzers for message-board posts."—The Wall Street Journal
 
"Compelling . . . Being a sports fan means asserting an identity, connecting to a tribe and a time."—The Washington Post
 
"[A] lively, and sympathetic, account of the men and women who paint their faces, wear crazy costumes and make regular calls to sports radio shows."—Newsday

"A thought-provoking exploration of the weird, fascinating, and wonderful world of sports fans."—Chris Ballard, senior writer at Sports Illustrated
 
"Superfans is utterly hilarious, showing that sports have the power to turn PhD psychologists into superstitious obsessives, and young children into statistical savants. It's also the definitive anthropological dive into a form of mania that affects someone you love, if not you yourself."—David Epstein, New York Times bestselling author of The Sports Gene
 
"You've seen them screaming at a quarterback, paint covering their faces. But who are they? Why are they? And what do they mean for the rest of us? In Superfans, the great George Dohrmann breaks down the fanaticism with writing that is simultaneously uproarious and alarming. This is a terrific book."—Jeff Pearlman, New York Times bestselling author of Gunslinger
 
"Vastly entertaining and enlightening . . . Dohrmann treats his subjects with dignity. . . . By exploring the motivations of the men and women who display team tattoos and coordinate fan armies complete with military ranks, Dohrmann gives soul to a much maligned and misunderstood aspect of sports."—Publishers Weekly
 
"A Pulitzer Prize–winning journalist turns his attention to those who identify obsessively with their teams. . . . This is a fascinating subject deserving of further study, and Dohrmann provides a good jumping-off point."—Kirkus Reviews

"Dohrmann here plumbs the deep, mysterious ties that bind 'superfans' to their teams. . . . An insightful study that can find application well beyond the world of sports."—Booklist
 
"An inside look at people who draw a sense of place and belonging from the sports teams for which they root. This book should have a broad readership."—Library Journal
Ballantine Books, 9780553394214, 224pp.
Publication Date: February 20, 2018
About the Author
George Dohrmann is a senior editor at The Athletic and was formerly an investigative reporter at Sports Illustrated. He is the author of Play Their Hearts Out, winner of the PEN/ESPN Award for Literary Sports Writing and the Award for Excellence in Coverage of Youth Sports. In 2000, while working at the St. Paul Pioneer Press, he won a Pulitzer Prize for a series of stories that uncovered a college basketball team's academic fraud. Dohrmann lives in Ashland, Oregon, with his family.
or
Not Currently Available for Direct Purchase