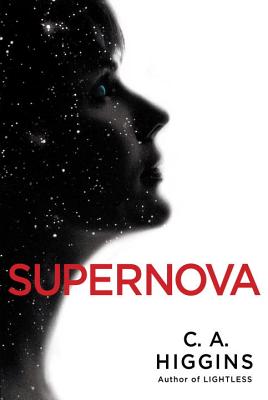 Supernova (The Lightless Trilogy #2) (Hardcover)
Del Rey, 9780553394450, 304pp.
Publication Date: July 26, 2016
Other Editions of This Title:
Digital Audiobook (7/25/2016)
Paperback (5/23/2017)
* Individual store prices may vary.
Description
C. A. Higgins's acclaimed novel Lightless fused suspenseful storytelling, high-caliber scientific speculation, and richly developed characters into a stunning science fiction epic. Now the dazzling Supernova heightens the thrills and deepens the haunting exploration of technology and humanity—and the consequences that await when the two intersect.

Once Ananke was an experimental military spacecraft. But a rogue computer virus transformed it—her—into something much more: a fully sentient artificial intelligence, with all the power of a god—and all the unstable emotions of a teenager.

Althea, the ship's engineer and the last living human aboard, nearly gave her life to save Ananke from dangerous saboteurs, forging a bond as powerful as that between mother and daughter. Now she devotes herself completely to Ananke's care. But teaching a thinking, feeling machine—perhaps the most dangerous force in the galaxy—to be human proves a monumental challenge. When Ananke decides to seek out Matthew Gale, the terrorist she regards as her father, Althea learns that some bonds are stronger than mortal minds can understand—or control.

Drawn back toward Earth by the quest, Althea and Ananke will find themselves in the thick of a violent revolution led by Matthew's sister, the charismatic leader Constance, who will stop at nothing to bring down a tyrannical surveillance state. As the currents of past decisions and present desires come into stark collision, a new and fiery future is about to be born.

Praise for Supernova

"An enjoyable, hard science fiction adventure."—Cinelinx

"Higgins succeeds in expanding her universe and leaving the reader hungry to learn how her debut trilogy will end."—New York Daily News

"Riveting and thought-provoking."—Publishers Weekly

Praise for C. A. Higgins's Lightless

"Gripping . . . sci-fi with a hint of thriller."—New York Daily News

"[A] measured, lovely science-fiction debut [that is] more psychological thriller . . . contained, disciplined, tense . . . The plot is compulsive. . . . Lightless is the first of a planned series, and you can't help looking forward to learning what's next."—The New York Times

"The stakes in this story are high—life and death, rebellion and betrayal. . . . Higgins continually ratchets up the tension. . . . This is a debut not to be missed."—Kirkus Reviews (starred review)

"A taut, suspenseful read."—Tech Times

"Absolutely brilliant . . . science fiction as it is meant to be done."—New York Times bestselling author Seanan McGuire
About the Author
C. A. Higgins is the author of Lightless. She was a runner-up in the 2013 Dell Magazines Award for Undergraduate Excellence in Science Fiction and Fantasy Writing and has a B.A. in physics from Cornell University. She lives in Montclair, New Jersey.
Praise For Supernova (The Lightless Trilogy #2)…
"An enjoyable, hard science fiction adventure."—Cinelinx
 
"Higgins succeeds in expanding her universe and leaving the reader hungry to learn how her debut trilogy will end."—New York Daily News
 
"Riveting and thought-provoking."—Publishers Weekly

Praise for C. A. Higgins's Lightless
 
"Gripping . . . sci-fi with a hint of thriller."—New York Daily News
 
"[A] measured, lovely science-fiction debut [that is] more psychological thriller . . . contained, disciplined, tense . . . The plot is compulsive. . . . Lightless is the first of a planned series, and you can't help looking forward to learning what's next."—The New York Times
 
"The stakes in this story are high—life and death, rebellion and betrayal. . . . Higgins continually ratchets up the tension. . . . This is a debut not to be missed."—Kirkus Reviews (starred review)
 
"A taut, suspenseful read."—Tech Times
 
"Absolutely brilliant . . . science fiction as it is meant to be done."—New York Times bestselling author Seanan McGuire
or
Not Currently Available for Direct Purchase