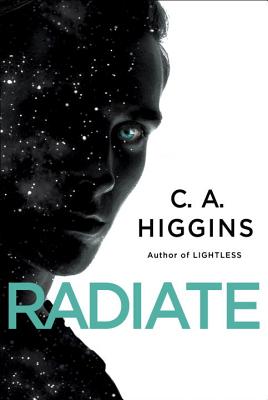 Radiate (The Lightless Trilogy #3) (Hardcover)
Del Rey, 9780553394481, 336pp.
Publication Date: May 23, 2017
Other Editions of This Title:
Digital Audiobook (5/22/2017)
Paperback (4/3/2018)
* Individual store prices may vary.
Description
In the follow-up to Lightless and Supernova, C. A. Higgins fuses science fiction, suspense, and drama to tell the story of a most unlikely heroine: Ananke, once a military spacecraft, now a sentient artificial intelligence. Ananke may have the powers of a god, but she is consumed by a very human longing: to know her creators.

Ananke may have the powers of a god, but she is consumed by a very human longing: to know her creators. Now Ananke is on a quest to find companionship, understanding, and even love. She is accompanied by Althea, the engineer who created her, and whom she sees as her mother. And she is in search of her "father," Matthew, the programmer whose code gave her the spark of life.

But Matthew is on a strange quest of his own, traveling the galaxy alongside Ivan, with whom he shares a deeply painful history. Ananke and her parents are racing toward an inevitable collision, with consequences as violent as the birth of the solar system itself—and as devastating as the discovery of love.

Praise for Radiate

"Radiate will take you to the corners of space you've never even dreamed of going and beyond."—Bustle

"Gripping . . . This sci-fi universe [is] utterly believable, while metaphor and allegory enrich the characters."—New York Daily News

"A compelling emotional tale about two people trying to save each other from a disaster of their own making."—Kirkus Reviews

The Lightless Trilogy is "a perfect sci-fi entry point that matches a rich, character-driven story with fundamental questions about who we are and why we're here."—Los Angeles Times
About the Author
C. A. Higgins is the author of the novels Lightless and Supernova and numerous short stories. She was a runner-up in the 2013 Dell Magazines Award for Undergraduate Excellence in Science Fiction and Fantasy Writing and has a B.A. in physics from Cornell University. She lives in Brooklyn, New York.
Praise For Radiate (The Lightless Trilogy #3)…
"Radiate will take you to the corners of space you've never even dreamed of going and beyond."—Bustle

"Gripping . . . This sci-fi universe [is] utterly believable, while metaphor and allegory enrich the characters."—New York Daily News

"A compelling emotional tale about two people trying to save each other from a disaster of their own making."—Kirkus Reviews

The Lightless Trilogy is "a perfect sci-fi entry point that matches a rich, character-driven story with fundamental questions about who we are and why we're here."—Los Angeles Times

Praise for C. A. Higgins's Lightless
 
"[A] measured, lovely science-fiction debut . . . contained, disciplined, tense . . . The plot is compulsive. . . . Lightless is the first of a planned series, and you can't help looking forward to learning what's next."—The New York Times
 
"Absolutely brilliant . . . This is science fiction as it is meant to be done: scientific concepts wedded to and built upon human ideals."—Seanan McGuire, New York Times bestselling author of the October Daye series
 
"The stakes in this story are high—life and death, rebellion and betrayal—and debut novelist Higgins continually ratchets up the tension. . . . A suspenseful, emotional story that asks plenty of big questions about identity and freedom, this is a debut not to be missed."—Kirkus Reviews (starred review)
or
Not Currently Available for Direct Purchase