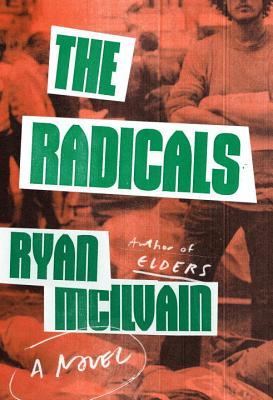 The Radicals (Hardcover)
A Novel
Hogarth, 9780553417883, 288pp.
Publication Date: February 13, 2018
* Individual store prices may vary.
Description
An intimate, suspenseful, and provocative portrait of friendship and love at its limits, and a timely exploration of class tensions and corporate excess in America

When Eli first meets Sam Westergard, he is dazzled by his new friend's charisma, energy, and determined passion. Both graduate students in New York City, the two young men bond over their idealism, their love of poetry, and their commitment to socialism, both in theory and in practice—this last taking the form of an organized protest against Soline, a giant energy company that has speculated away the jobs and savings of thousands. As an Occupy-like group begins to coalesce around him, Eli realizes that some of his fellow intellectuals are more deeply—and dangerously—devoted to the cause than others. 

A fiercely intelligent, wonderfully human illustration of friendship, empathy, and suspicion in the midst of political upheaval, Ryan McIlvain's new novel confirms him as one of our most talented and distinctive writers at work today.
About the Author
Ryan McIlvain was born in Utah and raised in Massachusetts. His first novel, Elders, was longlisted for the Center for Fiction's First Novel Prize, and his work has appeared in The Paris Review, Post Road, The Rumpus, and The Los Angeles Review of Books, among many other publications. A former Stegner Fellow in Fiction at Stanford University, McIlvain now lives with his family in Tampa, Florida.
Praise For The Radicals: A Novel…
Praise for The Radicals:

"McIlvain's eloquent and penetrating new novel, The Radicals . . . proceeds to draw the reader across a landscape of idealism, despair, greed, love and loss . . . He's not holding a mirror up to society; he's holding it up to you and me. How do you, as a basically honest person, respond to intentionally corrupt power? How can you fight on one side of your life and love on the other? How do you live now? . . . The Radicals is a heartfelt exploration of questions that may be impossible to answer."-- Los Angeles Review of Books

"A rollicking literary thriller . . . Rapturous." -- Vanity Fair

"It may be fictional, but the world in The Radicals deftly mirrors ours, with political upheaval, corporate excess and suspicious, frustrated citizens." -- Tampa Bay Times

"In McIlvain's splendid second novel (following Elders), the blissful rootlessness of narrator Eli, a 28-year-old graduate student, makes the novel a kind of adventure story of friendship and betrayal, in the same vein as On the Road. . . . McIlvain's prose is effortless and sharply perceptive; this is a consistently engrossing and thoroughly enjoyable novel." -- Publishers Weekly (starred)

"Hauntingly depicts the devastation that results from according ideology precedence over human life. . . . McIlvain's rich prose captures the polychromatic splendor of nature." -- Minneapolis Star Tribune

"McIlvain is a consummate crafter of words. Each word of his prose carries real weight..." -- Medium

"The author of Elders (2013) serves up another story of true belief and its discontents, this time set in the time of failing banks, rising inequality, and the Occupy movement…Memorable…A welcome return that will leave readers looking forward to future work from McIlvain." -- Kirkus

"McIlvain's exploration of the world of protesters will resound with readers interested in the personal side of dissent. McIlvain offers far more than political commentary, though, as he explores friendship, loyalty, and betrayal in a tale driven by tension and suspense." -- Booklist (starred)

"Among his many talents, Ryan McIlvain has a special gift for getting at the seductions and dangers of naïvete, and The Radicals delivers. Suffused with bittersweet wistfulness for a better world, this novel offers an urgent warning about the hazards that lie beneath even the best of intentions." -- Maggie Shipstead

"What a splendid novel, brilliantly combining a compelling personal story with important ripped-from-the-zeitgeist social and political issues. The Radicals has instantly claimed a place for Ryan McIlvain on my short list of writers I will forever watch very closely." -- Robert Olen Butler