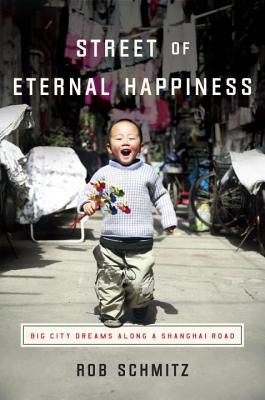 Street of Eternal Happiness (Hardcover)
Big City Dreams Along a Shanghai Road
Crown, 9780553418088, 336pp.
Publication Date: May 17, 2016
Other Editions of This Title:
MP3 CD (7/5/2016)
Paperback (5/16/2017)
Paperback, Chinese (2/1/2018)
Compact Disc (7/5/2016)
* Individual store prices may vary.
Description
An unforgettable portrait of individuals who hope, struggle, and grow along a single street cutting through the heart of Shanghai, from one of the most acclaimed broadcast journalists reporting on China.
 
Modern Shanghai: a global city in the midst of a renaissance, where dreamers arrive each day to partake in a mad torrent of capital, ideas, and opportunity. Marketplace's Rob Schmitz is one of them. He immerses himself in his neighborhood, forging deep relationships with ordinary people who see in the city's sleek skyline a brighter future, and a chance to rewrite their destinies. There's Zhao, whose path from factory floor to shopkeeper is sidetracked by her desperate measures to ensure a better future for her sons. Down the street lives Auntie Fu, a fervent capitalist forever trying to improve herself with religion and get-rich-quick schemes while keeping her skeptical husband at bay. Up a flight of stairs, musician and café owner CK sets up shop to attract young dreamers like himself, but learns he's searching for something more. As Schmitz becomes more involved in their lives, he makes surprising discoveries which untangle the complexities of modern China: A mysterious box of letters that serve as a portal to a family's—and country's—dark past, and an abandoned neighborhood where fates have been violently altered by unchecked power and greed.
 
A tale of 21st-century China, Street of Eternal Happiness profiles China's distinct generations through multifaceted characters who illuminate an enlightening, humorous, and at times heartrending journey along the winding road to the Chinese Dream. Each story adds another layer of humanity and texture to modern China, a tapestry also woven with Schmitz's insight as a foreign correspondent. The result is an intimate and surprising portrait that dispenses with the tired stereotypes of a country we think we know, immersing us instead in the vivid stories of the people who make up one of the world's most captivating cities.
About the Author
ROB SCHMITZ is the Shanghai correspondent for National Public Radio. Previously he was the China correspondent for NPR's Marketplace. He has reported on a range of topics illustrating China's role in the global economy, including trade, politics, the environment, education, and labor. In 2012, Schmitz exposed fabrications in Mike Daisey's account of Apple's Chinese supply chain on This American Life, and his report headlined that show's much-discussed "Retraction" episode. The work was a finalist for the 2012 Investigative Reporters and Editors Award. He has won two national Edward R. Murrow Awards and an award from the Education Writers Association for his reporting on China. Schmitz first arrived to the country in 1996 as a Peace Corps Volunteer in rural Sichuan province. This is his first book. 
Praise For Street of Eternal Happiness: Big City Dreams Along a Shanghai Road…
Praise for Street of Eternal Happiness

A World Magazine Best Book of the Year

A Telegraph Best Travel Book of the Year

"Poignant [and] enjoyable… Schmitz's eye for scenes and ear for dialogue give an immediacy to his stories that more expository works often lack."
—New York Times Book Review

"A portrait of China from the stories of a single Shanghai street…a poignant microcosm."
—The Economist

"Enjoyable and illuminating… The great virtue of these books is that they offer Chinese people a voice, something that is often lacking in news coverage. Schmitz writes with great affection about the shopkeepers and other residents of his street: in telling their stories, he shows how the goals of the Chinese state have 'often stood in the way of individual dreams.'"
—The Guardian

"Hopes and struggles rise to the surface in this intimate portrait of modern China."
—NationalGeographic.com

"Educational and entertaining… rich with voices… The people [Schmitz] features are…fully rounded characters, whose stories emerge in chat after chat, chapter after chapter, so we feel we are getting to know them as the writer does... [Readers] will feel much wiser about China and the Chinese than when they started."
—The Telegraph

"This beautifully conceived and written book conveys the joys, the tragedies, the comedy, and the vivid humanity of modern China. No one will talk about 'China's rise' or 'the China model' in the same way after reading it, and years from now people will turn to this book to understand the China of this era."
—James Fallows, author of China Airborne and Postcards from Tomorrow Square

"Street of Eternal Happiness is a marvel of place-based reporting. This single road illuminates the complexities, contradictions, and funny wonder of today's China. This book is really about family—the most eternal force on any street in the country."
—Peter Hessler, author of River Town,  Oracle Bones, and Country Driving
 
"Rob Schmitz has given us a treasure: a patient portrait of an impatient country, a China that is utterly true to life in its beauty and heartache, tenderness and greed. His story is told in real lives that are, like Shanghai itself, modern and imperfect, romantic and ruthlessly practical. Reading this is as close as most people will come to living there."
—Evan Osnos, National Book Award winning author of Age of Ambition
 
"Schmitz peels back the layers of a single street to discover ambition, reinvention, faith, corruption, murder, and heartbreak. In this intimate and revealing book, a two-mile stretch of road embodies the dreams and dramas of modern China."
—Leslie T. Chang, author of Factory Girls
 
"Rob Schmitz is a master storyteller who leads his readers into the heart and history of modern China. Street of Eternal Happiness is, in turn, funny, moving, tragic and—ultimately—emotionally satisfying. Nobody can pretend to understand Shanghai and contemporary China without reading it."
—Adam Minter, author of Junkyard Planet

"At last, an intimate look at daily life in contemporary, convivial Shanghai. All great cities have a great book that captures their rise or fall; Street of Eternal Happiness is Shanghai's."
—Michael Meyer, author of In Manchuria and The Last Days of Old Beijing
 
"A kaleidoscope of Chinese history, from famine and Cultural Revolution to one-child policy. Above all, these tales illustrate the perils and hopes of living the Chinese Dream, written with penetrating insight and charming fluidity. A delight."
—Mei Fong, Pulitzer Prize winner for International Reporting and author of One Child

"For nearly two centuries Shanghai has been a city that offered both Chinese and foreigners the possibility of success, wealth, and status. Rob Schmitz paints a vivid canvas of the city from the perspective of one big city street that neatly encapsulates the myriad aspirations of one country and its people. The Street of Eternal Happiness: a thoroughfare of aspirations and dreams, hard earned successes and sadly thwarted hopes where Schmitz encounters the ghosts of China's troubled past, the hard working yet wistful dreamers of today, and those whose sights and visions are firmly fixed on China's, and their own, future."
—Paul French, author of Midnight in Peking and Fat China

"Rob Schmitz has crafted a deeply empathetic marvel of a book. Alternately poignant and humorous, it has much to offer anyone who has been to Shanghai, thought about going there but not made it yet, or simply wants to get a better feel for the rhythms of life in twenty-first century China." 
—Jeffrey Wasserstrom, editor of the Oxford Illustrated History of Modern China and author of China in the 21st Century

"Authentic, boisterous, convincing, dynamic, energizing, the street stretching on, each window a non-fictional tale more fantastic than the fictional in the dramatic, almost unbelievable transformation of the Chinese society in its contemporary history, narrating with an Ezra Pound-like multiple cultural perspectives and linguistic sensibilities, and leading, eventually, to overwhelming questions. The reading of Street of Eternal Happiness cannot but compel a Shanghai-born Shanghainese like me into another trip back to the city in this global age."
—Qiu Xiaolong, author of Death of a Red Heroine and Shanghai Redemption

"What a treat to follow Rob Schmitz's journey into the epic lives of people living in the shadow of China's most storied city. Their heartache and hope spill from this small corner of Shanghai to the far reaches of modern Chinese history and geography. I've walked down this street a hundred times. I'll never see it the same way again. Schmitz has found a brilliant way to illuminate the big price little people pay for the profound changes reshaping the world's most populous country."
—Ching-Ching Ni, former Los Angeles Times Shanghai Bureau Chief, current editor-in-chief of The New York Times Chinese website

"[Schmitz's] web of characters speaks to his time in the country and his exemplary journalistic abilities… Weaving a gripping narrative peppered with historical facts, he leaves readers with an intimate glimpse into a culture undergoing a complex transformation."
—Publishers Weekly

"In his deliberative, observant journalistic style, Schmitz, the China correspondent for Marketplace, chronicles his interviews and friendships with several of the shop owners on the street where he has lived for some years, plumbing their dreams and capitalist motivations… With each chapter, Schmitz delves deeply into the families' endurance through the Cultural Revolution and famine and current drive to better themselves. Probing human-interest stories that mine the heart of today's China."
—Kirkus Reviews

"[Schmitz] gives his portraits a financial underpinning, which reveals both the sparkle of a dynamic economy and the longtime corruption and ineptitude by China's central government that have ruined so many millions of lives...A brutally revealing, yet unexpectedly tender, slice of Shanghai life."
—Booklist [starred]
or
Not Currently Available for Direct Purchase