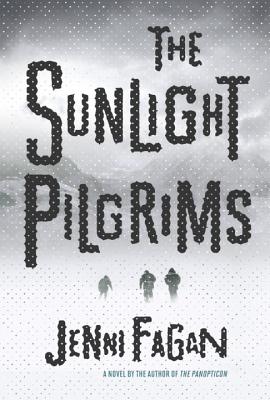 The Sunlight Pilgrims
A Novel
Hardcover

* Individual store prices may vary.
Other Editions of This Title:
Paperback (7/11/2017)
Description
The stunning new novel from the highly-acclaimed author of The Panopticon

It's November of 2020, and the world is freezing over. Each day colder than the last.
There's snow in Israel, the Thames is overflowing, and an iceberg separated from the Fjords in Norway is expected to drift just off the coast of Scotland. As ice water melts into the Atlantic, frenzied London residents evacuate by the thousands for warmer temperatures down south. But not Dylan. Grieving and ready to build life anew, he heads north to bury his mother's and grandmother's ashes on the Scottish islands where they once lived. 

Hundreds of miles away, twelve-year-old Estella and her survivalist mother, Constance, scrape by in the snowy, mountainous Highlands, preparing for a record-breaking winter. Living out of a caravan, they spend their days digging through landfills, searching for anything with restorative and trading value. When Dylan arrives in their caravan park in the middle of the night, life changes course for Estella and Constance. Though the weather worsens, his presence brings a new light to daily life, and when the ultimate disaster finally strikes, they'll all be ready. 

Written in incandescent, dazzling prose, The Sunlight Pilgrims is a visionary story of courage and resilience in the midst of nature's most violent hour; by turns an homage to the portentous beauty of our natural world, and to just how strong we can be, if the will and the hope is there, to survive its worst. 


- NPR "Best Books of 2016" – Family Matters, Identity & Culture, Science Fiction & Fantasy, and Tales from Around the World
Praise For The Sunlight Pilgrims: A Novel…
"Fierce and cleareyed...Fagan's novel balances the oncoming climate disaster with the human-scales stories of these characters, focusing especially on Stella, whose feelings about her sexual identity are refreshingly resolute...Fagan is a poet as well as a novelist, and many of her images of this unbidden winter are shot through with lyric beauty…Strange beauty can be found in destruction, and Fagan is fearless and wise to allow her characters to be as entranced by nature's awesome power as they are terrified of it." —New York Times Book Review

"Fagan's keen ear for crackling dialogue… betrays a bittersweet depth. And her imagery is sumptuous. As the cold, slow reality of climate change creeps across the countryside, she delivers page after crystalline page of haunting, heart-stopping lyricism… [Fagan] captures what so much apocalyptic literature loses: the way humans can become mute, withdrawn, and even darkly humorous in the face of doom, rather than running around in panic." —NPR.org

"Chilling and thrilling." —Dallas Morning News

"Fagan depicts the band of misfits assembled in the harbor town of Clachan Fells with the same warmth she invested in the teenage outcasts of her ambitious, exciting debut, The Panopticon (2013) … The frozen landscape is as beautiful as it is menacing in Fagan's evocative descriptions, and the vast snowstorm that closes the novel finds Dylan, Stella, and Constance safe and warm inside…for now. Tales of "sunlight pilgrims" from the north lyrically reinforce the author's theme that the struggle for survival can be joyful. More fine work from this gifted Scottish writer."—Kirkus (starred review)

"Gorgeous and vividly rendered, Fagan's second novel is a beguiling, beautiful testament to the tenacity of the human spirit."—Booklist

"A vivid story."—Publishers Weekly

"The Sunlight Pilgrims is a story about light and darkness, the essential co-existence of the two, the life-force which drives us on into the light and its transforming power even when everything appears to be stacked against us. It is also about the spectrum of light, the different colors which it produces and the wide range of ways in which we can live. It is a beautiful story which itself illuminates, and perhaps above all it illuminates the importance of respecting difference." —Electric Literature

"It is about what happens in between and around and in spite of those big things: the everyday moments of life and its machinations, the work we do to find our place in a chaotic world, and what it means to love and be loved." —Shelf Awareness

"[A] vivid and tender coming-of-age story set at the end of the world."—Kirsty Logan, The Guardian

"Fagan's vivid, poetic-prose style injects the book with energy. She writes at the pace of thought, sentences like gunfire … She has a poet's affection for precision and image."—Financial Times

"Fagan …explores some big ideas; namely the environment, gender and familial structure. She addresses these themes with an infectious, otherworldly hilarity, assembling an eccentric cast of characters who triumphantly flout convention."—Times Literary Supplement

"Fagan received widespread acclaim for her 2012 debut The Panopticon, and was named as one of the prestigious Granta Best of Young British Novelists a year later. The Sunlight Pilgrims further cements Fagan's reputation as a writer of skill and depth...[She] writes like the poet that she is, with an original eye for description, a wonderful rhythm to her prose, and some genuinely inspiring and unusual characters. An impressive read."—Big Issue

"The Sunlight Pilgrims evokes a chillingly plausible near-future . . . intimately imagined."—The Spectator


Praise for Jenni Fagan's The Panopticon

Named one of Granta's Best of Young British Novelists
Shortlisted for The Desmond Elliott Award
Shortlisted for The James Tait Black Prize
Shortlisted for the Dundee International Book Prize
Nominated for The Pushcart Prize

"Fagan has created a feisty, brass-knuckled yet deeply vulnerable heroine, who feels like sort of a cross between Lisbeth Salander, Stieg Larsson's 'Girl With the Dragon Tattoo,' and one of Irvine Welsh's drug-taking Scottish miscreants from 'Trainspotting' or 'Skagboys.' Her novel is by turns gritty, unnerving, exhausting, [and] ferocious...A deeply felt and genuinely affecting novel." —Michiko Kakutani, New York Times

"Fagan has given us one of the most spirited heroines to cuss, kiss, bite and generally break the nose of the English novel in many a moon…there is no resisting the tidal rollout of Fagan's imagery. Her prose beats behind your eyelids, the flow of images widening to a glittering delta whenever Anais approaches the vexed issue of her origins…vive Jenni Fagan...whose next book just moved into my 'eagerly anticipated' pile."—Tom Shone, New York Times Book Review

"[Fagan] grew up in what's euphemistically called 'the care system,' and she writes about these young people with a deep sympathy for their violently disordered lives and an equally deep appreciation of their humor and resiliency…[Fagan has a] rousing voice, with its roundly rendered Scottish accent."—Ron Charles, Washington Post

"A classic coming-of-age tale."—Boston Globe

"Fagan's style calls to mind fellow Scottish writer Anthony Burgess, whose novel A Clockwork Orange used similar lexicographic liberties to reinforce a theme of teenage dystopia" —The Daily Beast

"[A] terrific portrait of a young criminal…Fagan makes this ugly life somehow beautiful."—Alan Cheuse, NPR

"The Panopticon [is] a terrifically gritty and vivid debut." —Cleveland Plain Dealer

 "She's Oliver, with a twist. Anais Hendricks, 15, and the female protagonist of poetess Fagan's first novel, cuts right to the chase as she chronicles the modern British foster care system." —New York Post

"The Panopticon is like its protagonist: tough as old boots and always ready with the fists, but likely to steal your heart if you'll just slow down and listen."—National Post

 "Fagan creates a complex and vulnerable character…[and] even though Anais makes it hard for you to love her, you can't help wishing her out of her plight and cheering her upward." —Bust (four stars)

"The Panopticon is an exquisite first novel--Jenni Fagan has created a dark, disturbing, yet ultimately hopeful portrait of a young woman growing up alone in the Scottish foster care system.  To say it is haunting is an understatement--I kept wanting to set a place for Anais at the table with the rest of my children."—Vanessa Diffenbaugh, New York Times bestselling author of The Language of Flowers

"Jenni Fagan has created a high-resolution portrait of a throwaway kid. Fifteen-year-old Anais, born in a mental ward, tumbled through the social work system, violated and violent, high on whatever, each decision she makes is a jaunty wave as she sails past the next point of no return. This is a contemporary tragedy of the highest order." —Carol Anshaw, New York Times bestselling author ofCarry the One

"In the Margaret Atwood/The Handmaid's Tale vein—very literary and suspenseful. I like books set in an altered reality—one that feels familiar and yet also deeply unfamiliar, that embodies some of the dailiness of life, and yet slowly reveals itself to be a very different, much more sinister place."—Gillian Flynn, Oprah.com 

"With The Panopticon, Fagan makes Foucault proud and readers ecstastic. This is why we read. You'll begin wanting to save Anais Hendricks but finish wondering if, and how, she's managed to save you."— Tupelo Hassman, author of Girlchild
 
"Jenni Fagan is the real thing, and The Panopticon is a real treat: maturely alive to the pains of maturing, and cleverly amused as well as appalled by what it finds in the world." -Andrew Motion

"Ferocious and devastating, The Panopticon sounds a battle-cry on behalf of the abandoned, the battered, and the betrayed. To call it a good novel is not good enough: this is an important novel, a book with a conscience, a passionate challenge to the powers-that-be. Jenni Fagan smashes every possible euphemism for adolescent intimacy and adolescent violence, and she does it with tenderness and even humour. Hats off to Jenni Fagan! I will be recommending this book to everyone I know." -Eleanor Catton, author of The Rehearsal

"This is a wonderful book – gripping and brilliant. Anais's journey will break your heart and her voice is unforgettable. Bursting with wit, humanity and beauty as well as an unflinching portrayal of life as a 'cared for' young adult, this book will not let you go." -Kate Williams

"Best debut novel I've read this year." -Irvine Welsh

"Uncompromising and courageous...one of the most cunning and spirited novels I've read for years. The story of Anais, a fifteen-year-old girl blasting her way through the care-home system while the system in turn blasts her away to nothing, looks on the surface to be work of a recognizable sort, the post-Dickensian moral realism/fabulism associated with writers like Irvine Welsh. But Fagan's narrative talent is really more reminiscent of early Camus and that this novel is a debut is near unbelievable. Tough and calm, electrifying and intent, it is an intelligent and deeply literary novel which deals its hope and hopelessness simultaneously with a humaneness, both urgent and timeless, rooted in real narrative subtlety."–Ali Smith, TLS – books of the year

"If you're trying to find a novel to engage a determinedly illiterate teenager, give them this one. Anais, the 15-year-old heroine and narrator, has a rough, raw, joyous voice that leaps right off the page and grabs you by the throat…This punkish young philosopher is struggling with a terrible past, while battling sinister social workers. Though this will appeal to teenagers, the language and ideas are wholly adult, and the glorious Anais is unforgettable." –The Times

"[A] confident and deftly wrought debut…The Panopticon is an example of what Martin Amis has called the "voice novel", the success of which depends on the convincing portrayal of an idiosyncratic narrator. In this Fagan excels…Her voice is compellingly realised. We cheer her on as she rails against abusive boyfriends and apathetic social workers, her defiance rendered in a rich Midlothian brogue." –Financial Times

"The most assured and intriguing first novel by a Scottish writer that I have read in a decade, a book which is lithely and poetically written, politically and morally brave and simply unforgettable…Anais's voice is an intricate blend of the demotic and the hauntingly lyrical…There are moments which are genuinely distressing to read, which return the reader to a painful sense of how mindlessly and unspeakable cruel people can be. But it is marbled with cynical, smart comedy…Fagan is exceptionally skilful with bathos, a notoriously difficult literary register; here, however, it manages to be funny and heart-breakingly tender at the same time…Naturalistic and pleasingly oblique. Life, as Stevenson said, is "infinite, illogical, abrupt and poignant". To render this novelistically is a rare achievement…The Panopticon appeals to writers since in some ways the novelist is the prison's arch-overseer, able to look into the minds of the characters. But that comes with a duty: to keep your eyes open even when you'd rather shut them. Fagan is gloriously open-eyed about immaturity, maturity, sexuality, crime, dispossession and more. Her ability to capture the cross-currents of language, the impersonations of consciousness, is admirable…As a debut, The Panopticon does everything it should. It announces a major new star in the firmament." –Stuart Kelly, Scotsman 

"[The narrator] is engagingly drawn by Fagan, who has created a character possessed of intellectual curiosity and individual quirks…Written with great verve…Fagan has a clear voice, an unflinching feel for the complexity of the teenage mindset, and an awareness of the burden we impose on children…What's intriguing here – particularly in a Scottish fiction landscape that can display too much of the plodding everyday – is her effort to lift the story of teen misadventure into a heightened realm of intellectual aspiration and quasi-sci-fi notions of sinister social change." –Scotland on Sunday

"What Fagan depicts in her debut novel, The Panopticon, is a society in which people don't just fall through the net – there is no net…Fagan is writing about important stuff: the losers, the lonely, most of them women. [Anais] maintains a cool, smart, pretty, witty and wise persona." –Guardian

"Reminiscent of Girl, Interrupted…The novel is as bold, shocking and intelligent as its central character…The institutional details (magnolia walls, screwed-down chairs) anchor The Panopticon in realism, giving it a greater bite. Much of Anais' life is the stuff of tabloid shock stories and The Panopticon's strength lies in giving you an insight into the lonely, damaged girl behind the headlines…This week's winner." –Stylist

"An indictment of the care system, this dazzling and distinctive novel has at its heart an unstoppable heroine…Fagan's prose is fierce, funny and brilliant at capturing her heroine's sparky smartness and vulnerability…Emotionally explosive."–Marie Claire

"Fagan's writing is taut and controlled and the dialogue crackles." –The Herald
 
This is the best debut I've read this year...and all because of the character of Anais, who is one of the best narrators I have ever come across.  An essential read."–Living North

"Anais's story is one of abandonment, loss, and redemption, well suited for a paranoid age in which society finds itself constantly under the microscope." –Publishers Weekly

"Dark and disturbing but also exciting and moving, thanks to a memorable heroine and vividly atmospheric prose…Fagan [paints] her battered characters' fierce loyalty to each other with such conviction and surprising tenderness."—Kirkus Reviews

"Told in Anais' raw voice, Fagan's novel peers into the world inhabited by forgotten children, and, in Anais, gives us a heartbreakingly intelligent and sensitive heroine wrapped in an impossibly impenetrable exterior. Readers won't be able to tear themselves away from this transcendent debut." –Booklist(starred review)

"Anais's ongoing internal dialog, her periodic reimagining of her life and situation, is enthralling...James Kelman's How Late It Was, How Late meets Ken Kesey'sOne Flew over the Cuckoo's Nest. Not to be missed." –Library Journal (starred review)
Hogarth, 9780553418873, 288pp.
Publication Date: July 19, 2016
About the Author
JENNI FAGAN was born in Scotland. She attended Greenwich University and won a scholarship to the Royal Holloway MFA. A Pushcart Prize nominee, she was shortlisted for the Dublin Impac, The James Tait Black, and was named one of Granta's Best of Young British Novelists.
or
Not Currently Available for Direct Purchase