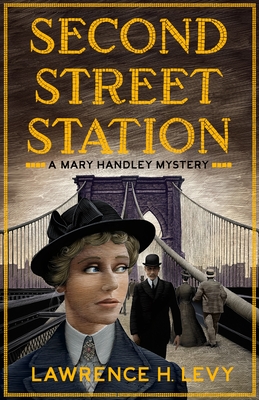 Second Street Station
A Mary Handley Mystery
Paperback

* Individual store prices may vary.
Other Editions of This Title:
Digital Audiobook (6/8/2015)
Description
A historical mystery featuring the witty and wily Mary Handley, the first woman detective in Brooklyn, as she tries to prove herself in a man's world while solving a high profile murder.
 
Mary Handley is a not your typical late-nineteenth century lady. She's fiery, clever, daring—and she's not about to conform to the gender norms of the day. Not long after being fired from her job at the hat factory for insubordinate behavior, Mary finds herself at the murder scene of Charles Goodrich, the brother of a prominent alderman and former bookkeeper of Thomas Edison. When Mary proves her acumen as a sleuth, she is hired by the Brooklyn police department—as the city's first female policewoman—to solve the crime. The top brass of the department expect her to fail, but Mary has other plans. As she delves into the mystery, she finds herself questioning the likes of J. P. Morgan, Thomas Edison, and Nikola Tesla. Mary soon discovers the key to solving the case goes well beyond finding a murderer and depends on her ability to unearth the machinations of the city's most prominent and respected public figures, men who will go to great lengths to protect their secrets.

Much like Mr. Churchill's Secretary and Maisie Dobbs, Second Street Station presents a portrait of a world plunging into modernity through the eyes of a clever female sleuth. Mary Handley is an unforgettable protagonist whose wit, humor, and charm will delight readers from the very first page.

Don't miss any of Lawrence H. Levy's enchanting Mary Handley mysteries:
SECOND STREET STATION • BROOKLYN ON FIRE • LAST STOP IN BROOKLYN • NEAR PROSPECT PARK (Coming Soon!)
Praise For Second Street Station: A Mary Handley Mystery…
A Library Journal Best Mystery of 2015

"Based on an actual incident and featuring real people involved in the case, this stunning debut by Levy, an award-winning TV writer (Seinfeld; Family Ties; Roseanne), offers a thought-provoking look at life for women in the late 19th century as well as a perplexing murder investigation. Mary is an unconventional, unforgettable protagonist who will appeal to readers who enjoy Jacqueline Winspear (Maisie Dobbs), Sarah R. Shaber (Louise's War), or Susan Elia MacNeal (Mr. Churchill's Secretary)."—Library Journal (starred review)

"A promising series kickoff that presents a morally strong heroine with a mystery that cleverly intertwines fact and fiction."
—Kirkus Reviews

"Mary Handley, an unconventional nineteenth-century female sleuth whom readers are sure to love...overcomes trained killers—using her jujitsu skills and quick wits—and even finds time to take a lover, in defiance of social propriety. Readers won't expect the surprise denouement as Handley steals the show and guarantees readership for a sequel."
—Booklist

"Second Street Station is a debut novel and the first, I hope, of many more Mary Handley mysteries. Mary is a fearless young woman, and not someone easily thwarted. There are plenty of suspects in the Goodrich murder, but readers will have difficulty figuring out the true killer. This is a great beginning of a potentially excellent series. I highly recommend Second Street Station."—Romance Reviews Today

"An ingenious story with unforgettable fictional characters, crossing paths with well known historical ones. I learned a lot from this book, the main thing being that I could never write one." 
—Larry David

"Second Street Station is a great read. Following Mary Handley through this Victorian adventure makes you feel like you've found some lost Sherlock Holmes story. It's impressive that the characters, many based on actual historical figures, are always funny, but the greatest delight is the mystery itself."
—Matthew Weiner, creator of Mad Men

"I love books in which the female sleuth defies stereotype with­out losing her authenticity. This one is even more impressive because Mary Handley is based on a real person. An added delight is the number of well-known historical figures who are intertwined with the story."
—Rhys Bowen, New York Times bestselling author of the Molly Murphy and A Royal Spyness historical mysteries

"Lawrence H. Levy brings Mary Handley to life with deft hands, giving readers who love strong and capable female sleuths a character bound to be their new favorite. Second Street Station is the perfect combination of wit blended with an engaging and clever plot."
—Tasha Alexander, New York Times bestselling author of And Only to Deceive and The Counterfeit Heiress

"What do you do with a young Victorian woman so intelligent, yet so insubordinate that she is sacked from her last position? If you are the Brooklyn Police Department and she happens to be Lawrence H. Levy's delightful heroine, Mary Handley, the only sensible thing is to make her the city's first policewoman. A fun setting, a resourceful heroine, and a plot that combines danger, humor, and proper sleuthing... What more could anyone want?"
—Will Thomas, author of Some Danger Involved and Fatal Enquiry


Crown, 9780553418927, 336pp.
Publication Date: June 9, 2015
About the Author
LAWRENCE H. LEVY is a highly regarded film and TV writer who is a Writers Guild Award winner and two-time Emmy nominee. He has written for various hit TV shows such as Family Ties, Saved by the Bell, Roseanne, and Seinfeld. Second Street Station is his first novel.
or
Not Currently Available for Direct Purchase