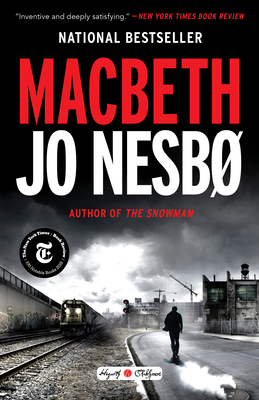 Macbeth (Paperback)
William Shakespeare's Macbeth Retold: A Novel (Hogarth Shakespeare)
Hogarth, 9780553419078, 464pp.
Publication Date: January 8, 2019
Other Editions of This Title:
Digital Audiobook (4/9/2018)
Paperback, Large Print (4/10/2018)
CD-Audio (4/10/2018)
Hardcover (4/10/2018)
Hardcover, Korean (10/17/2018)
* Individual store prices may vary.
Description
A NEW YORK TIMES NOTABLE BOOK OF 2018

Shakespeare's dark and tragic play retold in a heart-pounding New York Times bestselling thriller from the author of The Snowman and The Thirst.
 
Set in the 1970s in a run-down, rainy industrial town, Jo Nesbo's Macbeth centers around a police force struggling to shed an incessant drug problem. Duncan, chief of police, is idealistic and visionary, a dream to the townspeople but a nightmare for criminals. The drug trade is ruled by two drug lords, one of whom—a master of manipulation named Hecate—has connections with the highest in power, and plans to use them to get his way. 
 
Hecate's plot hinges on steadily, insidiously manipulating Inspector Macbeth: the head of SWAT and a man already susceptible to violent and paranoid tendencies. What follows is an unputdownable story of love and guilt, political ambition, and greed for more, exploring the darkest corners of human nature, and the aspirations of the criminal mind.
About the Author
JO NESBO is a musician, songwriter, and economist, as well as a writer. His Harry Hole novels include The Snowman, The Leopard, and Phantom and he is the author of several stand-alone novels, including The Son, as well as the Doctor Proctor series of children's books. He is the recipient of numerous awards, including the Glass Key for best Nordic crime novel.
Praise For Macbeth: William Shakespeare's Macbeth Retold: A Novel (Hogarth Shakespeare)…
Praise for Macbeth:

"Inventive and deeply satisfying...[Nesbo] offers a dark but ultimately hopeful Macbeth, one suited to our troubled times." 
—James Shapiro, New York Times Book Review (cover)

"Nesbo manages the balancing act of being true to the original play without slighting his own interests as a writer: bleak settings, loyalty (or the lack thereof) among crooks, clever escapes from tight spots, the affinities between policemen and the criminals they chase."
—The Washington Post

"Nesbø has adhered to his contract, delivering a book that plays off of Shakespeare's work but succeeds as his own."
—NPR.org

"The legions of readers who adore the dark Scandinavian noir of Jo Nesbø will also love Macbeth, his adaptation of Shakespeare's famous play."
—USA Today

"Macbeth is a modern-day drug-war, power-struggle, double-cross, lawmen-versus-gangsters recast of Shakespeare's Scottish play."
—Associated Press
 
"Nesbø infuses the mythic elements of the tragedy with bold strokes of horrific, Don Winslow–like drug-war realism. The result displays in a strikingly original way both the timelessness of Shakespeare's art and the suppleness of noir to range well beyond the strictures of formula."
—Booklist (starred)
 

Praise for Jo Nesbø:
 
"Jo Nesbø is my new favorite thriller writer."
—Michael Connelly
 
"Nesbø's much-heralded gifts are on display--using his talent for conjuring the chilly Munch-like atmospherics of Oslo in the winter and his eye for grisly, alarming details that slam home the horror of the evil that men do."
—New York Times Book Review
 
"The world is dark and frozen, according to Nordic noir, and so is the human heart. But it's the magic Nesbø works with the genre's tropes that matters. . . . [He] might be my favorite of the lot."
—Chicago Tribune
 
"Nesbø writes like an angel. As in Lucifer."
—The Philadelphia Inquirer
 
"Nesbø explores the darkest criminal minds with grim delight and puts his killers where you least expect to find them. . . . His novels are maddeningly addictive."
—Vanity Fair
 
"In the crowded field of Scandinavian crime fiction, Nesbø's books stand out. . . . Nesbø likes to rip plots up . . . to play with the conventions of his genre."
—The New Yorker
 
"[Nesbø is] the writer most likely to take the ice-cold crown in the critically acclaimed—and now bestselling—category of Nordic noir."
—Los Angeles Times
 
"I am the world's greatest living crime writer. [Jo Nesbø] is a man who is snapping at my heels like a rabid pitbull poised to take over my mantle when I dramatically pre-decease him."
—James Ellroy
 
"The next Munch or Ibsen could be Jo Nesbø"
—CNN