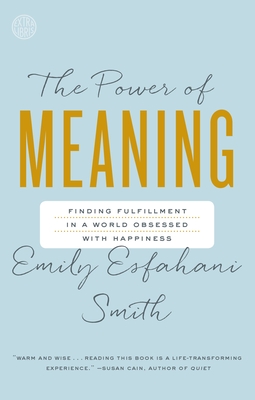 The Power of Meaning
Finding Fulfillment in a World Obsessed with Happiness
Paperback

* Individual store prices may vary.
Other Editions of This Title:
Digital Audiobook (1/9/2017)
CD-Audio (1/10/2017)
Hardcover (1/10/2017)
Description
In a culture obsessed with happiness, this wise, stirring book points the way toward a richer, more satisfying life.

Too many of us believe that the search for meaning is an esoteric pursuit—that you have to travel to a distant monastery or page through dusty volumes to discover life's secrets. The truth is, there are untapped sources of meaning all around us—right here, right now.

To explore how we can craft lives of meaning, Emily Esfahani Smith synthesizes a kaleidoscopic array of sources—from psychologists, sociologists, philosophers, and neuroscientists to figures in literature and history such as George Eliot, Viktor Frankl, Aristotle, and the Buddha. Drawing on this research, Smith shows us how cultivating connections to others, identifying and working toward a purpose, telling stories about our place in the world, and seeking out mystery can immeasurably deepen our lives.

To bring what she calls the four pillars of meaning to life, Smith visits a tight-knit fishing village in the Chesapeake Bay, stargazes in West Texas, attends a dinner where young people gather to share their experiences of profound loss, and more. She also introduces us to compelling seekers of meaning—from the drug kingpin who finds his purpose in helping people get fit to the artist who draws on her Hindu upbringing to create arresting photographs. And she explores how we might begin to build a culture that leaves space for introspection and awe, cultivates a sense of community, and imbues our lives with meaning.

Inspiring and story-driven, The Power of Meaning will strike a profound chord in anyone seeking a life that matters.
Praise For The Power of Meaning: Finding Fulfillment in a World Obsessed with Happiness…
"Beautifully written and rigorously researched, The Power of Meaning speaks to the yearning we all share for a life of depth and significance. In a culture constantly shouting about happiness, this warm and wise book leads us down the path to what truly matters. Reading it is a life-transforming experience."—Susan Cain, author of Quiet

"The analysis that opens the book, and that structures the whole, is simple and elegant… The insight that, in our daily lives, we need to think of others and to have goals that include caring for others or working for something other than our own prosperity and advancement is the most valuable message in the book."—The Wall Street Journal

"A riveting read on the quest for the one thing that matters more than happiness. Emily Esfahani Smith reveals why we lose meaning in our lives and how to find it. Beautifully written, evidence-based, and inspiring, this is a book I've been awaiting for a very long time."—Adam Grant, author of Originals and Give and Take; professor at the Wharton School 

"From sleep-deprived teens to overworked professionals, Americans are suffering from an epidemic of stress and exhaustion. It's clear our definition of success is broken. As Emily Esfahani Smith shows, only by finding our purpose and opening ourselves to life's mystery can we find true well being. Combining cutting-edge research with storytelling, The Power of Meaning inspires us to zero in on what really matters."—Arianna Huffington

"An enlightening guide to discovering meaning in one's life . . . Smith persuasively reshapes the reader's understanding of what constitutes a well-lived life."—Publishers Weekly

"Thoughtful . . . Underscoring the power of connection, the author assures readers that finding meaning is not the result of 'some great revelation' but rather small gestures and humble acts."—Kirkus Reviews
 
"A​ wonderful, engaging writer . . . [Smith] offers clear, compelling, and above all useful advice for how to live with meaning and purpose."—Rod Dreher, The American Conservative
 
"This powerful, beautifully written book weaves together seamlessly cutting-edge psychological research, moving personal narratives and insights from great literature to make a convincing case that the key to a good life is finding or creating meaning."—Barry Schwartz, author of The Paradox of Choice; emeritus professor of psychology, Swarthmore College
 
"The Power of Meaning deftly tells the stories of people, contemporary and historical, who have made the quest for meaning the mission of their lives. This powerful yet elegant book will inspire you to live a life of significance."—Daniel H. Pink, author of Drive

"A beautiful book, full of hope. While drawing on the best scientific evidence, it also stirs us with powerful narratives of living full of meaning."—Lord Richard Layard, Director, Well-Being Programme, Centre for Economic Performance

"The search for meaning just got a little easier, and a little more fun. To follow Emily Esfahani Smith in this great human quest is to undertake a rewarding journey with a sure-footed guide."—Darrin M. McMahon, author of Happiness: A History; Mary Brinsmead Wheelock Professor of History, Dartmouth College
Crown, 9780553446562, 320pp.
Publication Date: September 5, 2017
About the Author
Emily Esfahani Smith is an author and writer who draws on psychology, philosophy, and literature to write about the human experience—why we are the way we are and how we can find grace and meaning in a world that is full of suffering. Her writing has appeared in the Wall Street Journal, New York Times, The Atlantic, TIME, and other publications. She is also an instructor in positive psychology at the University of Pennsylvania, as well as an editor at the Stanford University Hoover Institution, where she manages the Ben Franklin Circles project, a collaboration with the 92nd Street Y and Citizen University to build meaning in local communities. Born in Zurich, Switzerland, Emily grew up in Montreal, Canada. She graduated from Dartmouth College and earned a masters in applied positive psychology from the University of Pennsylvania. She lives with her husband in Washington, DC.