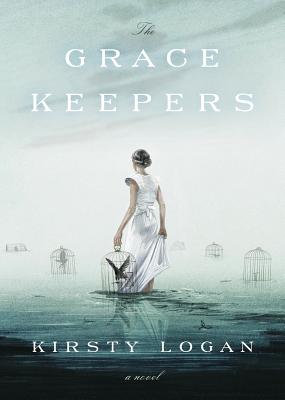 The Gracekeepers (Hardcover)
A Novel
Crown, 9780553446616, 320pp.
Publication Date: May 19, 2015
Other Editions of This Title:
Digital Audiobook (5/18/2015)
* Individual store prices may vary.
Description
For readers of The Night Circus and Station Eleven, a lyrical and absorbing debut set in a world covered by water

As a Gracekeeper, Callanish administers shoreside burials, laying the dead to their final resting place deep in the depths of the ocean. Alone on her island, she has exiled herself to a life of tending watery graves as penance for a long-ago mistake that still haunts her. Meanwhile, North works as a circus performer with the Excalibur, a floating troupe of acrobats, clowns, dancers, and trainers who sail from one archipelago to the next, entertaining in exchange for sustenance.

In a world divided between those inhabiting the mainland ("landlockers") and those who float on the sea ("damplings"), loneliness has become a way of life for North and Callanish, until a sudden storm offshore brings change to both their lives--offering them a new understanding of the world they live in and the consequences of the past, while restoring hope in an unexpected future. 

Inspired in part by Scottish myths and fairytales, The Gracekeepers tells a modern story of an irreparably changed world: one that harbors the same isolation and sadness, but also joys and marvels of our own age.

— Finalist, Lambda Literary Award
About the Author
KIRSTY LOGAN is an award-winning writer based in Scotland. She regularly performs her stories at events and festivals around the UK and Europe. The Gracekeepers is her debut novel.
Praise For The Gracekeepers: A Novel…
An NPR Best Book of the Year Selection

"Logan not only captures the cloistered eeriness of circus life, she does so in a way that lovingly reinvents both the weird whimsy and archetypal resonance of fairytales…Logan crafts an exquisitely wrought diorama full of tenderly compelling characters; observations about grief, worship, social order, and human nature, and a love that transcends definition… Spellbinding."—NPR.org
 
"A lyrical debut novel that explores how our truest family is often one of our choosing rather than the one we're born into."—Washington Post
 
"Filled with evocative images, including cruise ships transformed into itinerant revival meetings, and with classic fairy tale elements such as world trees and selkies, Logan's novel imbues what is essentially an environmental fable with the heft of myth."—Publishers Weekly (starred review)
 
"A beautifully strange debut novel that draws upon folklore of the Scottish west and the isles…Starkly original...The storm that rocks the Excalibur is both literal and metaphorical, as it brings the lives of North and Callanish crashing together and stirs up love, adventure, and a smoldering determination to find a sense of wholeness....Haunting, spare, and evocative."—Kirkus Reviews
 
"Gorgeous…Culling from Scottish fairytales, Logan paints a hauntingly beautiful portrait of a world imbued with both myth and eerie realness."--Bustle   
 
"Electrifying…Like Emily St John Mandel's Station Eleven, The Gracekeepers circles the peculiar business of the culture humans make, and tries to understand why we would persist in the direst circumstances. From the flotsam of the washed-out world, ersatz elements are pulled together – a little King Arthur, some rustic paganism, evangelical kitsch – to make something that is, after all, beautiful…This is a novel of the liminal and the liquid, seeking new ways of living together and new forms of life in a world that humans have transformed almost beyond the possibility of our own survival. As with any good descent, there is danger, devilish glamour and a resurfacing into sunlit salvation."--Guardian
 
"Magical in every way…[A] beguiling, absorbing debut…Everything about this book is beautiful; the language is as poetic and diaphanous as nature and the many characters who contribute to the story are utterly authentic in this magic realist world. Every one of them stays with you, leaving you craving more about their back stories and their fates. Logan has a uniquely light touch on the theme of fluidity of gender and, above all, it all seems driven by humanity. This is a delicious piece of work from a supremely talented young writer."—The Scotsman
 
"Dreamlike…wonderfully imaginative…Memorable and beautiful."—Daily Mail
 
"[A] modern fairytale...Outstanding."—Herald Scotland
 
"Truly magical... Perfect for summer escapism."--Heat

"A bold, fresh new talent… a wild, original imagination"--Independent on Sunday

"In luscious, vivid prose, Logan brings to mind Angela Carter, or Atwood or Winterson at their best"—Independent
 
"The Gracekeepers is enchanting and heart-tugging. If you love Margaret Atwood you'll love this"--Sunday Telegraph

"Likened to Margaret Atwood, The Gracekeepers is a wondrous read"—Stylist
 
"Beautiful and bewitching: read it and be swept away on a magical wave of love and language"--Bookseller
 
"A highly original fantasy, set in a haunting sea-world both familiar and mysterious."—Ursula K. Le Guin
 
"The Gracekeepers is an enchanting, magical tale, and Kirsty Logan's writing is beautiful. Compelling and vivid, with Scottish lore woven lyrically throughout, The Gracekeepers explores such issues as loneliness and isolation, our innate tendencies to create divisions between ourselves and others, the consequences of long-ago actions, and, ultimately, the restoration of hope."—Sara Gruen, author of Water for Elephants and At the Water's Edge   

"A gorgeously melancholy novel, a post-apocalyptic fairy tale of mermen and mourning birds, ghost cities on the ocean floor and precious, precious soil. I envy the reader who is just now picking it up."—Camille DeAngelis, author of Bones & All

"The Gracekeepers is a seemingly impossible combination of the lyrical and the gritty, the magical and the brutal. In haunting prose Kirsty Logan has woven a compelling, emotionally dense fairytale that kept me enthralled 'til the last page."--Tamar Cohen, author of War of the Wives


Praise for Kirsty Logan's The Rental Heart and Other Fairytales:

Longlisted for the Frank O'Connor International Short Story Award
Winner of the Saboteur Award for Best Short Story Collection
Winner of the Scott Prize for Short Stories 

"Kirsty Logan is an exquisite writer who possesses the uncanny ability to make even the most mundane detail beautifully compelling. If you want to be captivated, if you want to be utterly taken, reach for this book and don't let go."—Roxane Gay, author of Bad Feminist

"Alarmingly good . . . Concise, vividly written and full of dark, arresting imagery." —The Herald

"[Logan] brings to mind Angela Carter, or Atwood or Winterson at their best…An exciting emerging voice, and The Rental Heart is an addictively enjoyable addition to the welcome resurgence of the short story. It displays an unexpectedly dizzying range of styles for a debut effort, putting Logan at the top of the "ones to watch" list. It's always exciting to see such a bold, fresh new talent, and if Logan carries on in this vein, she'll become a staple of the awards shortlists."—Independent
 

Coverage from NPR
or
Not Currently Available for Direct Purchase