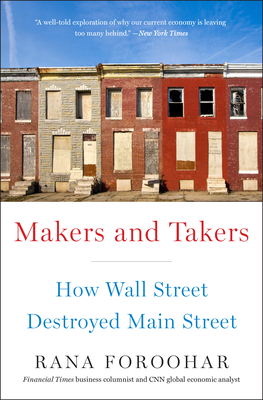 Makers and Takers
How Wall Street Destroyed Main Street
Paperback

* Individual store prices may vary.
Other Editions of This Title:
Digital Audiobook (5/16/2016)
Description
Is Wall Street bad for Main Street America?

"A well-told exploration of why our current economy is leaving too many behind." —The New York Times

In looking at the forces that shaped the 2016 presidential election, one thing is clear: much of the population believes that our economic system is rigged to enrich the privileged elites at the expense of hard-working Americans. This is a belief held equally on both sides of political spectrum, and it seems only to be gaining momentum.
 
A key reason, says Financial Times columnist Rana Foroohar, is the fact that Wall Street is no longer supporting Main Street businesses that create the jobs for the middle and working class. She draws on in-depth reporting and interviews at the highest rungs of business and government to show how the "financialization of America"—the phenomenon by which finance and its way of thinking have come to dominate every corner of business—is threatening the American Dream.
 
Now updated with new material explaining how our corrupted financial sys­tem propelled Donald Trump to power, Makers and Takers explores the confluence of forces that has led American businesses to favor balance-sheet engineering over the actual kind, greed over growth, and short-term profits over putting people to work. From the cozy relationship between Wall Street and Washington, to a tax code designed to benefit wealthy individuals and corporations, to forty years of bad policy decisions, she shows why so many Americans have lost trust in the sys­tem, and why it matters urgently to us all.
 
Through colorful stories of both "Takers," those stifling job creation while lining their own pockets, and "Makers," businesses serving the real economy, Foroohar shows how we can reverse these trends for a better path forward.
Praise For Makers and Takers: How Wall Street Destroyed Main Street…
Voted one of the Best Books of 2016 by the Financial Times and one of the best books of the year by Bloomberg BusinessWeek. 

"A masterly account of the disproportionate power that the financial sector exercises in the economy and the disastrous consequences this has for society as a whole." —Forbes.com

"A credible explanation for the rise of economic populism in the 2016 U.S. presidential race. Anyone seeking to truly understand the resonance of the anti–Wall Street vitriol of Bernie Sanders and Donald Trump could do worse than to start here." —Fortune.com

"Foroohar demystifies the decline in America's economic prominence, showing that the competitive threats came not from the outside—migration or China—but from within our borders. She explains how finance has permeated every aspect of our economic and political life, and how those who caused the financial crisis wound up benefiting from it." —Joseph E. Stiglitz, Nobel laureate in economics and former head of the Council of Economic Advisors
 
"A fast-paced, exciting, and well-researched tale that brings alive the shady dealings that have been part of the recent rise of finance (the takers). Wall Street has prospered beyond measure by consuming far too much of the value created by the real economy (the makers). Readers will be shocked by the shenanigans that are revealed, and then eager to help fix what has been so badly broken. It's up to us—all of us." —John C. Bogle, founder and former CEO, Vanguard
 
"In this well-written, refreshing, and provocative book, Rana Foroohar analyzes how Wall Street went from an enabler of prosperity to a headwind to growth and a contributor to inequality. This engaging analysis identifies five key policy areas that will rightly be the subject of debate and, hopefully, some political action. This is a must-read for those looking to better understand how, why, and when financial engineering went too far, and what to do about it." —Mohamed A. El-Erian, chief economic adviser, Allianz; former CEO, PIMCO
 
"From the leading edge of business journalism, Rana Foroohar has produced a powerful book about how financial manipulation has spread beyond the financial sector itself to colonize the American economy, to the enormous detriment of real, productive activities. By mapping the rise of financialization and its effects, Foroohar sheds light on almost everything we now see, from the inequality debate to presidential politics to America's global competitiveness. A phenomenal achievement." - Charles Ferguson, producer, Inside Job
 
"As the next US election looms, one of the most important questions that voters will need to ask is what is wrong with the American economy—and what can be done to fix it. Foroohar's book is required reading for this. With deft storytelling and clear analysis, she explains how America's economy has become stealthily "financialized"—and why this process has been so debilitating for American growth, not to mention the lives of ordinary people. The 2008 financial crisis was one sign of this; however, the issues have not ended there. Foroohar not only argues that it is crucial that America tackle these woes but offers commonsense solutions for doing so. Politicians—and voters—should take note." —Gillian Tett, US managing editor, Financial Times, author of The Silo Effect
 
"There is no bigger question in public policy than whether the emergence of an ever-larger financial sector has made for a smaller and less equal society. Makers and Takers provides an intellectually compelling, and beautifully written, answer to that question, one which policy makers cannot and should not duck." —Andy Haldane, chief economist and executive director of monetary analysis and statistics at the Bank of England
  
"Rana Foroohar offers a sometimes maddening, thoroughly fascinating look at the financial sector's outsized role in the US economy and what it means for America's future. This is a critical story that speaks directly to the ways in which banks are stripping businesses of their potential—and to the income inequality that increasingly defines our times." —Ian Bremmer, Founder and Head of the Eurasia Group
 
"Foroohar is one of the rare journalists with the insider knowledge and contacts, as well as the deft writing touch, to criticize the "financialization" of the US economy in a way that will sound credible to Wall Street, and readable on Main Street. In this fast-paced book she makes a compelling case for how businesses have come to focus more on engineering their finances than engineering good products, and the negative effect this has on US growth and productivity." —Ruchir Sharma, Chief Macroeconomist and Head of Emerging Markets, Morgan Stanley Investment Management
Currency, 9780553447255, 400pp.
Publication Date: September 12, 2017
About the Author
Rana Foroohar was recently named global business columnist and Associate Editor for the Financial Times. She is also CNN's global economic analyst. 

Prior to joining the FT and CNN, Foroohar was for six years the assistant managing editor in charge of business and economics at TIME, as well as the magazine's economic columnist. She also spent 13 years at Newsweek, as an economic and foreign affairs editor and a foreign correspondent covering Europe and the Middle East. During that time, she was awarded the German Marshall Fund's Peter Weitz Prize for transatlantic reporting. She has also received awards and fellowships from institutions such as the Johns Hopkins School of International Affairs and the East West Center.  She is a life member of the Council on Foreign Relations.
 
Foroohar graduated in 1992 from Barnard College, Columbia University.  She lives in Brooklyn with her husband, the writer John Sedgwick, and her two children, Darya and Alex.
or
Not Currently Available for Direct Purchase