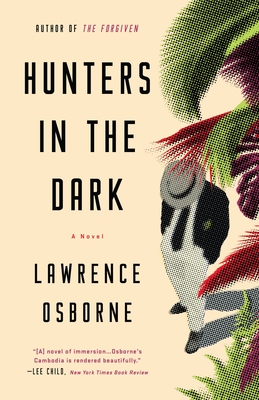 Hunters in the Dark
A Novel
Paperback

* Individual store prices may vary.
Other Editions of This Title:
Hardcover (1/12/2016)
Description
From the novelist the New York Times compares to Paul Bowles, Evelyn Waugh and Ian McEwan, an evocative new work of literary suspense
 
Adrift in Cambodia and eager to side-step a life of quiet desperation as a small-town teacher, 28-year-old Englishman Robert Grieve decides to go missing. As he crosses the border from Thailand, he tests the threshold of a new future.

And on that first night, a small windfall precipitates a chain of events-- involving a bag of "jinxed" money, a suave American, a trunk full of heroin, a hustler taxi driver, and a rich doctor's daughter-- that changes Robert's life forever.

Hunters in the Dark is a sophisticated game of cat and mouse redolent of the nightmares of Patricia Highsmith, where identities are blurred, greed trumps kindness, and karma is ruthless. Filled with Hitchcockian twists and turns, suffused with the steamy heat and pervasive superstition of the Cambodian jungle, and unafraid to confront difficult questions about the machinations of fate, this is a masterful novel that confirms Lawrence Osborne's reputation as one of our finest contemporary writers.
Praise For Hunters in the Dark: A Novel…
"Elegant, stylish and ambiguous …Dramatic irony, used sharply by Osborne, keeps the narrative edgy and gripping…Written with unfailing precision and beauty."—Neel Mukherjee, Man Booker Prize-shortlisted author of The Lives of Others

"Osborne's Cambodia is rendered beautifully… If the purpose of a novel is to take you away from the everyday and show you something different, then Osborne is succeeding, and handsomely."—Lee Child, New York Times Book Review
 
"Osborne is a master at creating a subtle but unmistakable sense of impending doom…An elegant, dark, well-put together novel…The book races towards a surprising ending — one that I did not see coming."—NPR.org

"Lush and brooding...Osborne creates an atmosphere dripping with torrential rains and intrigue. Cambodia comes off as a dangerously seductive playground, plying visitors with the sultry false promise of uncomplicated abandon among the Buddhist ruins, all under the bemused gaze of the local, ethnic Khmers who know better. The risk, of course, is that there may be no easy exit from the dizzying whirlwind of escape."—Seattle Times

"A hauntingly beautiful story of greed, passion and, most importantly, karma."—San Francisco Chronicle

"Osborne recalls Graham Greene and Somerset Maugham with this densely atmospheric novel of foreigners and locals navigating fortune and fate among the lush rice fields of Cambodia."—National Geographic Traveler

"Complex in plot yet simple and intense in style, Osborne's narrative takes us into an Asian heart of darkness." —Kirkus Reviews (starred review)

"Osborne, frequently compared to Graham Greene (The Balladof a Small Player, 2014), writes evocatively about the beauties and mysteries of Cambodia...Hunters in the Dark is a strange and heady novel sure to engage armchair travelers."—Booklist

"Osborne successfully demonstrates the inextricably linked relationship between introspection and change. A deeply penetrating meditation on the human experience of belonging."—Library Journal (starred review)

"Readers will remember...Osborne's lush, vivid descriptions of a land where 'the daily thunder rolled in with a generous laziness and the trees shimmered with lightening.'"—Publishers Weekly

"Like eating fine dark chocolate, you just can't have too much of Osborne's latest novel. His mastery of language and his sensory encapsulation of a foreign land makes this a beautiful and creepy story, a fantastic blend of poetic language and bone-chilling tension...Similar in fashion to Conrad's Heart of Darkness, Osborne's beautiful, deliberative style conveys a sense of timelessness that embodies modern Cambodia, a country that guards its ancient treasures. Finally, Osborne offers up a landscape fuelled by heat and rain, and by an often menacing, sinister horizon that is dark in color but silently pulses with interior flashes of fire."—Curled Up with a Good Book

"Osborne's brilliance as a travel writer places his web of deceit, greed and need (two of the most merciless characters are avid for money for dependants, not themselves) in a world conjured up with dazzling immediacy….Beautifully apt phrases embellish the prose: "the vivid lethargy" of the tropics, the "dallying charm" of bar-girls' eyes… Sumptuous and sinister, languorous and tense, this is a novel that gives Osborne's remarkable talents haunting scope." —The Sunday Times
 
"[A] dark, teasing, elegantly written book."—Financial Times
 
"The novel generates a palpable dread as Grieve is sucked into a Cambodian demi-monde of drugs, booze and the ghosts of those murdered in the 1970s by Cambodia's homespun Robespierre, Pol Pot. Cambodia, a 'traumatised country', comes splendidly to life in Osborne's prose, its rice fields and Frenchified architecture. Hunters in the Dark is a tip-top thriller. Osborne knows how to keep the pages turning."—The Independent

"Mesmerizing"—Tatler    
 
"Meticulously plotted, each chance encounter, however fleeting or coincidental, advents a delicate shift in the balance of the building blocks of the narrative …Compelling...With its emphasis on double identities and double-crossing, it's inevitable that this time Patricia Highsmith will be a point of comparison. It's an apt one, but I was also reminded of Daphne du Maurier's 1957 novel The Scapegoat."—The National

"In Hunters in the Dark, Osborne has created a wonderful evocation of Cambodia, that most haunted, seductive country… Pitilessly good. Those comparisons with Graham Greene aren't even flattering anymore."—London Evening Standard

"Steeped in the menacing, fatalistic atmosphere of a country with a bloody recent past, this is a terrific novel with an ending that is utterly gripping and satisfying"—Mail on Sunday

"The ugliness of the cruelty of that time contrasts with the beauty of the language and landscape…The writing is richly sensuous, and this atmospheric novel is filled with scenes that sear themselves into the memory… The juxtaposition of dark and light is startlingly vivid. In dazzling, luminous prose, Osborne subverts expectations, so that it's in the darkest places that we glimpse sudden moments of light...Peripatetic characters such as Robert wander through the pages of much of Osborne's fiction, and in them he has found his forte. It's with expert control of the narrative here that he captures a life adrift." —Anita Sethi, The Guardian

"Osborne's elegant writing, scattered with surprising bursts of violence, takes a satisfyingly firm grip on the reader once the stumbling, naive Grieve has been cast adrift to fend for himself. The ending - after a period of rising tensions - does not disappoint." —The South China Morning Post

"An elaborate and intricately plotted danse macabre." —The Times of London

"Excellent…Grappling with manifold questions about identity and the tragic futility of material aspirations in a ruthless, brittle world, this novel draws you into a sun-struck realm where the survival of the fittest is more predicated by chance and where violence is a sudden, opportunistic enterprise." —New Statesman 

"Osborne is hitting mean form as a writer of exotic literary thrillers. ... Sensual, dream-like and gripping." —Monocle 

"The much-travelled Osborne delivers on a load of levels, not least his characters, who can ooze silky menace, or be totally soulless, desperate or lost. All are convincing in the setting of the exotic, once-deadly country. And with his easy and vivid descriptions, this masterpiece will give you prickly heat rash. 5 stars"—Sunday Sport 

"[A] rare achievement…The literary thriller is an awkward genre, usually lacking in either thrills or quality of prose, but with Hunters in the Dark, Osborne has proved once again that we can handle both and with aplomb." —Sunday Express 

"Dramatic and involving, an exhilarating adventure crafted in crisp, sharp prose...Powerful." —Literary Review 

Praise for Lawrence Osborne's The Ballad of a Small Player

A New York Times 100 Notable Books of 2014 
A New Yorker Best Book of 2014
An NPR Best Book of the Year
Selected as one of Kansas City Star's 100 Best Books of 2014

"Slim but insistent…A vivid and feverish portrait of a soul in self-inflicted purgatorio."—Tom Shone, New York Times Book Review

"Osborne, a travel writer, renders the atmosphere of casinos, hotels, and restaurants seductively…[and] shows an impeccable facility for capturing the sweat-soaked suspense of the high-stakes card table."—New Yorker

"Hypnotic…Macau and Hong Kong feel vivid and true in the novel, yet also otherworldly: Well-known landmarks and weather conditions are captured with a stillness and beauty that make them feel haunting and melancholy…But ultimately it is the uncertain fate of Doyle and the others that made me as a reader feel strangely fulfilled. The decisions they make seem connected to the thrilling and terrifying changes taking place around them. Old ways collide with a brash new world, and in this game, it is not yet clear which will emerge the winner."—Tash Aw, for All Things Considered

"Haunting…A captivating story about the nature of addiction, the power of the supernatural and the freedom that may come from throwing everything to chance."—NPR

"Osborne writes with weighty, aphoristic sentences...and is interested in superstition, and fate, and all things that are just beyond our control."—New Yorker, Best Book of 2014

"Elegantly told…The beauty of this novel is in the elegance and precision of its prose, which renders the glaring kitsch of Macau into a series of exquisite miniatures, and draws on Osborne's reserves as a travel writer."—The Guardian

"A searing portrait of addiction and despair set in the glittering world of Macau's casinos...Osborne's intriguing Chinese milieu and exquisite prose make this work as a standout."—Publishers Weekly (starred review)

"Osborne masterfully recreates the atmosphere of casinos as well as the psychology of baccarat players—and leaves readers eager to try their luck at the game."—Kirkus 

"[Osborne's] darkly introspective study of decline and decay conjures apt comparisons to Paul Bowles, Graham Greene, and V. S. Naipaul."—Booklist

"Osborne's The Forgiven, an Economist Best Book of the Year (and one of my personal Bests from last year, too), is as brilliant, unsentimental a rendering of contemporary East-West conflict and the imperfect human psyche as you are likely to find. His new work proceeds in that tradition…Don't miss"—Library Journal

"A modern Graham Greene… Osborne is a thrilling, exceptional talent in British fiction's landscape." —Sunday Times (UK) 

"Unavoidable comparisons will be drawn with Graham Greene's work…[Osborne] has a masterful touch with creating mood, and a swirling, world-weary foreignness pervades the story. The Ballad of a Small Player is a layered work, a novel about addiction, love and class but given an allusive face by the way it perches constantly on some supernatural brink."—Irish Examiner

 
Praise for Lawrence Osborne's The Forgiven
 
Selected by The Economist as one of the Best Books of the Year 2012
Selected by Library Journal as one of the Year's Best Books 2012
Year's Best Books Chosen by Writers, selected by Lionel Shriver, The Guardian 2012


"A sinister and streamlined entertainment in the tradition of Paul Bowles, Evelyn Waugh and the early Ian McEwan….This is a lean book that moves like a panther. Even better, Mr. Osborne has a keen and sometimes cruel eye for humans and their manners and morals, and for the natural world. You can open to almost any page and find brutally fine observations….surprising and dark and excellent."
– New York Times

"Extraordinarily acute to human nature….Stylishness holds the book together, and makes all the bits of plot machinery feel new again….There are enough ways to read the book that one finishes it and immediately wants to start it again."
– Newsweek

"A perfect storm of a novel." – Fredericksburg Freelance Star

"A master of the high style" – The Guardian

"Osborne writes mercilessly, savagely well. He excavates his characters, and the centuries-long cultural rift between the desert people and the Western infidels with a pathologist's precision, wrapping fear, boredom, forgiveness, judgment, honour and sexual attraction into a novel that plunges with sinister pace towards its denouement." – The Daily Mail

"Brooding, compelling...There's a strong, almost old-fashioned moral force at work in Osborne's novel... At the novel's dramatic close, you could accuse Osborne of forcing the hand of moral come-uppance just a little too much — but it barely detracts from the tension he has maintained throughout the novel, and the pleasure of his bringing under such scrutiny the unpredictable behaviour of his morally tortuous characters." – The London Sunday Times

"With nods to Paul Bowles and Evelyn Waugh, Osborne portrays the vacuity of high society as gorgeously and incisively as he does the unease of cultures thrust together in the unforgiving desert." – Publishers Weekly (starred)

"Osborne comes up with an ending that's at the same time ironic, surprising and completely fitting. A gripping read with moral ambiguity galore."
– Kirkus Reviews (starred)

"[A] brilliant, unsentimental rendering of contemporary East-West conflict and the imperfect human psyche….Osborne has done an extraordinary job of capturing moral complexity, never letting his characters or his readers off easy. The result should be grim reading, but instead it's vivifying. Highly recommended."
– Library Journal (starred)

"In the desert, all life and emotions are stripped to their very core. In his elegant and incisive second novel, travel-journalist Osborne hauntingly captures this exposed essence in all its inscrutable mystery and dispassionate brutishness."
– Booklist Online

"No mere imitation but a contribution to the shelf on which The Sheltering Skyand The Bonfire of the Vanities also sit, The Forgiven explores the clash of two cultures, each of which feels superior to the other. Osborne's writing is uncomfortably well observed; his story is sickeningly, addictively headlong."
– Lionel Shriver, author of We Need to Talk About Kevin

"The Forgiven shines darkly with a rich and mordant fatalism. Osborne's characters emerge like people in a dream – diamond-sharp but fascinatingly askew. His prose is gorgeous and precise; the story slices keenly through the exotic haze of its setting. It's an absolutely brilliant novel – the ending is a shock in the best way." – Kate Christensen, author of The Epicure's Lament and The Astral

"The prose of The Forgiven has a very particular, knowing luminosity, much like the tarnished world it describes. A beautiful, compelling book to savor line by line."
– Nikita Lalwani, author of Gifted
Hogarth, 9780553447361, 320pp.
Publication Date: October 11, 2016
About the Author
Lawrence Osborne is the critically acclaimed and internationally bestselling author of the novels THE FORGIVEN and THE BALLAD OF A SMALL PLAYER, and of six books of nonfiction, including THE WET AND THE DRY. He has written for The New York Times Magazine, The New Yorker, Forbes, Harper's, and several other publications. He currently lives in Bangkok.
or
Not Currently Available for Direct Purchase