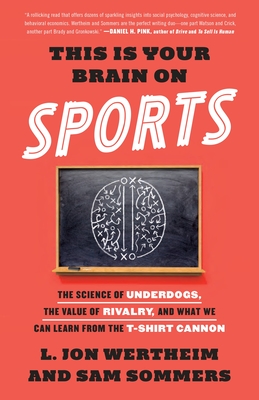 This Is Your Brain on Sports (Paperback)
The Science of Underdogs, the Value of Rivalry, and What We Can Learn from the T-Shirt Cannon
Three Rivers Press, 9780553447422, 288pp.
Publication Date: February 7, 2017
Other Editions of This Title:
Digital Audiobook (2/1/2016)
Hardcover (2/2/2016)
* Individual store prices may vary.
Description
This is Your Brain on Sports is the book for sports fans searching for a deeper understanding of the games they watch and the people who play them.  Sports Illustrated executive editor and bestselling author L. Jon Wertheim teams up with Tufts psychologist Sam Sommers to take readers on a wild ride into the inner world of sports.  Through the prism of behavioral economics, neuroscience, and psychology, they reveal the hidden influences and surprising cues that inspire and derail us—on the field and in the stands—and by extension, in corporate board rooms, office settings, and our daily lives. 

In this irresistible narrative romp, Wertheim and Sommers usher us from professional football to the NBA to Grand Slam tennis, from the psychology of athletes self-handicapping their performance in the boxing ring or the World Series, to an explanation of why even the glimpse of a finish line can lift us beyond ordinary physical limits.  They explore why Tom Brady and other starting NFL quarterbacks all seem to look like fashion models; why fans of teams like the Cubs, Mets, and any franchise from Cleveland love rooting for a loser; why the best players make the worst coaches; why hockey goons (and fans) would rather fight at home than on the road; and why the arena t-shirt cannon has something to teach us about human nature. 

In short, this book is an entertaining and thought-provoking journey into how psychology and behavioral science collide with the universe of wins-and-losses, coaching changes, underdogs, and rivalry games.

— Boston Globe, Best Books of 2016, Sports
About the Author
L. Jon Wertheim is the executive editor of Sports Illustrated.  A sports journalist with a passion for psychology and economics, he is the author of such New York Times bestsellers as Scorecasting (written with Toby Moskowitz) and You Can't Make This Up (written with Al Michaels).  A huge sports fan, Sam Sommers is an experimental psychologist at Tufts University who studies the psychology of everyday life. He is the author of the critically acclaimed book Situations Matter.
Praise For This Is Your Brain on Sports: The Science of Underdogs, the Value of Rivalry, and What We Can Learn from the T-Shirt Cannon…
 
"Wertheim and Sommers wield serious research to diagnose the myriad symptoms of the human brain on sports, and what they find is, by turns, hilarious, slightly frightening, and always illuminating."
— David Epstein, author The Sports Gene: Inside the Science of Extraordinary Athletic Performance
 
"Smart, funny, and brimming with insights."
-- Daniel Gilbert, Edgar Pierce Professor of Psychology, Harvard University, and author of Stumbling On Happiness
 
"It was only after delving into this unique tome that I learned that Mookie Wilson was available for bar mitzvah greetings via telephone, or that I can go elk hunting with Ryan Klesko for a mere nine grand. This information alone is worth many times the cost of this eye-opening and entertaining book."
— Bob Costas
 
"Eye-opening, captivating, and hilarious, This is Your Brain on Sports shines a fascinating and scientific spotlight on human nature. Wertheim and Sommers offer expert lessons for athletes and sports fans, sure, but also for business leaders, managers, entrepreneurs, parents, youth sports coaches, and more."
— Amy Cuddy, Harvard Business School professor and author of Presence
 
"A rollicking read that offers dozens of sparkling insights into social psychology, cognitive science, and behavioral economics. Wertheim and Sommers are the perfect writing duo -- one part Watson and Crick, another part Brady and Gronkowski."
— Daniel H. Pink, author of Drive and To Sell Is Human
 
 "Wertheim and Sommers have achieved the Holy Grail: a book that's as fun as it is informative."
— Adam Alter, Associate Professor of Marketing and Psychology, Stern School of Business, and New York Times Bestselling author of Drunk Tank Pink
 
"Not just an entertaining read, but a book filled with wisdom that will help fans, athletes, coaches — and executives – understand sports a little differently and a little better"
— Ivan Gazidis, chief executive Arsenal Football Club