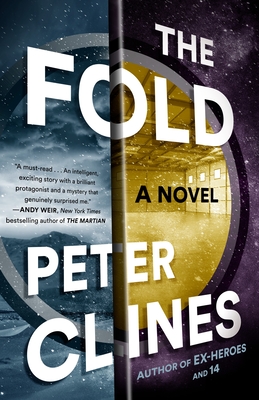 The Fold
A Novel
Paperback

* Individual store prices may vary.
Other Editions of This Title:
MP3 CD (12/29/2015)
Description
A page-turning science-fiction thriller from the author of Paradox Bound and the Ex-Heroes series.

Step into the fold. It's perfectly safe.

The folks in Mike Erikson's small New England town would say he's just your average, everyday guy. And that's exactly how Mike likes it. Sure, the life he's chosen isn't much of a challenge to someone with his unique gifts, but he's content with his quiet and peaceful existence.  

That is, until an old friend presents him with an irresistible mystery, one that Mike is uniquely qualified to solve: far out in the California desert, a team of DARPA scientists has invented a device they affectionately call the Albuquerque Door. Using a cryptic computer equation and magnetic fields to "fold" dimensions, it shrinks distances so that a traveler can travel hundreds of feet with a single step.

The invention promises to make mankind's dreams of teleportation a reality. And, the scientists insist, traveling through the Door is completely safe. Yet evidence is mounting that this miraculous machine isn't quite what it seems—and that its creators are harboring a dangerous secret. As his investigations draw him deeper into the puzzle, Mike begins to fear there's only one answer that makes sense. And if he's right, it may only be a matter of time before the project destroys…everything.  

A cunningly inventive mystery featuring a hero worthy of Sherlock Holmes and a terrifying final twist you'll never see coming, The Fold is that rarest of things: a genuinely page-turning science-fiction thriller.
Praise For The Fold: A Novel…
"A must-read for anyone who likes a good science-fiction thriller…an intelligent, exciting story with a brilliant protagonist and a mystery that genuinely surprised me."
--Andy Weir, New York Times bestselling author of The Martian 

"A terrific SF mystery."
—Fantasy Book Critic

"A fun, brilliant read. Technical enough to enthrall, fast-paced enough to stay engaging to the explosive end, The Fold has everything I want in an SF novel, and then a little bit extra."
--Mira Grant, New York Times bestselling author of Feed
 
"Part techno thriller, part supernatural mystery, all awesome."
—SF Signal  

"That rare thriller that always keeps just one step ahead of the reader...a crackling, electric read."
--Chuck Wendig, New York Times bestselling author of Aftermath

"A little Crichton and a little Sherlock--and sure to please fans of both."
--Wesley Chu, author of Lives of Tao

"An ingenious science mystery with a terrifying Lovecraftian twist."
—Dread Central
  
"A science fiction thriller with a bit of Sherlock Holmes and a bit of H.P. Lovecraft thrown in…a book you'll want to pass along to your friends when you're done."
—FantasyLiterature.com
 
"I was enthralled…a mix of scientific extrapolation, fast-paced plotting, surprising twists, clues for the savvy reader, and credible characters."
—Sci Fi Bulletin
 
"Absolutely riveting…[features] weird science, great characters, snappy dialogue, a slowly developing mystery and edge of your seat action."
—SF Crowsnest
  
"A mind-blowing science fiction mystery that kept me guessing right to the end…Clines' writing is steeped in popular culture and unexpectedly funny, yet highly perceptive and infused with a subtle intelligence. If you haven't read him, you're in for a wonderful surprise." 
--Joe McKinney, Bram Stoker Award-winning author of Dead City 
 
"A smart, intense thriller with just a dash of dark humor, The Fold will keep you turning pages until the wee hours of the morning. Well done, Peter Clines!"
--DJ Molles, author of the Remaining series
 
"Wow! This is why I love spec fic. Brilliant, unpredictable, and mind-bending, The Fold is one of the best books I've read in years. An SF thriller that summons Lovecraftian monsters, it will surprise you again and again. Read it!"
--John Dixon, author of Phoenix Island 
Crown, 9780553447477, 384pp.
Publication Date: March 1, 2016
About the Author
PETER CLINES has published several pieces of short fiction and countless articles on the film and television industries. He is the author of Paradox Bound and the acclaimed Ex-Heroes series. He lives in Southern California.
or
Not Currently Available for Direct Purchase