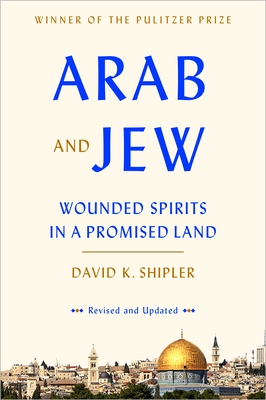 Arab and Jew (Paperback)
Wounded Spirits in a Promised Land
Broadway Books, 9780553447514, 768pp.
Publication Date: November 10, 2015
Other Editions of This Title:
Paperback (10/6/1987)
Paperback (12/31/2001)
Compact Disc (10/1/2007)
Pre-Recorded Audio Player (12/15/2008)
MP3 CD (10/1/2007)
Compact Disc (10/1/2007)
* Individual store prices may vary.
Description
The expanded and updated edition of David Shipler's Pulitzer Prize-winning book that examines the relationship, past and present, between Arabs and Jews

In this monumental work, extensively researched and more relevant than ever, David Shipler delves into the origins of the prejudices that exist between Jews and Arabs that have been intensified by war, terrorism, and nationalism.

Focusing on the diverse cultures that exist side by side in Israel and Israeli-controlled territories, Shipler examines the process of indoctrination that begins in schools; he discusses the far-ranging effects of socioeconomic differences, historical conflicts between Islam and Judaism, attitudes about the Holocaust, and much more. And he writes of the people: the Arab woman in love with a Jew, the retired Israeli military officer, the Palestinian guerrilla, the handsome actor whose father is Arab and whose mother is Jewish.

For Shipler, and for all who read this book, their stories and hundreds of others reflect not only the reality of "wounded spirits" but also a glimmer of hope for eventual coexistence in the Promised Land.
About the Author
DAVID K. SHIPLER reported for the New York Times from 1966 to 1988 in New York, Saigon, Moscow, and Jerusalem before serving as chief diplomatic correspondent in Washington, D.C. He won the Pulitzer Prize in 1987 for Arab and Jew. He shared a George Polk Award for his coverage of the 1982 war in Lebanon and was executive producer, writer, and narrator of two PBS documentaries on the Israeli-Palestinian conflict. He is the author of six other books, including the bestsellers Russia and The Working Poor. Shipler, who has been a chair of the nonfiction Pulitzer committee, a guest scholar at the Brookings Institution, and a senior associate at the Carnegie Endowment for International Peace has taught at Princeton University; at American University; and at Dartmouth College. He writes online at The Shipler Report.
Praise For Arab and Jew: Wounded Spirits in a Promised Land…
WINNER OF THE PULITZER PRIZE

"The best and most comprehensive work there is in the English language on this subject."
—New York Times           
 
"Powerful… Remarkable freshness and originality… Leaves no aspect of the complex Arab-Jewish relationship untouched… Presented in an abundance of narratives, anecdotes, and conversations that never seem hackneyed."
—New York Times Book Review 
 
"A rich, penetrating, and moving portrayal of Arab-Jewish hostility, told in human terms."
—Newsday
 
"Finally a Western journalist has left the experts and the elites for the people themselves. Shipler has penetrated far into foreign feelings and foreign cultures. And he writes with great moral poise."
—New Republic
 
"Critical yet compassionate, Arab and Jew offers a comprehensive guide for anyone wishing to learn about these neighbors and enemies living uneasily side by side."
—USA Today
 
"With an eye for detail and subtleties, Shipler provides anecdotes that are rich in meaning."
—Israel Today
 
"The picture Shipler paints is chilling.... Poignant."
—Chicago Tribune
 
"A superb journalistic meditation that captures the Middle East's mirror image of intolerance."
—Philadelphia Inquirer