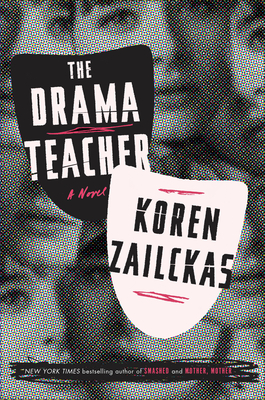 The Drama Teacher
A Novel
Hardcover

* Individual store prices may vary.
Description
By the New York Times bestselling author of Mother, Mother and Smashed comes a propulsive new thriller: the story of a desperate and devious woman who will do anything to give her family a better life

Gracie Mueller is a proud mother of two and devoted wife, living with her husband Randy in upstate New York. Her life is complicated by the usual tedium and stressors—young children, marriage, money—and she's settled down comfortably enough. But when Randy's failing career as a real estate agent makes finances tight, their home goes into foreclosure, and Gracie feels she has no choice but to return to the creatively illegal and high-stakes lifestyle of her past in order to keep all that she's worked so hard to have. Gracie, underneath all that's marked her life as average, has a lot to hide about where she's from, who she is, and who she's been. And when things inevitably begin to spin out of her control, more questions about the truth of her past are raised, including all the ones she never meant to, or even knew to, ask. 
 
Written with the style, energy, and penetrating insight that made her memoir Smashed a phenomenon, Koren Zailckas's next novel confirms her growing reputation as a psychological novelist that can stand up to the best of them.
Praise For The Drama Teacher: A Novel…
Advance praise for The Drama Teacher:

"Mesmerizing…Fascinated readers will keep turning the pages." 
—Publishers Weekly

"An unusual female perspective defies expectations and, ultimately, entertains."
—Kirkus

"A fast-paced, perfect poolside read." 
—Library Journal

"The Drama Teacher is the story of a woman unraveling heart-stopping secrets and endless feats. A crackling examination of the difficult, dark, and familiar forces that exist within a family and within a parent, Koren Zailckas has captured the terrifying narrative of a family on the brink. Blazingly smart and hugely entertaining, The Drama Teacher is a psychological page-turner not to be missed."
—Elizabeth L. Silver, author of The Execution of Noa P. Singleton and The Tincture of Time

"Koren Zailckas has written a riveting psychological thriller with a deeply sympathetic female con artist at its heart. Her protagonist knows how to work the systems of social class to her advantage in fascinating ways, but discovers a terrifying truth buried in her own past that could destroy the life she's built for herself. A darkly funny novel with surprises on every page, The Drama Teacher is an electrifying story of hidden identities and shattering family secrets." 
—Blair Hurley, author of The Devoted


Praise for Mother, Mother:

2014 Winner of the Alex Award

"Superbly unsettling...Provocative...A haunting meditation on family, love and unimaginable loss...A firecracker thriller full of whip-smart psychological insights." 
—San Francisco Chronicle

"Zailckas is a writer to watch and treasure...fiercely disturbing...one of the most profound and insightful books about mother-child relationships when they go devastatingly wrong." —Dallas Morning News

"It is a while since I've read anything as darkly funny as Koren Zailckas's Mother, Mother…Superbly paced and structured, with dialogue worthy of Lena Dunham, Mother, Mother is an engrossing, and finally shocking, read."—The Guardian (UK)

"Koren Zailckas's Mother Mother is disturbing in the best possible way: believably. The slow, subtle darkness at the core of this book starts as a trickle and grows to a flash flood, and not once does it stop feeling absolutely authentic. Zailckas has written a gut-wrenching exploration of narcissism, dependence and family. It's an amazing book." –Kelly Braffet, author of Josie and Jack and Last Seen Leaving

"A riveting fiction debut…it's the kind of book that keeps you up at night, featuring a mother to rival Medea or Mrs. Bates…The shocking and violent denouement shows Zailckas to be a consummate storyteller." –Publishers Weekly

"Richly imagined and bring[s] to mind Susanna Kaysen's Girl, Interrupted... An excellent page-turner recommended for those who enjoy psychological thrillers and aren't afraid of narratives that look evil in the face." –Library Journal

"Zailckas crafts an intriguing mystery surrounding this family that will keep readers on edge as she slowly peels back layer after layer of deception." –Booklist
Crown, 9780553448092, 400pp.
Publication Date: August 7, 2018
About the Author
KOREN ZAILCKAS is an internationally bestselling writer and has contributed to The Guardian, U.S. News & World Report, Glamour, Jane, and Seventeen magazine. She currently lives with her family in the Catskill Mountains of New York. The Drama Teacher is her second novel.
or
Not Currently Available for Direct Purchase