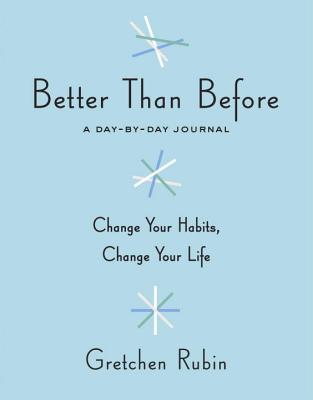 Better Than Before: A Day-By-Day Journal (Other)
A Day-By-Day Journal
Potter Style, 9780553459296, 336pp.
Publication Date: October 6, 2015
Description
Part resource, part tool, part keepsake, this companion journal to Gretchen Rubin's New York Times bestselling book Better Than Before will guide you through the important changes in your life. Habits are the key to all our successes and challenges in life, and there is no better way to change your habits than to track them. Better Than Before: A Day-by-Day Journal provides you with a year's worth of writing prompts that help you identify habits you'd like to change and strengthen habits you wish to adopt, as well as helpful quizzes and eye-opening tips on habit formation. Each weekly entry also features "habit-tracker" to mark down specific goals both big and small. As the pages fill, you'll discover your own unique path--a practical, concrete framework that helps you to understand your habits and to change them for good.
About the Author
Gretchen Rubin, a member of Oprah's SuperSoul 100, is one of the most thought-provoking and influential writers on the linked subjects of habits, happiness, and human nature. She's the author of many books, including the blockbuster New York Times bestsellers, Happier at Home and The Happiness Project. Rubin has an enormous following, in print and online; her books have sold more than a million copies worldwide, in more than thirty languages, and on her popular daily blog, gretchenrubin.com, she reports on her adventures in pursuit of habits and happiness. Her podcast "Happier with Gretchen Rubin" was an iTunes "Best of 2015" pick. She was chosen for the 2016 Oprah Super Soul 100 list. Rubin started her career in law, and was clerking for Justice Sandra Day O'Connor when she realized she wanted to be a writer. She lives in New York City with her husband and two daughters. From the Hardcover edition.
Advertisement