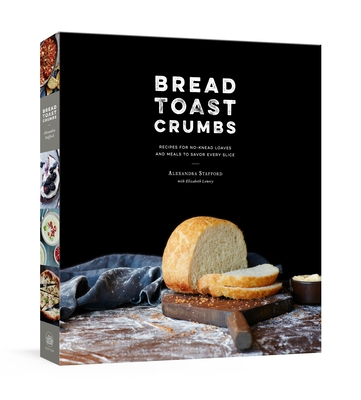 Bread Toast Crumbs (Hardcover)
Recipes for No-Knead Loaves & Meals to Savor Every Slice
Clarkson Potter, 9780553459838, 256pp.
Publication Date: April 4, 2017
* Individual store prices may vary.
Description
With praise from Dorie Greenspan, Jim Lahey, and David Lebovitz, the definitive bread-baking book for a new generation. But this book isn't just about baking bread-- it's about what to do with the slices and heels and nubs from those many loaves you'll bake. 

Alexandra Stafford grew up eating her mother's peasant bread at nearly every meal—the recipe for which was a closely-guarded family secret. When her blog, Alexandra's Kitchen, began to grow in popularity, readers started asking how to make the bread they'd heard so much about; the bread they had seen peeking into photos. Finally, Alexandra's mother relented, and the recipe went up on the internet. It has since inspired many who had deemed bread-baking an impossibility to give it a try, and their results have exceeded expectations. The secret is in its simplicity: the no-knead dough comes together in fewer than five minutes, rises in an hour, and after a second short rise, bakes in buttered bowls.
 
After you master the famous peasant bread, you'll work your way through its many variations, both in flavor (Cornmeal, Jalapeno, and Jack; Three Seed) and form (Cranberry Walnut Dinner Rolls; Cinnamon Sugar Monkey Bread). You'll enjoy bread's usual utilities with Food Cart Grilled Cheese and the Summer Tartine with Burrata and Avocado, but then you'll discover its true versatility when you use it to sop up Mussels with Shallot and White Wine or juicy Roast Chicken Legs. Finally, you'll find ways to savor every last bite, from Panzanella Salad Three Ways to Roasted Tomato Soup to No-Bake Chocolate-Coconut Cookies. 

Bread, Toast, Crumbs is a 2018 nominee for The IACP Julia Child First Book Award, and Alexandra's Kitchen was a finalist for the Saveur Blog Awards Most Inspired Weeknight Dinners 2016
About the Author
After graduating from Yale, Alexandra (Ali) Stafford moved to Philadelphia, where she attended cooking school and worked in catering and restaurant kitchens. She launched her blog, Alexandra's Kitchen, and began writing about food. Today, she writes a biweekly column for Food52, "A Bushel and a Peck," and contributes to the Baking Steel blog. Ali lives near Schenectady in upstate New York with her husband and their four young children.
Praise For Bread Toast Crumbs: Recipes for No-Knead Loaves & Meals to Savor Every Slice…
"The book [Ali] and her mom built out of the genius master recipe is a glorious thing—with close to 40 spinoff recipes for different types of bread, plus dozens of ways to use leftover slices and crumbs in all sorts of meals." –Food52.com 

"The book is brimming with creativity, and packed with tips at every turn that will troubleshoot whatever dough panic questions arise." –Phoebe Lapine

"Bread Toast Crumbs is dedicated to showing off the bread's versatility: the first third of the book features the master peasant bread recipe, along with a ton of variations, from whole grain versions to cinnamon swirl loaf to olive and other savory breads. The second third features toast or bread-based fare (sandwiches, bruschetta), while the final third features recipes that you can make with all of your bread ends and crumbs (soups, pastas with buttery crumbs, that kind of thing)." –Gena Hamshaw

"This is an inspiring, creative collection for new bakers and those who want to leave kneading behind." —Publishers Weekly

"Alexandra's book makes you want to kick over everything and spend your days in the kitchen baking simple, no-knead loaves and turning them into the best parts of every meal. Bread Toast Crumbs. The title tells you everything except how creative, practical and delicious the recipes are." 
—Dorie Greenspan, author of Dorie's Cookies 

"Such a fun book that I kind of wish I had written myself. Alexandra has combined creative and easy to make recipes with great know-how so anyone can make fantastic bread at home."
—Jim Lahey, author of My Bread and My Pizza

"From crusts to crumbs, from home-style, multigrain loaves to zippy shakshuka rounds, Bread Toast Crumbs presents a wide range of breads, and is the perfect guide for bakers wanting to explore the world of possibilities for making their own loaves, and using every slice and crumb that doesn't get gobbled up right away." 
—David Lebovitz, author of My Paris Kitchen

"I am a bread baker's granddaughter. Needless to say, Ali's familial connection to bread and all of its nostalgia hits close to home. In Bread Toast Crumbs she makes the daunting feel doable: Homemade bread can be no big deal! I love all of her inventive ideas for ways to use bread (her 'Crumbs' section especially appeals to my can't-waste-a-thing heart). This book will be in heavy rotation in my house."
—Julia Turshen, author of Small Victories

"Does anything shout love and comfort louder than home-baked bread? Actually, yes—all of the recipes in this stunning collection do. Alexandra's recipes are sure to inspire yeast-o-phobes and experts alike and her book is a wonderful reminder that breaking bread with people we love is literally one of the simplest and most meaningful things we can do for our families." 
—Jenny Rosenstrach, author of Dinner: A Love Story

"After trying Alexandra's mom's once-secret peasant bread recipe, I never wanted to start another week without it. These are the lovable, crazy-simple, and un-mess-up-able loaves that will start a new home baking revolution—and her brilliant recipes for using up every last crumb will sustain it." 
—Kristen Miglore, Creative Director of Food52
 
"As a self-professed carb enthusiast, Alexandra's beautiful book speaks to my heart. Her approachable voice gives even the most novice of bakers (myself included) encouragement that they, too, can bake and bake beautifully. Bread Toast Crumbs not only provides straightforward and inventive recipes for bread, but it gets you thinking creatively about ways to incorporate it into every meal, in every way. Simply put, I love it." 
—Colu Henry, author of Back Pocket Pasta

"I will turn back to these pages for both the variety of beautiful loaves and the suggestion of what to make to put on top of or between its slices. Bread Toast Crumbs is a real keeper." 
—Sara Forte, author of Sprouted Kitchen and Sprouted Kitchen: Bowl + Spoon

"I can't go a single day without bread, so what a treat it was to find this beautiful book celebrating one of my favorite foods to both make and eat. It's chockablock with approachable yet sophisticated recipes that deliver mouthwatering results, from vinaigrette toasts to meatloaf made with buttermilk-soaked bread, and even breadcrumb-studded chocolate bark—a brilliant riff on the age-old snack of bread and chocolate." 
—Luisa Weiss, author of Classic German Baking
 
"Bread Toast Crumbs is part useful expertise, part gentle advice, and all heart. This book is a new essential volume for the home bread baker, and a great testament to the worth of taking something good and using it to its absolute fullest." 
—Alana Chernila, author of Homemade Pantry

"As someone who loves to bake bread, eat toast, and cook for my family and friends, I am excited about this book. It's approachable (no-knead!) and has gorgeous photos. Alexandra has so many clever ideas on how to take that bread a step further for dishes I'll make on weeknights or to entertain."
—Erin Gleeson, author of Forest Feast

"The message is simple: homemade bread is easy and versatile, so don't waste a single crumb! The structure of this book is so creative and useful, and the flavors sophisticated yet simple. I seriously want to be every. single. recipe." –budgetbytes.com

"The selection of recipes are a perfect balance to make any cook happy—breads that are totally approachable and recipes to utilize those bread recipes are a huge bonus." –eatyourbooks.com