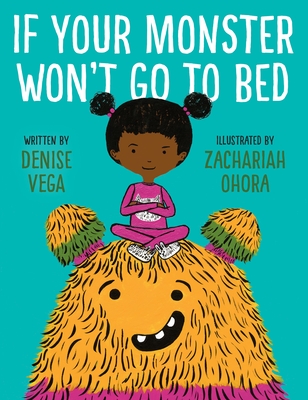 If Your Monster Won't Go To Bed (Hardcover)
Knopf Books for Young Readers, 9780553496550, 40pp.
Publication Date: March 14, 2017
Other Editions of This Title:
Hardcover (3/14/2017)
* Individual store prices may vary.
Description
For fans of How to Babysit a Grandpa comes a tongue-in-cheek story that is a step-by-step manual for putting your monster to bed.
 
If you have a monster that won't go to bed, don't bother asking your parents to help. They know a lot about putting kids to bed, but nothing about putting monsters to bed. It's not their fault; they're just not good at it. Read this book instead.
 
It will tell you what to feed your monster before bed (it's not warm milk), and what to sing to your monster (it's not a soothing lullaby), and what to read to your monster to send him off to dreamland in no time (the scarier, the better).
 
Just make sure you don't get too good at putting monsters to bed—or you might have a BIG problem on your hands!

Praise for Zachariah OHora:
 
"The text is pitch-perfect, and the art is its match." —Chicago Tribune (Wolfie the Bunny)
 
"Picture books with hip, quirky illustrations that are not just funny but also have plenty of heart are hard to find. The stylish My Cousin Momo by Zachariah OHora has it all." —The Boston Globe (My Cousin Momo)
 
[set star] "OHora's acrylic paintings are the heart of this tale. They clearly show everyone's feelings . . . and there are brilliant bits of humor and whimsy." —School Library Journal, starred review (Wolfie the Bunny)
 
"OHora could paint stones in the street and make them funny." —Publishers Weekly (My Cousin Momo)
About the Author
DENISE VEGA is the author of several books for young readers, including Click Here (To Find Out How I Survived Seventh Grade), Fact of Life #31, Build a Burrito, Access Denied, and Rock On. She lives in Colorado with her family. Find her online at denisevega.com.
 
ZACHARIAH OHORA is an award-winning illustrator and children's book author. His work has appeared in numerous publications, including the New York Times, the Atlantic, and Bloomberg Businessweek, as well as on NPR. He is the author-illustrator of My Cousin Momo; No Fits, Nilson!; and Stop Snoring, Bernard! and is the illustrator of Wolfie the Bunny by Ame Dyckman and The Pet Project by Lisa Wheeler. Find out more at zohora.com and @ZachariahOHora.
Praise For If Your Monster Won't Go To Bed…
Praise for Zachariah OHora:
 
"The text is pitch-perfect, and the art is its match." —Chicago Tribune (Wolfie the Bunny)
 
"Picture books with hip, quirky illustrations that are not just funny but also have plenty of heart are hard to find. The stylish My Cousin Momo by Zachariah OHora has it all." —The Boston Globe (My Cousin Momo)
 
[set star] "OHora's acrylic paintings are the heart of this tale. They clearly show everyone's feelings . . . and there are brilliant bits of humor and whimsy." —School Library Journal, starred review (Wolfie the Bunny)
 
"OHora could paint stones in the street and make them funny." —Publishers Weekly (My Cousin Momo)