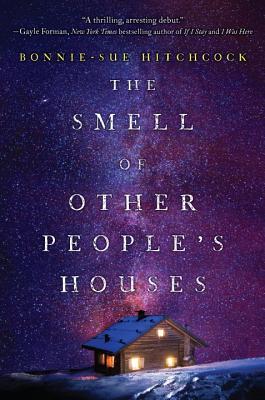 The Smell of Other People's Houses (Hardcover)
Wendy Lamb Books, 9780553497786, 240pp.
Publication Date: February 23, 2016
Description
"Bonnie-Sue Hitchcock's Alaska is beautiful and wholly unfamiliar.... A thrilling, arresting debut." --Gayle Forman, New York Times bestselling author of If I Stay and I Was Here

" A] singular debut. . . . Hitchcock] weav es] the alternating voices of four young people into a seamless and continually surprising story of risk, love, redemption, catastrophe, and sacrifice." --The Wall Street Journal
This deeply moving and authentic debut set in 1970s Alaska is for fans of Rainbow Rowell, Louise Erdrich, Sherman Alexie, and Benjamin Alire Saenz. Intertwining stories of love, tragedy, wild luck, and salvation on the edge of America's Last Frontier introduce a writer of rare talent. Ruth has a secret that she can't hide forever. Dora wonders if she can ever truly escape where she comes from, even when good luck strikes. Alyce is trying to reconcile her desire to dance, with the life she's always known on her family's fishing boat. Hank and his brothers decide it's safer to run away than to stay home--until one of them ends up in terrible danger. Four very different lives are about to become entangled. This unforgettable William C. Morris Award finalist is about people who try to save each other--and how sometimes, when they least expect it, they succeed.
Praise:
William C. Morris Finalist
Shortlisted for the Carnegie Medal
Amelia Elizabeth Walden Book Award for Young Adult Fiction
Tayshas Reading List--Top 10 List
New York Public Library's Best 50 Books for Teens
Chicago Public Library
,
Best of the Best List
Shelf Awareness,
Best Children's & Teen Books of the Year
Nominated to the Oklahoma Sequoya Book Award Master List
Nominated to the Colorado Blue Spruce Young Adult Book Award "Hitchcock's debut resonates with the timeless quality of a classic. This is a fascinating character study--a poetic interweaving of rural isolation and coming-of-age." --
John Corey Whaley, award-winning author of Where Things Come Back and Highly Illogical Behavior
"As an Alaskan herself, Bonnie Sue Hitchcock is able to bring alive this town, and this group of poor teens and their families that live there." --
Bustle.com
About the Author
Bonnie-Sue Hitchcock was born and raised in Alaska. She worked many years fishing commercially with her family and as a reporter for Alaska Public Radio stations around the state. She was also the host and producer of "Independent Native News," a daily newscast produced in Fairbanks, focusing on Alaska Natives, American Indians, and Canada's First Nations. Her writing is inspired by her family's four generations in Alaska.
Alyce compares the Tongass rain forest along the coast where she and her father fish to the skinny black spruce forest that defines her home in Fairbanks. She says, "Same state, two climates, each as different as my parents; and like my parents, there's a part of me in both" (p. 52). As you think about the adults in your life, what elements of them do you see in yourself ? How did they become a part of your identity? Do you welcome these traits?
When talking to the older woman who sees Sam jump overboard from the ferry, Hank describes the scene as follows: "I am inches from her face. She says nothing and I grab her by the shoulders, gently shaking her into focus. It's like holding on to a cobweb" (p. 67). Think a bit more about this simile. Why do you think the author chose this image to describe the woman? What alternate comparison might you make?
What is the significance of the red strip of fabric that Dumpling wears in her hair? Where did it come from? Why does she wear it? Where does it go? Why might the author have chosen to use this particular symbol as a thread that runs through the novel?
Consider how Selma and Dora might work as oppositional characters in the story. How would you describe Selma's outlook on the world? How about Dora's? Do their perspectives shift over the course of the novel? Which of these two characters do you think might be the better friend for you? What advice might you give to each of them?
The novel is inhabited by characters with secrets who live in a community that expects members to keep their private business private. Select one character who is silenced as a result of this expectation. How is he or she affected by the insular nature of this place? How does this norm affect the larger community, particularly given the fact that many know the truth anyway?
When Ruth tells her grandmother that she named the baby after her in hopes of having a sort of "do-over," her grandmother claims, "I don't deserve that" (p. 222). Do you agree? Why or why not? Do you agree with Ruth's decision? Why or why not?
Characters in this novel regularly define themselves and others by their socio-economic status—by the kind of boots they can afford, the kinds of homes in which they live, the foods they serve at the dinner table, etc. How does money (or a lack thereof ) play a role in the development of the characters in the novel and influence the strengths they possess and the struggles they face? Does money matter?
Think about the organizational structure of the novel. Why might the author have decided that our introduction to the story should begin with a prologue written from Ruth's point of view (rather than that of a different character)? Why might the author have presented the seasonal sections (Spring, Summer, Fall, and Winter) in the order she does? What connections can you draw, or what disconnects can you see, between how you conceive of each season and the events that take place within it?
Advertisement