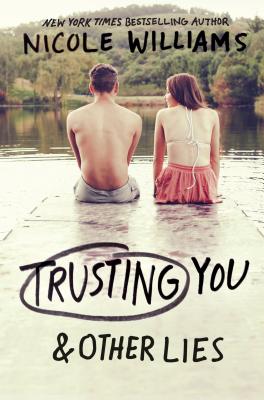 Trusting You & Other Lies (Hardcover)
Crown Books for Young Readers, 9780553498776, 304pp.
Publication Date: June 20, 2017
Description
USA Today and New York Times bestselling author Nicole Williams delivers a seductive summer romance worth swooning over. Perfect for fans of Sarah Dessen and Stephanie Perkins.

Phoenix can't imagine anything worse than being shipped off to family summer camp. Her parents have been fighting for the past two years--do they seriously think being crammed in a cabin with Phoenix and her little brother, Harry, will make things better? On top of that, Phoenix is stuck training with Callum--the head counselor who is seriously cute but a complete know-it-all. His hot-cold attitude means he's impossible to figure out--and even harder to rely on. But despite her better judgment, Phoenix is attracted to Callum. And he's promising Phoenix a summer she'll never forget. Can she trust him? Or is this just another lie? "What elevates this novel...is the witty and realistic dialogue and excellent character development."
-SLJ
About the Author
Nicole Williams is the USA Today and New York Times bestselling author of Crash, Clash, and Crush, and numerous other titles. She pulled from her own experiences of attending summer camps to craft Phoenix's story--although she left out her memories of dead fish hidden in sleeping bags. Nicole loves reading and writing books about star-crossed lovers and happy endings, but believes some of the best stories are the ones we create every day. Nicole lives with her family in the Evergreen State, where there's an abundance of lakes to swim in and trails to jog on. Visit Nicole on Twitter at @nwilliamsbooks or on her blog at nicoleawilliams.blogspot.com.
Advertisement